From Sochi, RUS
(Feb. 24, 2019) – Semen Pavlichenko closed in on a World Cup title with a dominating win on home ice in Sochi.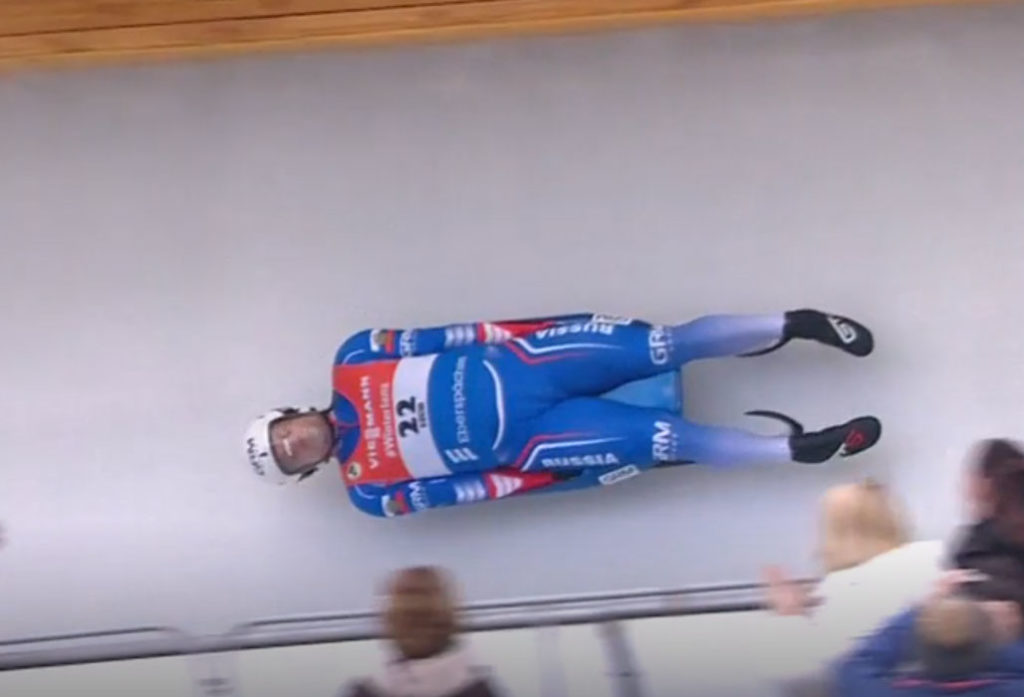 Nobody could touch the Russian in either heat, with Pavlichenko opening with a .175 lead in the first run. On the second run Pavlichenko went even faster, setting the only time below 52 seconds on his way to a .434 second victory over teammate Roman Repilov.
Dominik Fischnaller was the only non-Russian in the top five with a third place finish. Aleksandr Gorbatcevich came into the second heat in second and for a moment it appeared as though Russia would sweep the podium. Gorbatcevich crashed halfway through his run, and while he was able to pull himself back on the sled to finish his run he plummeted to 24th.
Maksim Aravin and Aleksandr Stepichev finished fourth and fifth to help put four Russians in the top five, while Jonas Müller finished sixth.
Tucker West was the top-finishing American in 14th, just ahead of Jonny Gustafson in 16th.
Results:
| | | | | | | | | |
| --- | --- | --- | --- | --- | --- | --- | --- | --- |
| Pos | Name | Nation | Bib | Start 1 | Start 2 | Run 1 | Run 2 | Total |
| 1 | Semen Pavlichenko | RUS | 22 | 4.640 | 4.621 | 52.023 | 51.844 | 1:43.867 |
| 2 | Roman Repilov | RUS | 27 | 4.628 | 4.628 | 52.198 | 52.103 | 1:44.301 |
| 3 | Dominik Fischnaller | ITA | 21 | 4.663 | 4.675 | 52.143 | 52.184 | 1:44.327 |
| 4 | Maksim Aravin | RUS | 13 | 4.709 | 4.711 | 52.160 | 52.281 | 1:44.441 |
| 5 | Aleksandr Stepichev | RUS | 11 | 4.679 | 4.682 | 52.104 | 52.355 | 1:44.459 |
| 6 | Jonas Müller | AUT | 9 | 4.688 | 4.685 | 52.245 | 52.393 | 1:44.638 |
| 7 | Wolfgang Kindl | AUT | 15 | 4.688 | 4.705 | 52.311 | 52.357 | 1:44.668 |
| 8 | Felix Loch | GER | 24 | 4.644 | 4.671 | 52.527 | 52.178 | 1:44.705 |
| 9 | Kristers Aparjods | LAT | 26 | 4.662 | 4.669 | 52.570 | 52.166 | 1:44.736 |
| 10 | Max Langenhan | GER | 2 | 4.660 | 4.659 | 52.297 | 52.509 | 1:44.806 |
| 11 | Kevin Fischnaller | ITA | 14 | 4.688 | 4.670 | 52.416 | 52.430 | 1:44.846 |
| 12 | Johannes Ludwig | GER | 25 | 4.642 | 4.638 | 52.478 | 52.398 | 1:44.876 |
| 13 | Chris Eißler | GER | 16 | 4.658 | 4.660 | 52.438 | 52.569 | 1:45.007 |
| 14 | Tucker West | USA | 10 | 4.623 | 4.636 | 52.531 | 52.585 | 1:45.116 |
| 15 | Nico Gleirscher | AUT | 6 | 4.639 | 4.645 | 52.561 | 52.683 | 1:46.244 |
| 16 | Jonathan Gustafson | USA | 4 | 4.638 | 4.640 | 52.619 | 52.632 | 1:45.251 |
| 17 | Riks Rozitis | LAT | 17 | 4.747 | 4.726 | 52.504 | 52.751 | 1:45.255 |
| 18 | Mateusz Sochowicz | POL | 5 | 4.673 | 4.679 | 52.724 | 52.593 | 1:45.317 |
| 19 | Sebastian Bley | GER | 18 | 4.658 | 4.654 | 52.795 | 52.523 | 1:45.318 |
| 20 | Arturs Darznieks | LAT | 8 | 4.680 | 4.688 | 52.435 | 52.901 | 1:45.336 |
| 21 | Jozef Ninis | SVK | 12 | 4.713 | 4.722 | 53.126 | 52.259 | 1:45.385 |
| 22 | Maciej Kurowski | POL | 3 | 4.709 | 4.719 | 52.768 | 52.701 | 1:45.469 |
| 23 | Valentin Cretu | ROU | 7 | 4.670 | 4.669 | 52.731 | 52.862 | 1:45.593 |
| 24 | Aleksandr Gorbatcevich | RUS | 19 | 4.662 | 4.658 | 52.076 | 52.877 | 1:48.953 |
| 25 | Reinhard Egger | AUT | 28 | 4.662 | 4.699 | 56.985 | 52.396 | 1:49.381 |
| 26 | Ziga Birus | SLO | 1 | 4.759 | 4.767 | 55.133 | 54.860 | 1:49.993 |
| 27 | Inars Kivlenieks | LAT | 20 | 4.673 | 4.648 | 52.294 | 71.674 | 2:03.968 |
| DNF | David Gleirscher | AUT | 23 | 4.661 | | DNF | | |