From Calgary, CAN
(Feb. 23, 2019) – There have been bobsled pilots who have been dominant at times, but up until the 2018/2019 season nobody had ever been so dominant that they swept the season.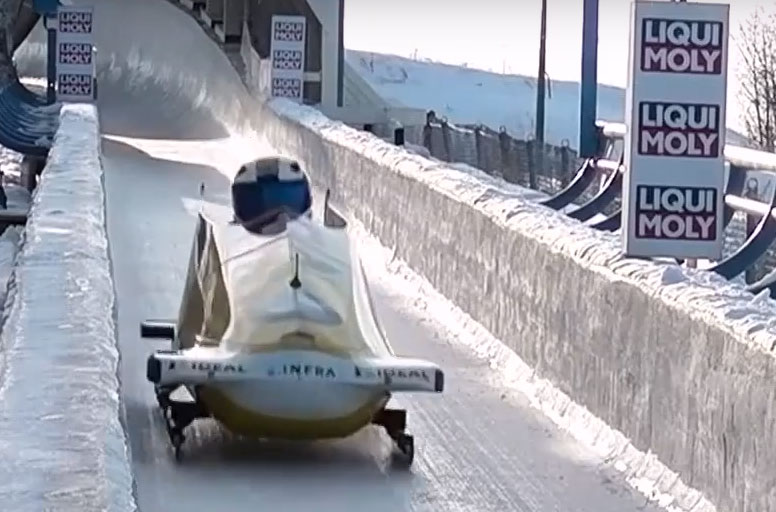 That is until Francesco Friedrich and his 2-man sled came along.
Friedrich's dominance was challenged by Justin Kripps, a man Friedrich had tied in the Winter Olympics a year ago. Kripps entered the second heat just .04 behind Friedrich, and put down a second run that was the quickest of the race prior to Friedrich's final run.
The German answered with a race-fastest start. As his run progressed his lead shrank, but a perfect run on the bottom half of the 1988 Olympic track was enough to keep Kripps behind him and win his eighth straight 2-man race of the season, giving him a season sweep.
Kripps finished second, ahead of Johannes Lochner in third. 2015/2016 World Cup champion Yunjong Won finished fourth, with Nico Walther and Oskars Kibermanis rounding out the top six. Nick Poloniato finished seventh in the second Canadian sled.
Friedrich became the first bobsled pilot to score a perfect 1800 points on the World Cup season to win the Crystal Globe, 236 points ahead of Kibermanis. Walther finished third overall despite missing one race in Igls.
Justin Olsen was the top-finishing American in the 2-man World Cup finale, finishing 12th. Teammates Geoff Gadbois and Hunter Church finished tied for 17th and 19th, respectively.
Lamin Deen finished 22nd in the lone British sled in the field.
Results:
| | | | | | | | | |
| --- | --- | --- | --- | --- | --- | --- | --- | --- |
| Pos | Names | Nation | Bib | Start 1 | Start 2 | Run 1 | Run 2 | Total |
| 1 | Friedrich / Margis | GER | 8 | 5.22 | 5.14 | 55.47 | 55.37 | 1:50.84 |
| 2 | Kripps / Sommer | CAN | 11 | 5.25 | 5.21 | 55.51 | 55.42 | 1:50.93 |
| 3 | Lochner / Weber | GER | 5 | 5.26 | 5.22 | 55.63 | 55.44 | 1:51.07 |
| 4 | Won / Seo | KOR | 4 | 5.27 | 5.23 | 55.62 | 55.58 | 1:51.20 |
| 5 | Walther / Krenz | GER | 13 | 5.37 | 5.36 | 55.74 | 55.54 | 1:51.28 |
| 6 | Kibermanis / Springis | LAT | 9 | 5.28 | 5.28 | 55.65 | 55.72 | 1:51.37 |
| 7 | Poloniato / Wright | CAN | 15 | 5.28 | 5.21 | 55.86 | 55.67 | 1:51.53 |
| 8 | Heinrich / Hauterville | FRA | 10 | 5.34 | 5.36 | 55.85 | 55.83 | 1:51.62 |
| 9 | Vogt / Michel | SUI | 17 | 5.31 | 5.28 | 55.99 | 55.76 | 1:51.75 |
| 10 | Luty / Tylkowski | POL | 7 | 5.32 | 5.30 | 55.90 | 55.90 | 1:51.80 |
| 11 | Dvorak / Nosek | CZE | 6 | 5.25 | 5.26 | 55.88 | 56.00 | 1:51.88 |
| 12 | Olsen / Kinney | USA | 2 | 5.30 | 5.23 | 55.95 | 55.94 | 1:51.89 |
| 13 | de Bruin / Veenker | NED | 19 | 5.35 | 5.35 | 56.05 | 55.96 | 1:52.01 |
| 14 | Shao / Liu | CHN | 1 | 5.38 | 5.41 | 55.95 | 56.11 | 1:52.06 |
| 15 | Tentea / Daroczi | ROU | 21 | 5.41 | 5.42 | 56.07 | 56.12 | 1:52.19 |
| 16 | Treichl / Huber | AUT | 14 | 5.30 | 5.34 | 56.06 | 56.26 | 1:52.32 |
| 17 | Andrianov / Zaytsev | RUS | 12 | 5.38 | 5.41 | 56.16 | 56.27 | 1:52.43 |
| 17 | Gadbois / Adams | USA | 20 | 5.43 | 5.50 | 56.14 | 56.29 | 1:52.43 |
| 19 | Church / Horn | USA | 24 | 5.50 | 5.48 | 56.24 | 56.22 | 1:52.46 |
| 20 | Maier / Moldovan | AUT | 25 | 5.52 | 5.53 | 56.30 | 56.19 | 1:52.49 |
| 21 | Suk / Jang | KOR | 23 | 5.42 | | 56.35 | | |
| 22 | Deen / Olubi | GBR | 22 | 5.34 | | 56.39 | | |
| 23 | Sun / Wu | CHN | 26 | 5.41 | | 56.40 | | |
| 24 | Rohner / Fässler | SUI | 3 | 5.43 | | 56.57 | | |
| 25 | Berzins / Prikulis | LAT | 16 | 5.39 | | 56.59 | | |
| 26 | Bredikhin / Mytcyk | RUS | 18 | 5.42 | | 56.60 | | |
| 27 | Silic / Krajisnik | CRO | 27 | 5.60 | | 57.86 | | |