From Calgary, CAN
(Feb. 24, 2019) – Coming into the final race of the IBSF World Cup men's skeleton season, Sungbin Yun had 39 points he needed to make up on Alexander Tretiakov. It was assumed that he would need to win the race if he wanted a chance to unseat the Russian atop the World Cup points. Tretiakov would have to finish fifth or worse for Yun to have a shot at his second consecutive title.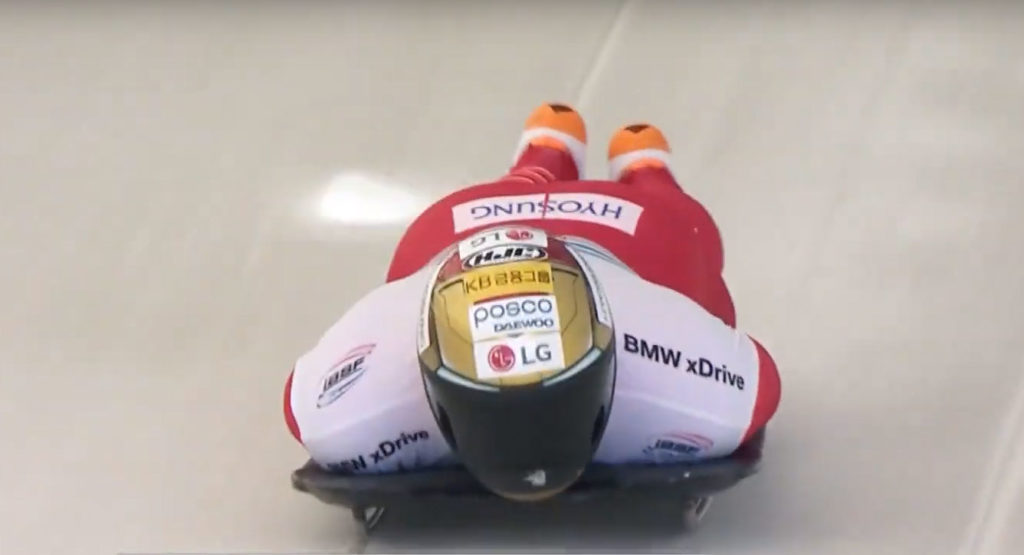 Yun did his part, winning gold on the 1988 Olympic track. Behind him, Tretiakov kept it close, finishing just .06 behind and winning the Crystal Globe by just 24 points.
The World Cup title was the second for Tretiakov, and the first in a decade.
The rest of the field was fighting for third, with Tomass Dukurs edging out Martins Dukurs for the position. Martins finished fourth.
British slider Marcus Wyatt had the fastest start of the race (4.87) on his way to a fifth place finish, with Canada's Dave Greszczyszyn finishing sixth in what may be the final men's skeleton race in Calgary.
With Martins Dukurs' fourth place finish, he finished out the World Cup podium in third.
Austin Florian led the way for the United States in the final World Cup race of the season with a 13th place finish. Greg West finished 18th, while Kyle Brown just missed out on the second run in 21st.
The British men were dominant at the top of the track, with Marcus Wyatt leading the way both with a race-fastest start and his fifth place finish. Jerry Rice finished tenth and Craig Thompson 17th to round out the British effort, with all three men in the top half-dozen of start times.
It was tough going for the Canadians behind Greszczyszyn. Kevin Boyer just couldn't find the speed he needed to contend, finishing 19th. Teammate Kyle Murray missed out on the second run in 22nd.
Results:
| | | | | | | | | |
| --- | --- | --- | --- | --- | --- | --- | --- | --- |
| Pos | Name | Nation | Bib | Start 1 | Start 2 | Run 1 | Run 2 | Total |
| 1 | Sungbin Yun | KOR | 5 | 4.96 | 4.92 | 56.30 | 56.40 | 1:52.70 |
| 2 | Alexander Tretiakov | RUS | 8 | 4.93 | 4.88 | 56.40 | 56.36 | 1:52.76 |
| 3 | Tomass Dukurs | LAT | 7 | 5.08 | 5.02 | 56.87 | 56.34 | 1:53.21 |
| 4 | Martins Dukurs | LAT | 11 | 4.95 | 4.91 | 56.77 | 56.47 | 1:53.24 |
| 5 | Marcus Wyatt | GBR | 4 | 4.93 | 4.87 | 56.89 | 56.50 | 1:53.39 |
| 6 | David Greszczyszyn | CAN | 15 | 5.16 | 5.08 | 56.77 | 56.64 | 1:53.41 |
| 7 | Axel Jungk | GER | 13 | 5.01 | 4.92 | 57.01 | 56.55 | 1:53.56 |
| 8 | Nikita Tregubov | RUS | 9 | 5.04 | 5.04 | 56.80 | 56.82 | 1:53.62 |
| 9 | Vladyslav Heraskevych | UKR | 14 | 5.32 | 5.25 | 56.87 | 56.81 | 1:53.68 |
| 10 | Jerry Rice | GBR | 16 | 4.93 | 4.92 | 57.00 | 56.83 | 1:53.83 |
| 11 | Felix Keisinger | GER | 12 | 4.96 | 4.93 | 56.88 | 56.97 | 1:53.85 |
| 12 | Wengang Yan | CHN | 22 | 5.12 | 5.12 | 57.08 | 56.81 | 1:53.89 |
| 13 | Austin Florian | USA | 20 | 4.94 | 4.92 | 57.12 | 56.86 | 1:53.98 |
| 14 | Joseph Luke Cecchini | ITA | 26 | 5.20 | 5.22 | 57.29 | 57.05 | 1:54.34 |
| 15 | Florian Auer | AUT | 10 | 5.26 | 5.23 | 57.14 | 57.29 | 1:54.43 |
| 16 | Jisoo Kim | KOR | 1 | 5.02 | 4.94 | 57.37 | 57.10 | 1:54.47 |
| 17 | Craig Thompson | GBR | 21 | 4.89 | 4.93 | 57.36 | 57.18 | 1:54.54 |
| 18 | Greg West | USA | 18 | 5.17 | 5.18 | 57.33 | 57.27 | 1:54.60 |
| 19 | Kevin Boyer | CAN | 2 | 5.05 | 5.03 | 57.51 | 57.28 | 1:54.79 |
| 20 | Ronald Auderset | SUI | 23 | 5.06 | 5.02 | 57.49 | 57.34 | 1:54.83 |
| 21 | Kyle Brown | USA | 19 | 5.08 | | 57.57 | | |
| 22 | Kyle Murray | CAN | 27 | 5.11 | | 57.67 | | |
| 23 | Alexander Hanssen | NOR | 24 | 4.93 | | 57.78 | | |
| 24 | Vladislav Marchenkov | RUS | 17 | 5.29 | | 57.99 | | |
| 25 | Ander Mirambell | ESP | 3 | 5.58 | | 58.13 | | |
| 26 | Nicholas Timmings | AUS | 25 | 5.16 | | 58.23 | | |
| 27 | Mihai Pacioianu | ROU | 28 | 5.20 | | 58.90 | | |
| DNS | Christopher Grotheer | GER | 6 | | | DNS | | |