From Calgary, CAN
(Feb. 24, 2019) – The bobsled world has never seen a season like Francesco Friedrich has had. A day after completing the 2-man bobsled season sweep, the German pilot cruised to victory to win both the 4-man season finale and the World Cup title.
Friedrich only needed to finish in the top eight to clinch the World Cup title, but that didn't stop him from leading in the first heat and holding off his German teammates on his way to a .19 second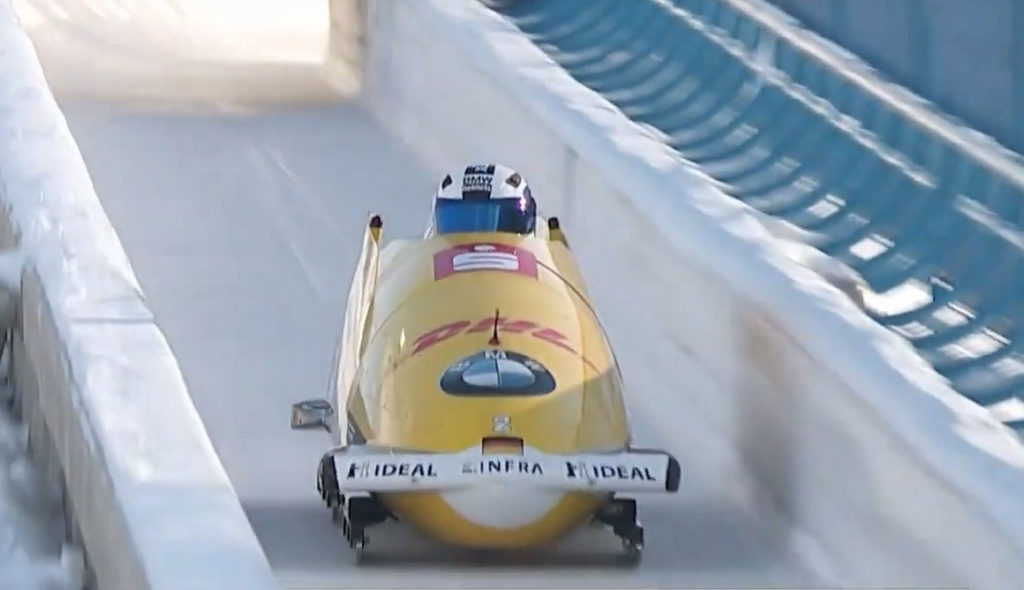 victory over Nico Walther and .21 over Johannes Lochner.
The win was the fifth 4-man win of the season for Friedrich and the 13th between 2-man and 4-man out of 16 races.
Oskars Kibermanis came into the race as the only pilot with a realistic chance of unseating Friedrich from the top spot, but needed a win plus some major trouble for Friedrich to take the Crystal Globe. He could only muster a fourth place run, finishing off the 4-man podium for only the second time this season.
Lake Placid winner Justin Kripps couldn't equal the previous week's finish, finishing fifth, one spot ahead of Maxim Andrianov in sixth.
Friedrich's win gave him both the 4-man World Cup title as well as the combined 2-man and 4-man title, ahead of Kibermanis who was second in both 4-man and the combined. Nico Walther finished third in the 4-man standings, while Johannes Lochner finished third in the combined.
Geoff Gadbois and Hunter Church finished 17th and 18th respectively for the United States. Nick Poloniato finished 14th in the second Canadian sled, while Lamin Deen finished 19th for Great Britain.
Results:
| | | | | | | | | |
| --- | --- | --- | --- | --- | --- | --- | --- | --- |
| Pos | Names | Nation | Bib | Start 1 | Start 2 | Run 1 | Run 2 | Total |
| 1 | Friedrich / Bauer / Grothkopp / Margis | GER | 9 | 5.07 | 5.10 | 53.60 | 54.03 | 1:47.63 |
| 2 | Walther / Krenz / Rödiger / Franke | GER | 4 | 5.16 | 5.15 | 53.69 | 54.13 | 1:47.82 |
| 3 | Lochner / Bauer / Weber / Rasp | GER | 6 | 5.16 | 5.10 | 53.83 | 54.01 | 1:47.84 |
| 4 | Kibermanis / Miknis / Vilkaste / Strenga | LAT | 10 | 5.06 | 5.07 | 53.79 | 54.15 | 1:47.88 |
| 5 | Kripps / Sommer / Stones / Coakwell | CAN | 13 | 5.11 | 5.10 | 53.85 | 54.25 | 1:48.10 |
| 6 | Andrianov / Zaytsev / Kondratenko / Samitov | RUS | 5 | 5.15 | 5.17 | 54.05 | 54.39 | 1:48.44 |
| 7 | Dvorak / Suchy / Sindelar / Nosek | CZE | 12 | 5.16 | 5.16 | 54.18 | 54.28 | 1:48.46 |
| 8 | Heinrich / Lefebvre / Hauterville / Laporal | FRA | 1 | 5.24 | 5.24 | 53.98 | 54.54 | 1:48.52 |
| 9 | Won / Kim / Lee / Seo | KOR | 7 | 5.19 | 5.20 | 54.13 | 54.40 | 1:48.53 |
| 10 | Rinaldi / Vain / Demarthon / Borges Mendonaca | MON | 14 | 5.18 | 5.17 | 54.16 | 54.44 | 1:48.60 |
| 11 | Vogt / Knuser / Weber / Michel | SUI | 18 | 5.21 | 5.21 | 54.30 | 54.33 | 1:48.63 |
| 12 | de Bruin / Dumas / Veenker / Franjic | NED | 15 | 5.19 | 5.24 | 54.17 | 54.50 | 1:48.67 |
| 13 | Treichl / Glück / Mitterer / Huber | AUT | 8 | 5.25 | 5.20 | 54.25 | 54.43 | 1:48.68 |
| 14 | Poloniato / Janke / Goncalves Silva / Wright | CAN | 19 | 5.17 | 5.18 | 54.29 | 54.45 | 1:48.74 |
| 15 | Bredikhin / Lylov / Malykh / Koshelev | RUS | 11 | 5.22 | 5.22 | 54.24 | 54.52 | 1:48.76 |
| 16 | Suk / Kim / Kim / Oh | KOR | 20 | 5.25 | 5.27 | 54.26 | 54.57 | 1:48.83 |
| 17 | Gadbois / McConnell / Adams / Horn | USA | 17 | 5.26 | 5.24 | 54.27 | 54.66 | 1:48.93 |
| 18 | Church / Allison / Kinney / Wilcox | USA | 16 | 5.25 | 5.29 | 54.47 | 54.47 | 1:48.94 |
| 19 | Deen / Letts / Olubi / Gilling | GBR | 2 | 5.23 | 5.24 | 54.39 | 54.77 | 1:49.16 |
| 20 | Shao / Wang / Shi / Ma | CHN | 3 | 5.35 | 5.39 | 54.44 | 54.89 | 1:49.33 |
| 21 | Sun / Liu / Wu / Wu | CHN | 21 | 5.31 | | 54.94 | | |