From Whistler, CAN
(Mar. 7, 2019) – Martins Dukurs has won five IBSF World Championships in his illustrious career and has put himself in position to win a sixth title in Whistler.
Dukurs held a .07 second lead over Christopher Grotheer going into the second heat. Grotheer struggled on his second run, leaving the door open for Dukurs to pull well ahead of the field. Dukurs took advantage, putting down a flawless second run and setting a new track record (formerly 51.99 by Sungbin Yun) on his way to a .37 second lead over Russian Nikita Tregubov.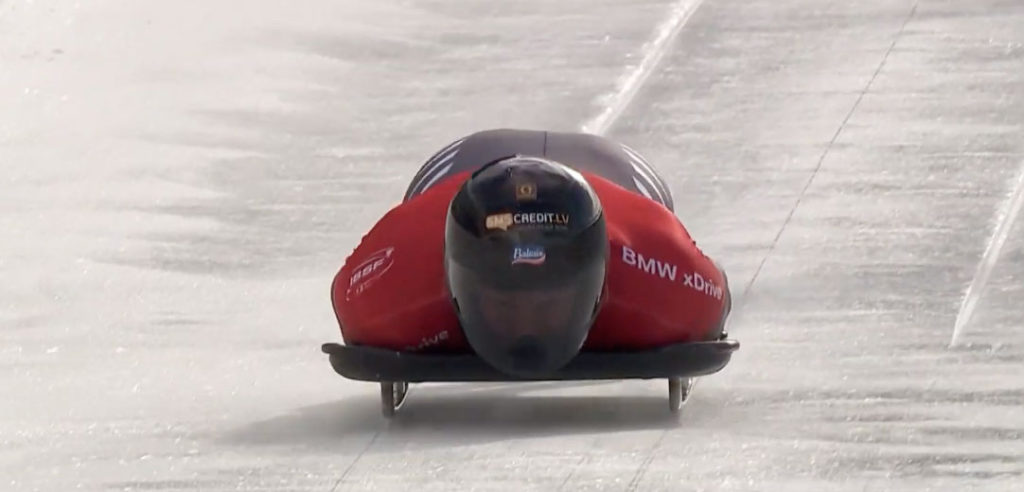 Behind Dukurs there's a tight battle for the second position that's currently held by Tregubov. Tomass Dukurs is just .09 behind the Russian in third, with Alexander Tretiakov only .05 behind Dukurs in fourth.
Christopher Grotheer's second run was .29 slower than his first to drop him back to fifth, a tenth ahead of Olympic champion Sunbgin Yun in sixth.
The United States was led on day on by Austin Florian, who goes into the overnight in ninth place. Despite dropping from eighth in the first heat, the American World Championship rookie sits in good position to move up in the second day of sliding.  Greg West finished the first day in 18th and Kyle Brown 20th to round out the American effort. Both West and Brown were over a .3 seconds faster in their second runs.
Dave Greszczyszyn started the event with a disappointing first run, leaving him 17th. While the Canadian's second run was cleaner, he was unable to move up in the standings and sits .01 behind Florian Auer of Austria. Greszczyszyn's teammate Mark Lynch is PLACE after two runs.
Marcus Wyatt is the only British slider in the top 20, going into the overnight in tied for 14th with Vladyslav Heraskevych. Jerry Rice moved up into 21st from 22nd on his second run, while Jack Thomas will start Friday in 28th place.
Results:
| | | | | | | | | |
| --- | --- | --- | --- | --- | --- | --- | --- | --- |
| Pos | Name | Nation | Bib | Start 1 | Start 2 | Run 1 | Run 2 | Total |
| 1 | Martins Dukurs | LAT | 6 | 4.52 | 4.50 | 52.15 | 51.91 | 1:44.06 |
| 2 | Nikita Tregubov | RUS | 8 | 4.62 | 4.57 | 52.26 | 52.17 | 1:44.43 |
| 3 | Tomass Dukurs | LAT | 10 | 4.60 | 4.58 | 52.36 | 52.18 | 1:44.54 |
| 4 | Alexander Tretiakov | RUS | 7 | 4.48 | 4.50 | 52.47 | 52.12 | 1:44.59 |
| 5 | Christohper Grotheer | GER | 18 | 4.61 | 4.64 | 52.22 | 52.51 | 1:44.73 |
| 6 | Sungbin Yun | KOR | 5 | 4.53 | 4.57 | 52.34 | 52.49 | 1:44.83 |
| 7 | Alexander Gassner | GER | 25 | 4.62 | 4.64 | 52.48 | 52.70 | 1:45.18 |
| 8 | Seunggi Jung | KOR | 16 | 4.58 | 4.57 | 52.78 | 52.68 | 1:45.46 |
| 9 | Austin Florian | USA | 17 | 4.57 | 4.56 | 52.64 | 52.85 | 1:45.49 |
| 10 | Felix Keisinger | GER | 4 | 4.55 | 4.50 | 52.74 | 52.80 | 1:45.54 |
| 11 | Axel Jungk | GER | 9 | 4.53 | 4.52 | 52.78 | 52.84 | 1:45.62 |
| 12 | Wenqiang Geng | CHN | 24 | 4.75 | 4.73 | 53.04 | 52.61 | 1:45.65 |
| 13 | Jisoo Kim | KOR | 22 | 4.57 | 4.56 | 52.87 | 52.83 | 1:45.70 |
| 14 | Vladyslav Heraskevych | UKR | 12 | 4.75 | 4.74 | 52.94 | 52.81 | 1:45.75 |
| 14 | Marcus Wyatt | GBR | 11 | 4.54 | 4.50 | 52.86 | 52.89 | 1:45.75 |
| 16 | Florian Auer | AUT | 13 | 4.76 | 4.75 | 52.88 | 52.50 | 1:45.83 |
| 17 | David Greszczyszyn | CAN | 14 | 4.69 | 4.67 | 53.09 | 52.75 | 1:45.84 |
| 18 | Greg West | USA | 19 | 4.70 | 4.69 | 53.11 | 52.74 | 1:45.85 |
| 19 | Wengang Yan | CHN | 23 | 4.69 | 4.63 | 53.16 | 52.86 | 1:46.02 |
| 20 | Kyle Brown | USA | 20 | 4.65 | 4.62 | 53.21 | 52.85 | 1:46.06 |
| 21 | Jerry Rice | GBR | 15 | 4.58 | 4.55 | 53.28 | 53.20 | 1:46.48 |
| 22 | Vladislav Marchenkov | RUS | 21 | 4.70 | 4.71 | 53.25 | 53.38 | 1:46.63 |
| 23 | Mark Lynch | CAN | 31 | 4.76 | 4.77 | 53.41 | 53.23 | 1:46.64 |
| 24 | Brendan Doyle | IRL | 2 | 4.77 | 4.70 | 53.48 | 53.22 | 1:46.70 |
| 25 | Joseph Luke Cecchini | ITA | 29 | 4.67 | 4.66 | 53.57 | 53.56 | 1:47.13 |
| 26 | Jack Thomas | GBR | 27 | 4.61 | 4.61 | 53.55 | 53.71 | 1:47.26 |
| 27 | Nicholas Timmings | AUS | 30 | 4.65 | 4.67 | 53.99 | 53.65 | 1:47.64 |
| 28 | Ronald Auderset | SUI | 26 | 4.62 | 4.63 | 53.74 | 54.23 | 1:47.97 |
| 29 | Joel Seligstein | ISR | 34 | 4.96 | 4.96 | 54.18 | 53.81 | 1:47.99 |
| 30 | Alexander Hanssen | NOR | 28 | 4.57 | 4.57 | 53.89 | 54.12 | 1:48.01 |
| 31 | Jeff Bauer | LUX | 33 | 4.89 | 4.90 | 54.95 | 54.50 | 1:49.45 |
| 32 | Bram Zeegers | NED | 35 | 4.96 | 4.95 | 55.82 | 56.18 | 1:52.00 |
| 33 | Joe Della Santina | NZL | 1 | 5.33 | 5.33 | 57.54 | 58.09 | 1:55.63 |
| 34 | Reynaldo Arturo Sosa | MEX | 36 | 5.28 | 5.25 | 58.87 | 59.16 | 1:58.03 |
| 35 | Todd Rodriguez Pfalzgraf | PUR | 3 | 5.47 | 5.52 | 57.94 | 64.72 | 2:02.66 |
| DNS | Ander Mirambell | ESP | 32 | | | DNS | | |