From Whistler, CAN
(Mar. 7, 2019) – Tina Hermann leads the IBSF World Championships going into the second day of sliding, just four days after winning gold in the Team Competition on the strength of her heat-fastest slide.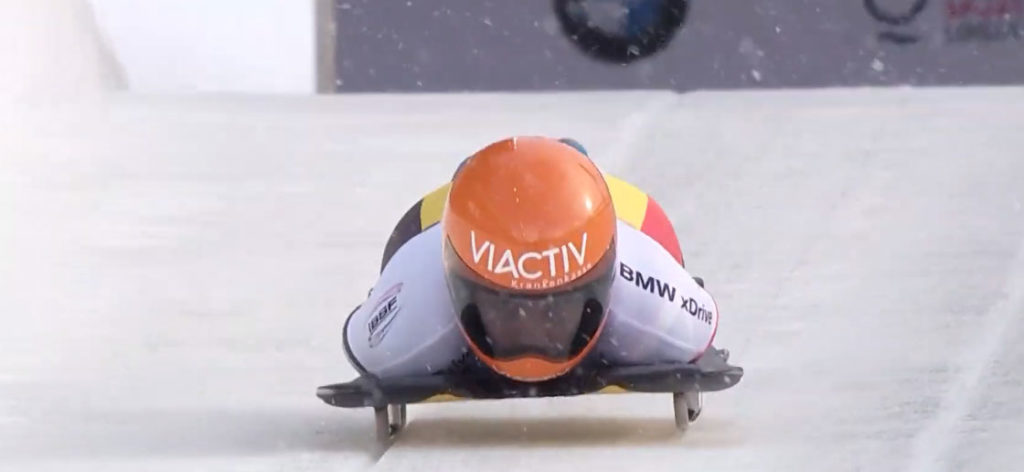 In the first heat German slider broke the track record set by Amy Williams in the 2010 Olympic Games on her way to a .25 second lead over Olympic silver medalist Jacqueline Lölling. On the second run, Hermann extended her lead by another tenth, giving herself a .35 advantage into the third heat.
Sophia Griebel sits third after two heats, giving Germany the top three spots. Czech athlete Anna Fernstädt sits fourth, only .19 out of third, while Elena Nikitina is fifth.
Janine Flock missed half of a World Cup season, but showed mid-season form in the second heat, moving up from ninth to sixth.
Four days after winning a bronze medal in the Team Competition, Savannah Graybill will spend the night between heats two and three in seventh place, tied with Yulia Kanakina. Graybill's seemed right at home in Whistler, lingering around in the middle of the top ten in both heats. Kendall Wesenberg had an eighth-quickest run in the first heat, but a few problems on her second run dropped her to 11th overnight.
Home ice was not kind for the Canadians. Elisabeth Maier will go into the overnight as the top athlete out of the Canadian camp in tenth place after a good second run moved her up from 13. Mimi Rahneva fell in the second heat from 10th to 12th, while Madi Charney moved from 17th to 16th.
Olympic bronze medalist Laura Deas was forced to sit out of the World Championships due to injury, leaving only two entries for Great Britain. The two women sit 14th and 15th, with Madelaine Smith .05 ahead of Ashleigh Pittaway.
Racing resumes on Friday at 3:30 PM ET for the women.
Results:
| | | | | | | | | |
| --- | --- | --- | --- | --- | --- | --- | --- | --- |
| Pos | Name | Nation | Bib | Start 1 | Start 2 | Run 1 | Run 2 | Total |
| 1 | Tina Hermann | GER | 5 | 4.94 | 4.93 | 53.17 | 53.48 | 1:46.65 |
| 2 | Jacqueline Lölling | GER | 10 | 5.00 | 5.00 | 53.42 | 53.58 | 1:47.00 |
| 3 | Sophia Griebel | GER | 8 | 4.93 | 4.96 | 53.83 | 53.64 | 1:47.47 |
| 4 | Anna Fernstädt | CZE | 3 | 5.10 | 5.11 | 53.96 | 53.70 | 1:47.66 |
| 5 | Elena Nikitina | RUS | 7 | 4.79 | 4.77 | 53.93 | 53.81 | 1:47.74 |
| 6 | Janine Flock | AUT | 4 | 5.03 | 5.02 | 54.10 | 53.97 | 1:48.07 |
| 7 | Yulia Kanakina | RUS | 9 | 4.82 | 4.83 | 54.14 | 53.95 | 1:48.09 |
| 7 | Savannah Graybill | USA | 19 | 5.04 | 5.06 | 54.06 | 54.03 | 1:48.09 |
| 9 | Marina Gilardoni | SUI | 17 | 4.94 | 4.93 | 54.20 | 53.92 | 1:48.12 |
| 10 | Elisabeth Maier | CAN | 12 | 4.89 | 4.90 | 54.24 | 53.91 | 1:48.15 |
| 11 | Kendall Wesenberg | USA | 11 | 4.99 | 5.00 | 54.09 | 54.34 | 1:48.43 |
| 12 | Mirela Rahneva | CAN | 6 | 4.81 | 4.88 | 54.12 | 54.51 | 1:48.63 |
| 13 | Madelaine Smith | GBR | 14 | 4.88 | 4.91 | 54.63 | 54.23 | 1:48.86 |
| 14 | Renata Khuzina | RUS | 13 | 4.92 | 4.96 | 54.08 | 54.81 | 1:48.89 |
| 15 | Ashliegh Pittaway | GBR | 18 | 5.09 | 5.14 | 54.47 | 54.44 | 1:48.91 |
| 16 | Kimberley Bos | NED | 15 | 4.87 | 4.86 | 54.46 | 54.51 | 1:48.97 |
| 17 | Madison Charney | CAN | 22 | 4.91 | 4.95 | 54.71 | 54.30 | 1:49.01 |
| 18 | Megan Henry | USA | 20 | 4.98 | 4.91 | 54.82 | 54.29 | 1:49.11 |
| 19 | Kellie Delka | PUR | 25 | 5.06 | 5.08 | 54.71 | 54.75 | 1:49.46 |
| 20 | Kim Meylemans | BEL | 16 | 4.92 | 4.91 | 55.06 | 54.93 | 1:49.99 |
| 21 | Leslie Stratton | SWE | 23 | 5.03 | 5.08 | 55.03 | 55.00 | 1:50.03 |
| 22 | Huiyang Lin | CHN | 24 | 4.91 | 5.01 | 55.20 | 55.25 | 1:50.45 |
| 23 | Valentina Margaglio | ITA | 21 | 4.91 | 4.87 | 55.34 | 55.50 | 1:50.84 |
| 24 | Nicole Silveira | BRA | 2 | 5.03 | 5.03 | 56.04 | 56.09 | 1:52.13 |
| 25 | Katie Tannenbaum | ISV | 1 | 5.10 | 5.11 | 56.82 | 55.65 | 1:52.47 |
| 26 | Georgina Cohen | ISR | 26 | 5.44 | 5.51 | 57.00 | 58.38 | 1:55.38 |