From Whistler, CAN
(Mar. 8, 2019) – Leading up to World Championships, Latvia's Martins Dukurs had a 2018/2019 season that he'd otherwise rather forget. He had both won only one race (his fewest in a decade) and missed four podiums (his most in a decade) on his way to an otherwise respectable third place finish overall.
The season was redeemed over the course of two days of sliding, where Dukurs led every heat and broke both the start record and track record on his way to a .51 second victory and his sixth World Championship.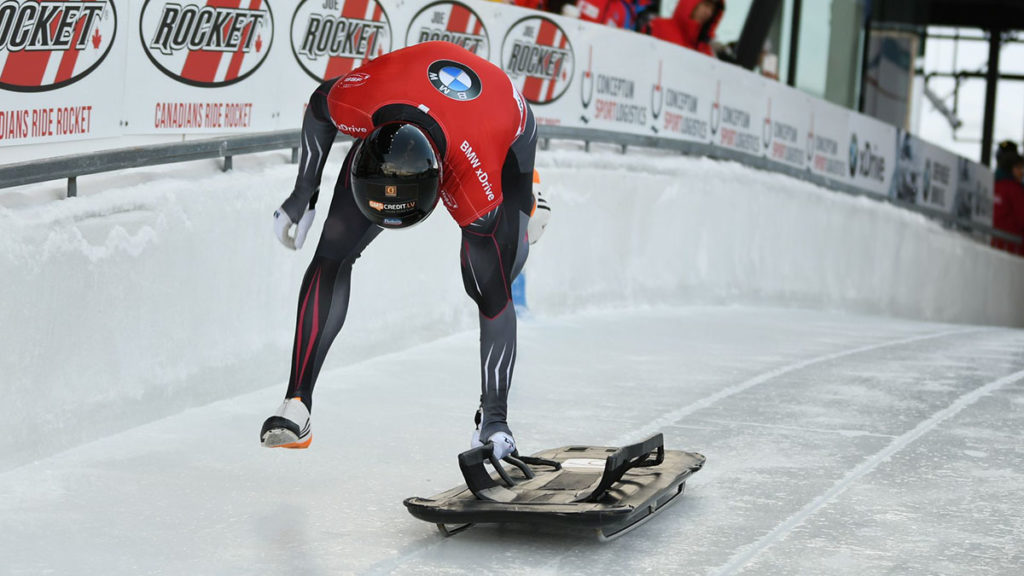 Dukurs broke the track record (formerly held by Sungbin Yun) in the second heat with a 51.91 run, and then almost matched that time on his third run, missing it by only .01. On his fourth run hebroke the start record set by Alexander Tretiakov in the 2010 Olympic Games on what was effectively a victory lap.
The sixth championship extends Dukurs' lead of the most titles ever, doubling the number won by Gregor Stähli.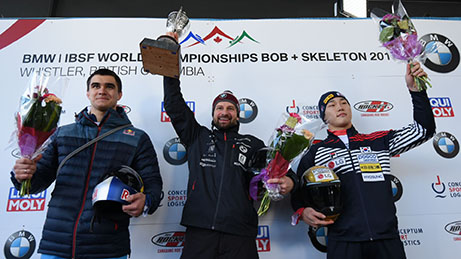 Russian Nikita Tregubov had a great World Championships, finishing second and never having a run outside of the top three fastest of the heat. Olympic gold medalist Sungbin Yun finished third, moving up from sixth overnight on the strength of the second fastest run in each heat.
L-R: Tregubov, M. Dukurs, Yun (Courtesy IBSF/Viesturs Lacis)Christopher Grotheer started the World Championships in second place after his first run, but fell down to fifth after a tough second trip down. He moved up over the last two runs to finish fourth, ahead of Tomass Dukurs in fifth and Alexander Tretiakov in sixth.
Austin Florian was one rough run away from contending for a top six in his first World Championships. Aside from an 16th quickest run in the second heat, Florian had a top ten run every time to place eighth. Behind Florian's effort over four heats, both Greg West and Kyle Brown saved their best run for the fourth heat. West moved up from 17th to 16th, while Brown moved from 20th to 19th
Canada's Dave Greszczyszyn finished 11th on home soil. After two runs Greszczyszyn found himself in a disappointing 17th place. A fifth-fastest third heat propelled him up the leaderboard to 11th after three runs, and he held on in the fourth to just miss out on a top ten finish by .02. His teammate Mark Lynch missed out on a top 20 finish, finishing 23rd.
In his first World Championships, Marcus Wyatt was the top finisher for Great Britain. Other than a tough second heat, Wyatt was consistently quick in all four runs to finish 12th. Teammate Jerry Rice finished just out of the top 20 in 21st, while Jack Thomas finished 27th in his second World Championships.
Spain's Ander Mirambell made a last minute decision to sit out the World Championships after struggling with a back injury all season and was the only pre-race scratch in the field.
Results:
| | | | | | | | | |
| --- | --- | --- | --- | --- | --- | --- | --- | --- |
| Pos | Name | Nation | Bib | Run 1 | Run 2 | Run 3 | Run 4 | Total |
| 1 | Martins Dukurs | LAT | 6 | 52.15 | 51.91 | 51.92 | 52.13 | 3:28.11 |
| 2 | Nikita Tregubov | RUS | 8 | 52.26 | 52.17 | 52.04 | 52.15 | 3:28.62 |
| 3 | Sungbin Yun | KOR | 5 | 52.34 | 52.49 | 52.01 | 52.15 | 3:28.99 |
| 4 | Christohper Grotheer | GER | 18 | 52.22 | 52.51 | 52.14 | 52.22 | 3:29.09 |
| 5 | Tomass Dukurs | LAT | 10 | 52.36 | 52.18 | 52.23 | 52.34 | 3:29.11 |
| 6 | Alexander Tretiakov | RUS | 7 | 52.47 | 52.12 | 52.36 | 52.29 | 3:29.24 |
| 7 | Alexander Gassner | GER | 25 | 52.48 | 52.70 | 52.33 | 52.68 | 3:30.19 |
| 8 | Austin Florian | USA | 17 | 52.64 | 52.85 | 52.17 | 52.56 | 3:30.22 |
| 9 | Seunggi Jung | KOR | 16 | 52.78 | 52.68 | 52.32 | 52.54 | 3:30.32 |
| 10 | Axel Jungk | GER | 9 | 52.78 | 52.84 | 52.31 | 52.46 | 3:30.39 |
| 11 | David Greszczyszyn | CAN | 14 | 53.09 | 52.75 | 52.16 | 52.41 | 3:30.41 |
| 12 | Marcus Wyatt | GBR | 11 | 52.86 | 52.89 | 52.40 | 52.50 | 3:30.65 |
| 13 | Felix Keisinger | GER | 4 | 52.74 | 52.80 | 52.67 | 52.67 | 3:30.88 |
| 14 | Jisoo Kim | KOR | 22 | 52.87 | 52.83 | 52.56 | 52.89 | 3:31.15 |
| 14 | Vladyslav Heraskevych | UKR | 12 | 52.94 | 52.81 | 52.49 | 52.91 | 3:31.15 |
| 16 | Greg West | USA | 19 | 53.11 | 52.74 | 52.78 | 52.73 | 3:31.36 |
| 17 | Wenqiang Geng | CHN | 24 | 53.04 | 52.61 | 52.51 | 53.21 | 3:31.37 |
| 18 | Florian Auer | AUT | 13 | 52.88 | 52.95 | 52.92 | 52.76 | 3:31.51 |
| 19 | Kyle Brown | USA | 20 | 53.21 | 52.85 | 53.00 | 52.70 | 3:31.76 |
| 20 | Wengang Yan | CHN | 23 | 53.16 | 52.86 | 52.85 | 53.19 | 3:32.06 |
| 21 | Jerry Rice | GBR | 15 | 53.28 | 53.20 | 53.29 | | 2:39.77 |
| 22 | Brendan Doyle | IRL | 2 | 53.48 | 53.22 | 53.11 | | 2:39.81 |
| 23 | Mark Lynch | CAN | 31 | 53.41 | 53.23 | 53.25 | | 2:39.89 |
| 24 | Vladislav Marchenkov | RUS | 21 | 53.25 | 53.38 | 53.41 | | 2:40.04 |
| 25 | Joseph Luke Cecchini | ITA | 29 | 53.57 | 53.56 | 53.13 | | 2:40.26 |
| 26 | Nicholas Timmings | AUS | 30 | 53.99 | 53.65 | 53.59 | | 2:41.23 |
| 27 | Jack Thomas | GBR | 27 | 53.55 | 53.71 | 54.09 | | 2:41.35 |
| 28 | Ronald Auderset | SUI | 26 | 53.74 | 54.23 | 53.43 | | 2:41.40 |
| 29 | Alexander Hanssen | NOR | 28 | 53.89 | 54.12 | 53.61 | | 2:41.62 |
| 30 | Joel Seligstein | ISR | 34 | 54.18 | 53.81 | 54.17 | | 2:42.16 |
| 31 | Jeff Bauer | LUX | 33 | 54.95 | 54.50 | 54.73 | | 2:44.18 |
| 32 | Bram Zeegers | NED | 35 | 55.82 | 56.18 | 56.66 | | 2:48.66 |
| 33 | Joe Della Santina | NZL | 1 | 57.54 | 58.09 | 57.34 | | 2:52.97 |
| DNS | Reynaldo Arturo Sosa | MEX | 36 | 58.87 | 59.16 | DNS | | |
| DNS | Todd Rodriguez Pfalzgraf | PUR | 3 | 57.94 | 64.72 | DNS | | |
| DNS | Ander Mirambell | ESP | 32 | DNS | | | | |