From Whistler, CAN
(Mar. 8, 2019) – Coming into the third heat of women's skeleton it was shaping up to be the best performance for Germany of the 2019 World Championships. Tina Hermann had a sizeable lead on teammates Jacqueline Lölling and Sophia Grielbel. By the end of the race, the event was solidly German.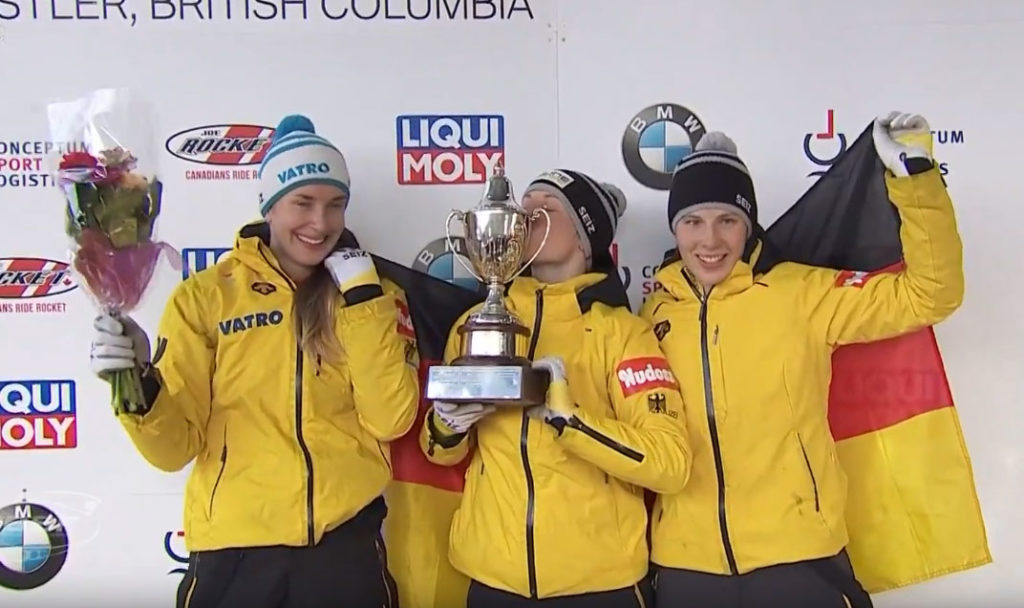 Tina Hermann extended her lead over Lölling after three heats, holding a .39 second advantage going into the final run of the competition. Lölling responded with a new track record (53.10) to put the pressure back on Hermann. Hermann charged back, finishing her fourth run only .01 slower than Lölling to win her second women's skeleton world championships. Lölling finished second, with Sophia Griebel finishing out the German sweep of the podium in third.
Hermann's gold medal was her third World Championships medal in skeleton to go with two golds and a silver in the Team Competition.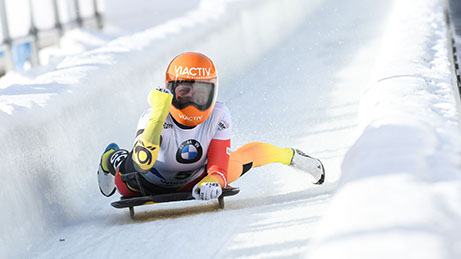 Anna Fernstädt finished her first season as a Czech slider tying a career best finish in World Championships in fourth after four consecutive runs in the top five. World Cup champion Elena Nikitina finished fifth.
Swiss slider Marina Gilardoni scored her best finish in two years with a sixth place finish. She came into the second day of sliding outside of the top ten, but put down a fourth-quickest run in the third heat to propel her up the scoreboard from ninth after two runs.
Savannah Graybill struggled a bit across the IBSF World Cup in the 2018/2019 season, but came back strong in Whistler. First she won a bronze medal in the Team Competition and then threw down four quality runs to finish eighth, which was a best finish in a World Cup or World Championship since Lake Placid in the 2014/2015 season. Teammate Kendall Wesenberg just missed out on a top ten with an 11th, which is a career best in a four-heat race.
Canada relatively struggled to put four solid heats together on home soil. Elisabeth Maier led the way with a tenth place, rallying back from 13th after the first run. Mimi Rahneva saved her best run for last, finishing 12th. Madi Charney finished 17th in her first career World Championships.
With Laura Deas out due to injury, the British effort was placed on the shoulders of Madelaine Smith and Ashleigh Pittaway. The two World Championships rookies finished 15th and 16th respectively.
Results:
| | | | | | | | | |
| --- | --- | --- | --- | --- | --- | --- | --- | --- |
| Pos | Name | Nation | Bib | Run 1 | Run 2 | Run 3 | Run 4 | Total |
| 1 | Tina Hermann | GER | 5 | 53.17 | 53.48 | 53.27 | 53.11 | 3:33.03 |
| 2 | Jacqueline Lölling | GER | 10 | 53.42 | 53.58 | 53.31 | 53.10 | 3:33.41 |
| 3 | Sophia Griebel | GER | 8 | 53.83 | 53.64 | 53.38 | 53.35 | 3:34.20 |
| 4 | Anna Fernstädt | CZE | 3 | 53.96 | 53.70 | 53.52 | 53.62 | 3:34.80 |
| 5 | Elena Nikitina | RUS | 7 | 53.93 | 53.81 | 53.66 | 53.66 | 3:35.06 |
| 6 | Marina Gilardoni | SUI | 17 | 54.20 | 53.92 | 53.45 | 53.81 | 3:35.38 |
| 7 | Yulia Kanakina | RUS | 9 | 54.14 | 53.95 | 53.77 | 53.54 | 3:35.40 |
| 8 | Savannah Graybill | USA | 19 | 54.06 | 54.03 | 53.85 | 53.69 | 3:35.63 |
| 9 | Janine Flock | AUT | 4 | 54.10 | 53.97 | 53.63 | 54.01 | 3:35.71 |
| 10 | Elisabeth Maier | CAN | 12 | 54.24 | 53.91 | 53.82 | 53.86 | 3:35.83 |
| 11 | Kendall Wesenberg | USA | 11 | 54.09 | 54.34 | 53.81 | 53.88 | 3:36.12 |
| 12 | Mirela Rahneva | CAN | 6 | 54.12 | 54.51 | 54.02 | 53.85 | 3:36.50 |
| 13 | Kimberley Bos | NED | 15 | 54.46 | 54.51 | 54.39 | 53.88 | 3:37.24 |
| 14 | Renata Khuzina | RUS | 13 | 54.08 | 54.81 | 54.36 | 54.02 | 3:37.27 |
| 15 | Madelaine Smith | GBR | 14 | 54.63 | 54.23 | 54.28 | 54.25 | 3:37.39 |
| 16 | Ashliegh Pittaway | GBR | 18 | 54.47 | 54.44 | 54.44 | 54.09 | 3:37.44 |
| 17 | Madison Charney | CAN | 22 | 54.71 | 54.30 | 54.13 | 54.57 | 3:37.71 |
| 18 | Megan Henry | USA | 20 | 54.82 | 54.29 | 54.39 | 54.43 | 3:37.93 |
| 19 | Kellie Delka | PUR | 25 | 54.71 | 54.75 | 54.96 | 54.73 | 3:39.15 |
| 20 | Kim Meylemans | BEL | 16 | 55.06 | 54.93 | 54.46 | 54.74 | 3:39.19 |
| 21 | Leslie Stratton | SWE | 23 | 55.03 | 55.00 | 55.04 | | 2:45.07 |
| 22 | Huiyang Lin | CHN | 24 | 55.20 | 55.25 | 54.93 | | 2:45.38 |
| 23 | Valentina Margaglio | ITA | 21 | 55.34 | 55.50 | 55.00 | | 2:45.84 |
| 24 | Katie Tannenbaum | ISV | 1 | 56.82 | 55.65 | 55.40 | | 2:47.87 |
| 25 | Nicole Silveira | BRA | 2 | 56.04 | 56.09 | 55.91 | | 2:48.04 |
| 26 | Georgina Cohen | ISR | 26 | 57.00 | 58.38 | 57.20 | | 2:52.58 |