From Igls, AUT
Nov. 23, 2019 – Toni Eggert & Sascha Benecken didn't make it look easy, but the 2019 World Champions rallied from fourth to win the first World Cup race of the season.
The German duo made a couple small mistakes on their first run, leaving them out of the top three after one run. Their second run was the fastest of the race and enough to put them in the lead with three sleds to go.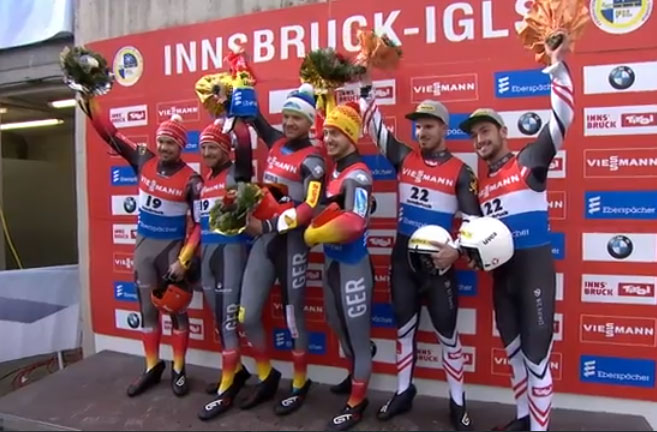 The Russian team of Vsevolod Kashkin & Konstantin Korshunov were next down, but a mistake through Curve 7 dropped them down the order. They were followed by Tobias Wendl & Tobias Arlt, who otherwise had a quick run but couldn't match the speed set by their teammates.
That left the team of Wojciech Chmielewski & Kowalewski as all that stood between Eggert & Benecken and a gold medal.
The Polish duo were quick out the gate, looking to defend their first ever World Cup lead. Disaster struck at the exit of Curve 9, where the team hit the wall twice, losing a chance at a medal in the process.
That handed the win to Eggert & Benecken, who edged out Wendl & Arlt by .009. Thomas Steu & Lorenz Koller finished third.
The Russian team of Yuzhakov & Prokhorov finished fourth, with the Sics brothers in fifth and Italians Nagler & Malleier in sixth.
Tristan Walker & Justin Snith made one small mistake in the middle of their second run, but otherwise had a pair of quick starts and good runs. The Canadians finished ninth.
The American duo of Chris Mazdzer & Jayson Terdiman came into the race dealing both with Mazdzer's shoulder injury and some new sled woes. They struggled in their first heat, but rallied with a quick second run to finish 17th.
Results:
| | | | | | | | | |
| --- | --- | --- | --- | --- | --- | --- | --- | --- |
| Pos | Names | Nation | Bib | Start 1 | Start 2 | Run 1 | Run 2 | Total |
| 1 | Eggert / Benecken | GER | 20 | 2.053 | 2.066 | 40.527 | 40.205 | 1:20.732 |
| 2 | Wendl / Arlt | GER | 19 | 2.055 | 2.059 | 40.403 | 40.338 | 1:20.741 |
| 3 | Steu / Koller | AUT | 22 | 2.073 | 2.071 | 40.561 | 40.259 | 1:20.820 |
| 4 | Yuzhakov / Prokhorov | RUS | 21 | 2.081 | 2.089 | 40.529 | 40.338 | 1:20.867 |
| 5 | Sics / Sics | LAT | 24 | 2.067 | 2.061 | 40.642 | 40.261 | 1:20.903 |
| 6 | Nagler / Malleier | ITA | 16 | 2.040 | 2.041 | 40.613 | 40.366 | 1:20.979 |
| 7 | Kashkin / Korshunov | RUS | 15 | 2.065 | 2.069 | 40.425 | 40.572 | 1:20.997 |
| 8 | Gudramovics / Kalnins | LAT | 14 | 2.096 | 2.104 | 40.539 | 40.482 | 1:21.021 |
| 9 | Walker / Snith | CAN | 13 | 2.034 | 2.031 | 40.542 | 40.535 | 1:21.077 |
| 10 | Denisev / Antonov | RUS | 23 | 2.075 | 2.084 | 40.803 | 40.371 | 1:21.174 |
| 11 | Müller / Frauscher | AUT | 12 | 2.205 | 2.066 | 41.007 | 40.380 | 1:21.387 |
| 12 | Putins / Marcinkevics | LAT | 18 | 2.059 | 2.067 | 40.784 | 40.693 | 1:21.477 |
| 13 | Chmielewski / Kowalewski | POL | 11 | 2.043 | 2.034 | 40.347 | 41.142 | 1:21.489 |
| 14 | Park / Cho | KOR | 10 | 2.159 | 2.111 | 40.866 | 40.640 | 1:21.506 |
| 15 | Stakhiv / Lysetskyi | UKR | 7 | 2.123 | 2.115 | 40.878 | 40.682 | 1:21.560 |
| 16 | Handaric / Ailenei | ROU | 4 | 2.123 | 2.120 | 40.961 | 40.923 | 1:21.884 |
| 17 | Mazdzer / Terdiman | USA | 3 | 2.126 | 2.089 | 41.375 | 40.555 | 1:21.930 |
| 18 | Geueke / Gamm | GER | 17 | 2.072 | 2.086 | 40.583 | 41.358 | 1:21.941 |
| 19 | Rieder / Rastner | ITA | 6 | 2.036 | 2.035 | 41.557 | 40.509 | 1:22.066 |
| 20 | Vavercak / Zmij | SVK | 8 | 2.071 | 2.070 | 40.753 | 41.374 | 1:22.127 |
| 21 | Vejdelek / Pekny | CZE | 5 | 2.161 | 2.136 | 41.257 | 40.908 | 1:22.165 |
| 22 | Siscanu / Oprea | MDA | 2 | 2.202 | 2.191 | 42.219 | 41.676 | 1:23.895 |
| DNF | Gatt / Schöpf | AUT | 1 | 2.104 | 2.108 | 41.778 | DNF | DNF |
| DSQ | Hoi / Levkovych | UKR | 9 | | | DSQ | | DSQ |