From Lake Placid, USA
Nov. 30, 2019 – Tobias Wendl & Tobias Arlt edged out Toni Eggert & Sascha Benecken to kick off the FIL World Cup race weekend in Lake Placid.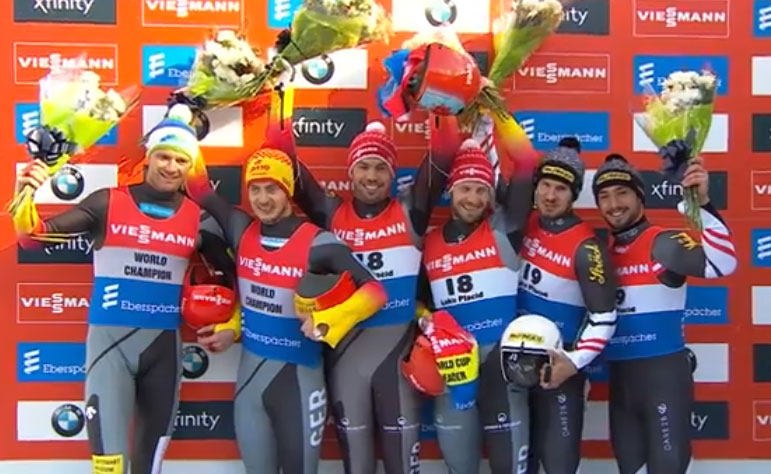 Wendl & Arlt were the quickest in both heats with two nearly flawless runs on their way to a .184 second victory over teammates Eggert & Benecken. The win was the first for Wendl & Arlt since the European Championship race in Oberhof a season ago.
Eggert & Benecken were close after one heat, but the reigning Olympic bronze medalists made a few early errors in their second run to open the door for Wendl & Arlt. Despite that early error, Eggert & Benecken were able to edge out Austrians Thomas Steu & Lorenz Koller, who finished third.
By German standards, Robin Geueke & David Gamm had a disastrous 2018/2019 season, and the start to their 2019/2020 campaign was just as tough. In Lake Placid, though, the German duo found their form with both a win in the Nation's Cup qualifying race and a fourth place finish in the World Cup event. Russians Vladislav Yuzhakov & Iurii Prokhorov finished fifth, while Andris & Juris Sics rallied from 11th in the first heat to continue a year-long streak of top six finishes in sixth.
The Canadian duo of Tristan Walker & Justin Snith finished just out of the top six in seventh, while Americans Chris Mazdzer & Jayson Terdiman crashed going into Curve 14 and did not finish.
Results:
| | | | | | | | | |
| --- | --- | --- | --- | --- | --- | --- | --- | --- |
| Pos | Names | Nation | Bib | Start 1 | Start 2 | Run 1 | Run 2 | Total |
| 1 | Wendl / Arlt | GER | 18 | 6.272 | 6.234 | 43.713 | 43.604 | 1:27.317 |
| 2 | Eggert / Benecken | GER | 15 | 6.272 | 6.266 | 43.762 | 43.739 | 1:27.501 |
| 3 | Steu / Koller | AUT | 19 | 6.301 | 6.314 | 43.797 | 43.716 | 1:27.513 |
| 4 | Geueke / Gamm | GER | 7 | 6.315 | 6.333 | 43.917 | 44.001 | 1:27.918 |
| 5 | Yuzhakov / Prokhorov | RUS | 16 | 6.390 | 6.340 | 44.038 | 43.959 | 1:27.997 |
| 6 | Sics / Sics | LAT | 17 | 6.345 | 6.320 | 44.392 | 43.813 | 1:28.205 |
| 7 | Walker / Snith | CAN | 8 | 6.277 | 6.271 | 44.068 | 44.237 | 1:28.305 |
| 8 | Gudramovics / Kalnins | LAT | 11 | 6.359 | 6.348 | 44.252 | 44.064 | 1:28.316 |
| 9 | Rieder / Rastner | ITA | 6 | 6.271 | 6.261 | 44.237 | 44.085 | 1:28.322 |
| 10 | Nagler / Malleier | ITA | 12 | 6.304 | 6.294 | 44.073 | 44.284 | 1:28.357 |
| 11 | Denisev / Antonov | RUS | 14 | 6.325 | 6.343 | 44.535 | 44.514 | 1:29.049 |
| 12 | Chmielewski / Kowalewski | POL | 9 | 6.283 | 6.276 | 44.930 | 44.600 | 1:29.530 |
| 13 | Putins / Marcinkevics | LAT | 10 | 6.312 | 6.319 | 45.173 | 44.529 | 1:29.702 |
| 14 | Müller / Frauscher | AUT | 2 | 6.334 | 6.333 | 45.158 | 44.910 | 1:30.068 |
| 15 | Hol / Levkovych | UKR | 5 | 6.460 | 6.457 | 45.092 | 45.193 | 1:30.285 |
| 16 | Kashkin / Korshunov | RUS | 13 | 6.364 | 6.338 | 48.536 | 44.490 | 1:33.026 |
| DNF | Mazdzer / Terdiman | USA | 4 | 6.349 | 6.360 | 44.039 | DNF | DNF |
| DNS | Stakhiv / Lysetskyi | UKR | 1 | | | DNS | | DNS |
| DSQ | Vejdelek / Pekny | CZE | 3 | | | DSQ | | DSQ |