From Lake Placid, USA
Nov. 30, 2019 – With Germany missing Natalie Geisenberger and Lake Placid track record holder Dajana Eitberger, the pressure was on Julia Taubitz to win gold in the United States over Emily Sweeney and Summer Britcher.
Taubitz answered the call.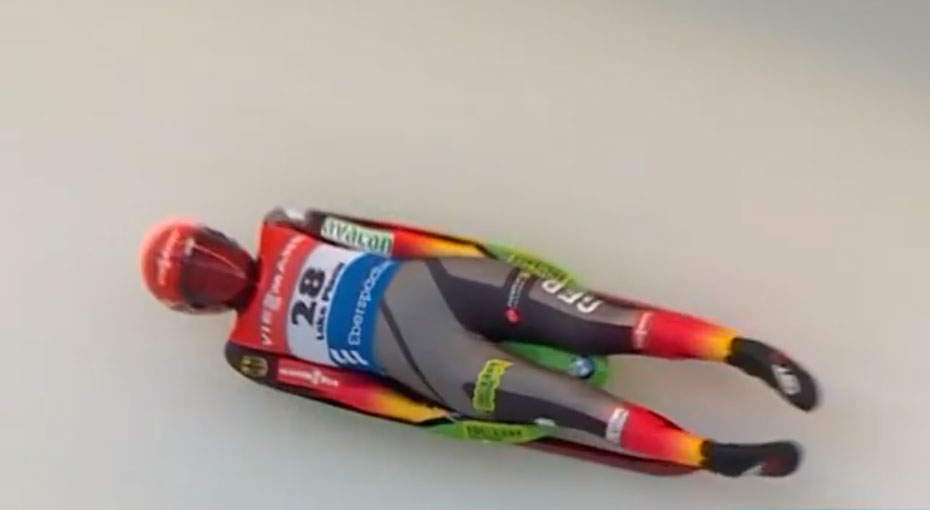 The 2018/2019 Crystal Globe runner up edged out Sweeney and Russia's Viktoriia Demchenko in the first heat with only .057 separating the three women, meaning someone would need to be perfect on their second run to take gold.
Of the three medal contenders, Demchenko went first. Her run was clean, but was roughly the same speed as her first heat, leaving the door wide open for Sweeney and Taubitz.
Sweeney answered the bell, putting down a new track record run despite hitting the wall entering Curve 13. However, that track record lasted only about two minutes.
With the pressure on Taubitz, the German was nearly flawless. Her second run was .03 faster than Sweeney's, enough to both break the track record and give Germany its second gold of the day.
Sweeney finished with a silver medal, just ahead of Demchenko in bronze.
Summer Britcher finished fourth for the United States. The American had two solid runs, with only a skid out of Curve 12 scrubbing off a bit of time that would have otherwise moved her onto the podium. Swiss slider Natalie Maag finished a career-best fifth, while Andrea Vötter finished sixth.
Ashley Farquharson finished ninth for the United States in her second career World Cup start to help put all three American women in the top ten.
Carolyn Maxwell was the top-finishing Canadian in 11th. Trinity Ellis will join her in Sunday's sprint with a 14th place finish, while Makena Hodgson finished 19th.
Results:
| | | | | | | | | |
| --- | --- | --- | --- | --- | --- | --- | --- | --- |
| Pos | Name | Nation | Bib | Start 1 | Start 2 | Run 1 | Run 2 | Total |
| 1 | Julia Taubitz | GER | 28 | 6.466 | 6.447 | 43.826 | 43.658 | 1:27.484 |
| 2 | Emily Sweeney | USA | 16 | 6.448 | 6.432 | 43.863 | 43.688 | 1:27.551 |
| 3 | Viktoriia Demchenko | RUS | 23 | 6.455 | 6.464 | 43.883 | 43.823 | 1:27.706 |
| 4 | Summer Britcher | USA | 24 | 6.460 | 6.438 | 44.024 | 43.951 | 1:27.975 |
| 5 | Ekaterina Katnikova | RUS | 22 | 6.482 | 6.489 | 44.121 | 43.935 | 1:28.056 |
| 6 | Natalie Maag | SUI | 17 | 6.482 | 6.509 | 44.130 | 43.952 | 1:28.082 |
| 7 | Andrea Vötter | ITA | 26 | 6.421 | 6.425 | 44.182 | 43.995 | 1:28.177 |
| 8 | Tatyana Ivanova | RUS | 25 | 6.413 | 6.442 | 44.284 | 43.904 | 1:28.188 |
| 9 | Ashley Farquharson | USA | 13 | 6.518 | 6.506 | 44.193 | 44.013 | 1:28.206 |
| 10 | Jessica Tiebel | GER | 14 | 6.519 | 6.528 | 44.196 | 44.064 | 1:28.260 |
| 11 | Carolyn Maxwell | CAN | 12 | 6.488 | 6.473 | 44.201 | 44.175 | 1:28.376 |
| 12 | Kendija Aparjode | LAT | 19 | 6.489 | 6.479 | 44.411 | 44.103 | 1:28.514 |
| 13 | Ulla Zirne | LAT | 20 | 6.550 | 6.541 | 44.285 | 44.262 | 1:28.547 |
| 14 | Trinity Ellis | CAN | 15 | 6.534 | 6.515 | 44.266 | 44.291 | 1:28.557 |
| 15 | Anna Berreiter | GER | 11 | 6.438 | 6.457 | 44.532 | 44.036 | 1:28.568 |
| 16 | Ekaterina Baturina | RUS | 27 | 6.437 | 6.446 | 44.586 | 44.024 | 1:28.610 |
| 17 | Cheyenne Rosenthal | GER | 10 | 6.471 | 6.476 | 44.385 | 44.366 | 1:28.751 |
| 18 | Eliza Cauce | LAT | 18 | 6.474 | 6.471 | 44.583 | 44.279 | 1:28.862 |
| 19 | Makena Hodgson | CAN | 8 | 6.544 | 6.558 | 44.640 | 44.572 | 1:29.212 |
| 20 | Madeleine Egle | AUT | 21 | 6.427 | 6.436 | 45.313 | 44.057 | 1:29.370 |
| 21 | Raluca Stramaturaru | ROU | 5 | 6.540 | 6.502 | 44.603 | 44.769 | 1:29.372 |
| 22 | Michaela Marsikova | CZE | 3 | 6.538 | 6.561 | 44.825 | 45.009 | 1:29.834 |
| 23 | Katarina Simonakova | SVK | 7 | 6.531 | 6.526 | 45.393 | 44.531 | 1:29.924 |
| 24 | Olena Stetskiv | UKR | 6 | 6.534 | 6.540 | 45.241 | 44.927 | 1:30.168 |
| 25 | Klaudia Domaradzka | POL | 4 | 6.529 | 6.539 | 46.222 | 46.597 | 1:31.819 |
| 26 | Dania Obratov | NED | 1 | 6.677 | 6.665 | 46.493 | 46.532 | 1:33.025 |
| DNF | Olena Smaha | UKR | 2 | 6.585 | 6.579 | 45.282 | DNF | DNF |
| DNS | Hannah Prock | AUT | 9 | 6.560 | | 45.580 | DNS | DNS |