From Lake Placid, USA
Dec. 7, 2019 – Johannes Lochner won the IBSF World Cup 2-man opener in Lake Placid, edging out Francesco Friedrich and Justin Kripps in the process.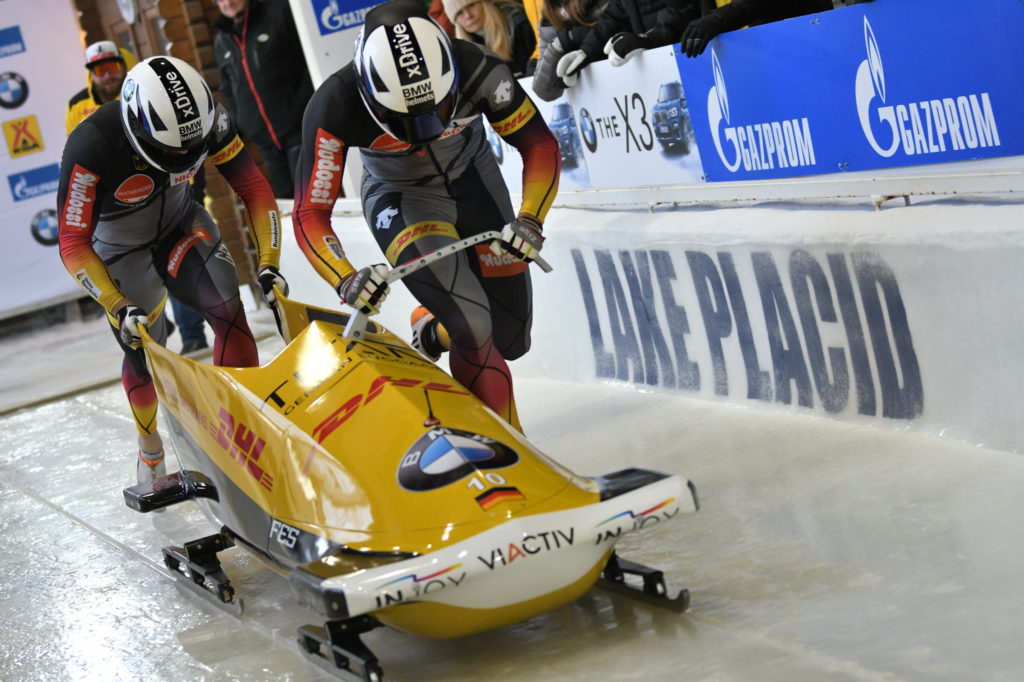 Lochner set the fast time in the first heat, and while his second run looked nearly identical, it was only good enough for the third quickest time. It was, however, enough to win gold by just .08 over Francesco Friedrich, and .26 ahead of Justin Kripps in the lone Canadian sled.
The gold for Lochner was his first 2-man World Cup gold since January of 2017 (Königssee), while the silver for Friedrich was his first non-gold medal finish in 2-man bobsled since January of 2018 (St. Moritz).
Oskars Melbaris finished fourth on the strength of the two fastest pushes of the race, while Hunter Church and Codie Bascue finished fifth and sixth for the United States.
Church came into the second heat in second place, but struggled at the start of his second run and fell down the leaderboard. His fifth place finish was still a career best at the World Cup level.
Geoff Gadbois finished 19th in the third American sled.
Results:
| | | | | | | | | |
| --- | --- | --- | --- | --- | --- | --- | --- | --- |
| Pos | Names | Nation | Bib | Start 1 | Start 2 | Run 1 | Run 2 | Total |
| 1 | Lochner / Bauer | GER | 4 | 5.09 | 5.10 | 54.94 | 55.23 | 1:50.13 |
| 2 | Friedrich / Margis | GER | 10 | 5.11 | 5.08 | 55.12 | 55.13 | 1:50.25 |
| 3 | Kripps / Coakwell | CAN | 9 | 5.17 | 5.17 | 55.24 | 55.19 | 1:50.43 |
| 4 | Kibermanis / Miknis | LAT | 5 | 5.08 | 5.06 | 55.18 | 55.61 | 1:50.46 |
| 5 | Church / Horn | USA | 2 | 5.26 | 5.30 | 55.08 | 55.61 | 1:50.69 |
| 6 | Bascue / Williamson | USA | 15 | 5.20 | 5.25 | 55.33 | 55.47 | 1:50.80 |
| 7 | Vogt / Beiri | SUI | 12 | 5.20 | 5.22 | 55.43 | 55.49 | 1:50.92 |
| 8 | Won / Seo | KOR | 11 | 5.17 | 5.23 | 55.48 | 55.69 | 1:51.17 |
| 9 | Hafer / Schneider | GER | 16 | 5.27 | 5.29 | 55.44 | 55.80 | 1:51.24 |
| 9 | Heinrich / Hauterville | FRA | 7 | 5.26 | 5.24 | 55.58 | 55.66 | 1:51.24 |
| 11 | Suk / Kim | KOR | 1 | 5.28 | 5.27 | 55.46 | 55.79 | 1:51.25 |
| 12 | Maier / Sammer | AUT | 18 | 5.18 | 5.22 | 55.59 | 55.81 | 1:51.40 |
| 13 | Dvorak / Nosek | CZE | 6 | 5.18 | 5.18 | 55.54 | 55.94 | 1:51.48 |
| 14 | Rinaldi / Borges Mendonaca | MON | 14 | 5.27 | 5.28 | 55.70 | 55.79 | 1:51.49 |
| 15 | Shao / Liu | CHN | 19 | 5.34 | 5.32 | 55.78 | 55.85 | 1:51.63 |
| 16 | Stulnev / Mordasov | RUS | 21 | 5.29 | 5.33 | 55.75 | 55.95 | 1:51.70 |
| 17 | Andrianov / Samitov | RUS | 8 | 5.29 | 5.28 | 55.73 | 56.00 | 1:51.73 |
| 18 | Berzins / Springis | LAT | 3 | 5.21 | 5.18 | 55.67 | 56.27 | 1:51.94 |
| 19 | Gadbois / Lynch | USA | 17 | 5.35 | 5.37 | 55.87 | 56.09 | 1:51.96 |
| 20 | Sun / Wu | CHN | 20 | 5.25 | 5.24 | 55.88 | 56.13 | 1:52.01 |
| 21 | Terichl / Glück | AUT | 13 | 5.38 | | 55.99 | | |