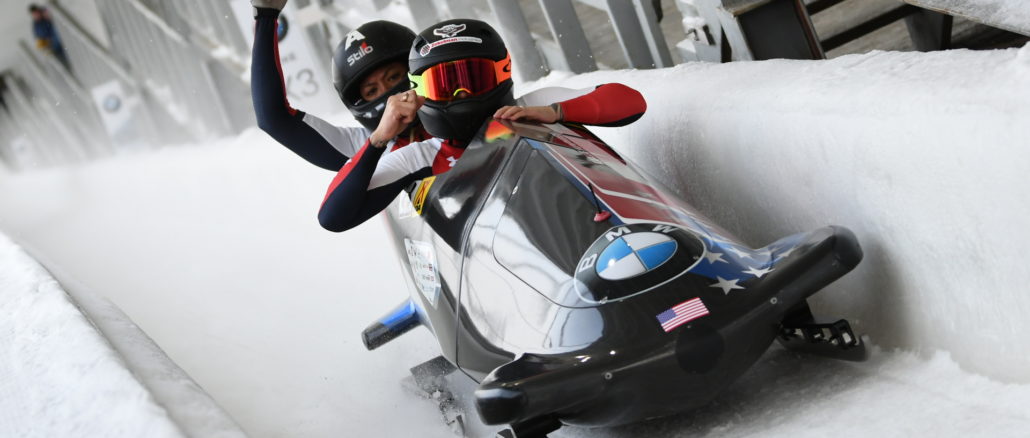 From Lake Placid, USA
Dec. 7, 2019 – Kaillie Humphries returned to the IBSF World Cup in style, winning gold in Lake Placid.
Humphries, now sliding for the United States alongside new teammate Lauren Gibbs, was the quickest off the top in both heats, and fastest at every split along the way down the 2021 World Championship course on her way to a .31 second victory over Stephanie Schneider.
Schneider, with Lisette Thöne on the brakes for the first time in a season, sat fourth in the first heat before jumping up into the silver medal position.
Kim Kalicki finished third in her World Cup debut, while Olympic champion Mariama Jamanka finished fourth to put all three German sleds in the top four.
Christine de Bruin couldn't match her first heat's time and finished fifth in the lone Canadian sled, while Switzerland's Martina Fontanive finished sixth.
Brittany Reinbolt finished seventh in the second American sled.
Results:
| | | | | | | | | |
| --- | --- | --- | --- | --- | --- | --- | --- | --- |
| Pos | Names | Nation | Bib | Start 1 | Start 2 | Run 1 | Run 2 | Total |
| 1 | Humphries / Gibbs | USA | 12 | 5.55 | 5.56 | 56.70 | 56.78 | 1:53.48 |
| 2 | Schneider / Thöne | GER | 13 | 5.62 | 5.62 | 56.83 | 56.96 | 1:53.79 |
| 3 | Kalicki / Mark | GER | 3 | 5.62 | 5.63 | 56.82 | 57.10 | 1:53.92 |
| 4 | Jamanka / Lipperheide | GER | 5 | 5.58 | 5.59 | 56.85 | 57.08 | 1:53.93 |
| 5 | de Bruin / Richardson Wilson | CAN | 10 | 5.68 | 5.73 | 56.79 | 57.14 | 1:53.94 |
| 6 | Fontanive / Pasternack | SUI | 9 | 5.64 | 5.66 | 57.13 | 57.34 | 1:54.47 |
| 7 | Reinbolt / Hoffmann | USA | 4 | 5.63 | 5.73 | 57.06 | 57.42 | 1:54.48 |
| 8 | Sergeeva / Mamedova | RUS | 6 | 5.63 | 5.66 | 57.15 | 57.43 | 1:54.58 |
| 9 | Chernykh / Shokshueva | RUS | 11 | 5.73 | 5.76 | 57.21 | 57.49 | 1:54.70 |
| 10 | Ying / Lu | CHN | 8 | 5.73 | 5.72 | 57.32 | 57.39 | 1:54.71 |
| 11 | Huai / Huang | CHN | 2 | 5.74 | 5.75 | 57.38 | 57.69 | 1:55.07 |
| 12 | Beierl / Loibner | AUT | 7 | 5.76 | 5.80 | 57.31 | 57.94 | 1:55.25 |
| 13 | Nazaruk / Parfenova | RUS | 1 | 5.76 | | DNF | | |