From Lake Placid, USA
Dec. 7, 2019 – It's a new season for the IBSF World Cup, but very little has changed atop the leaderboard, with Jacqueline Lölling cruising to victory in Lake Placid.
Lölling entered the second heat .2 ahead of Austria's Janine Flock. Lölling edged out Flock's second run downtime to win by .24 over the Austrian.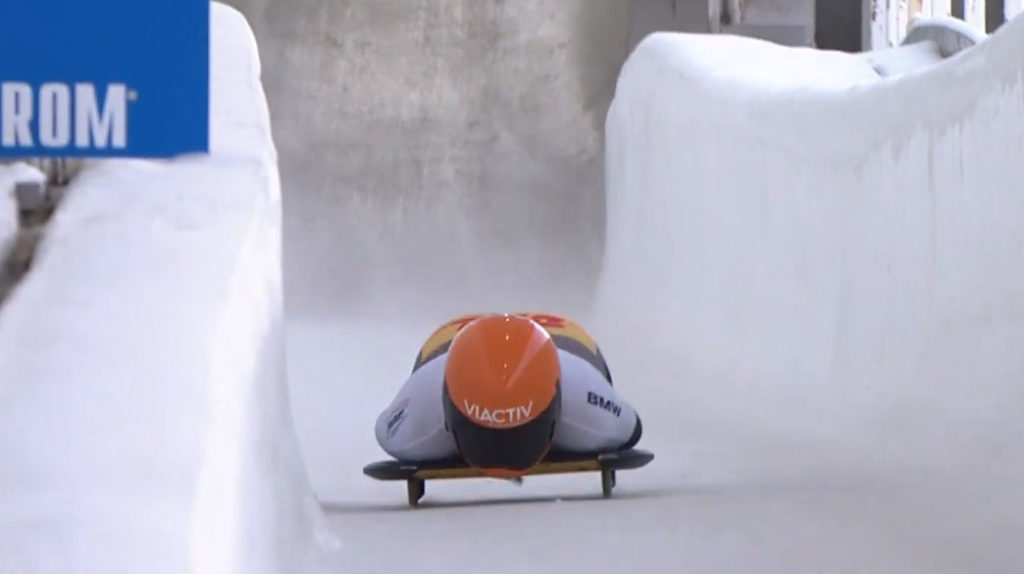 Both women had equal start times in both heats that were well outside of the top 10.
Flock finished second, securing her fifth medal and sixth top five finish in nine World Cup starts in Lake Placid. Tina Hermann finished third for Germany.
Canada's Mimi Rahneva fnished just outside of the medals in fourth place, while Elena Nikitina moved up from ninth to fifth. The United States' Kendall Wesenberg moved up from eighth to sixth.
Meg Henry finished 12th, while Savannah Graybill finished 17th to round out the American effort. The United States will be on home ice again next week, with another race in Lake Placid.
Jane Channell finished just out side of the ten in eleventh place, while teammate Madi Charney finished 20th.
Aussie Jackie Narracott moved up from 18th in the first heat to finish 13th.
Results:
| | | | | | | | | |
| --- | --- | --- | --- | --- | --- | --- | --- | --- |
| Pos | Name | Nation | Bib | Start 1 | Start 2 | Run 1 | Run 2 | Total |
| 1 | Jacqueline Lölling | GER | 13 | 5.47 | 5.49 | 54.79 | 54.97 | 1:49.76 |
| 2 | Janine Flock | AUT | 6 | 5.47 | 5.49 | 54.99 | 55.01 | 1:50.00 |
| 3 | Tina Hermann | GER | 12 | 5.43 | 5.42 | 55.11 | 55.36 | 1:50.47 |
| 4 | Mirela Rahneva | CAN | 11 | 5.32 | 5.29 | 55.10 | 55.44 | 1:50.54 |
| 5 | Elena Nikitina | RUS | 8 | 5.14 | 5.11 | 55.38 | 55.17 | 1:50.55 |
| 6 | Kendall Wesenberg | USA | 9 | 5.55 | 5.59 | 55.37 | 55.50 | 1:50.87 |
| 7 | Anna Fernstädt | CZE | 19 | 5.60 | 5.60 | 55.19 | 55.71 | 1:50.90 |
| 8 | Kim Meylemans | BEL | 17 | 5.39 | 5.41 | 55.26 | 55.65 | 1:50.91 |
| 9 | Marina Gilardoni | SUI | 14 | 5.34 | 5.36 | 55.39 | 55.55 | 1:50.94 |
| 10 | Laura Deas | GBR | 10 | 5.33 | 5.29 | 55.45 | 55.54 | 1:50.99 |
| 11 | Jane Channell | CAN | 5 | 5.31 | 5.29 | 55.36 | 55.70 | 1:51.06 |
| 12 | Megan Henry | USA | 1 | 5.26 | 5.35 | 55.44 | 55.69 | 1:51.13 |
| 13 | Jaclyn Narracott | AUS | 23 | 5.49 | 5.47 | 55.72 | 55.45 | 1:51.17 |
| 14 | Sophia Griebel | GER | 7 | 5.44 | 5.49 | 55.48 | 55.70 | 1:51.18 |
| 15 | Savannah Graybill | USA | 18 | 5.54 | 5.55 | 55.57 | 55.86 | 1:51.43 |
| 16 | Yulia Kanakina | RUS | 4 | 5.22 | 5.21 | 55.58 | 55.90 | 1:51.48 |
| 17 | Kimberley Bos | NED | 16 | 5.42 | 5.48 | 55.44 | 56.06 | 1:51.50 |
| 18 | Leslie Stratton | SWE | 24 | 5.60 | 5.63 | 55.77 | 55.83 | 1:51.60 |
| 19 | Madelaine Smith | GBR | 15 | 5.38 | 5.33 | 55.52 | 56.32 | 1:51.84 |
| 20 | Madison Charney | CAN | 2 | 5.45 | 5.47 | 55.82 | 56.20 | 1:52.02 |
| 21 | Alina Tararychenkova | RUS | 22 | 5.29 | | 55.83 | | |
| 22 | Kimberley Murray | GBR | 20 | 5.40 | | 55.97 | | |
| 23 | Huiyang Lin | CHN | 3 | 5.43 | | 56.24 | | |
| 24 | Kellie Delka | PUR | 25 | 5.51 | | 56.38 | | |
| 25 | Valentina Margaglio | ITA | 21 | 5.32 | | 56.39 | | |