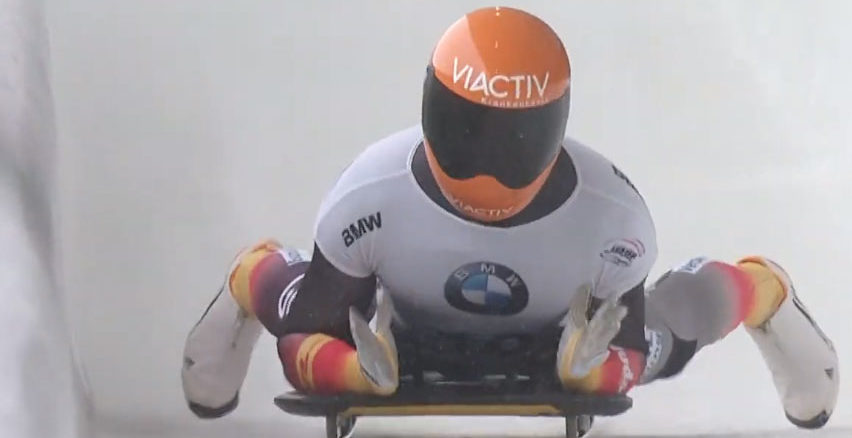 From Lake Placid, USA
Dec. 8, 2019 – Axel Jungk has been nothing but consistent almost everywhere he's ever slid. In Lake Placid, the German had never finished outside of the top six, but also had never finished on the podium. To open the 2019/2020 IBSF World Cup season he changed the latter.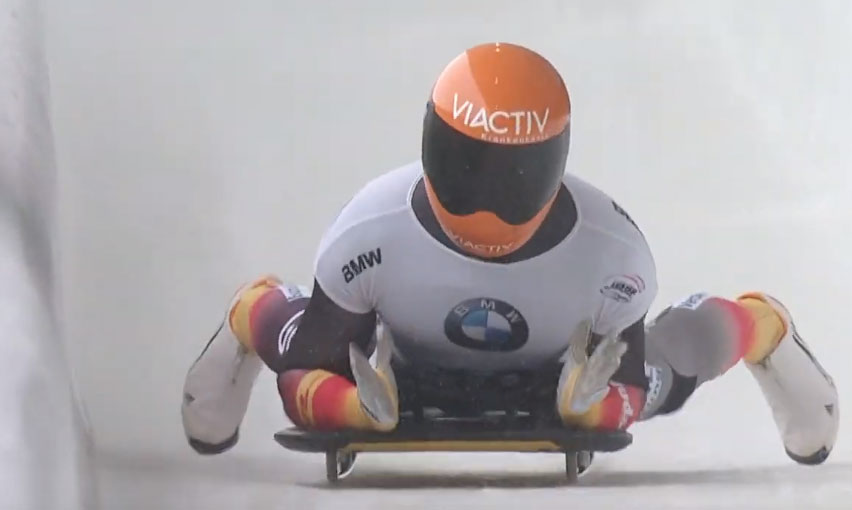 Jungk came into his second heat just behind teammate Felix Keisinger and just ahead of Martins Dukurs. Dukurs put down a solid run, edging out the Latvian for the leader's position with only Keisinger to come. Keisinger's run was bumpy, and dropped the young German down the leaderboard to fifth place, giving Jungk his second career victory and his first medal in Lake Placid. Dukurs finished second, while Alexander Tretiakov moved up from fourth to third.
With his finish, Jungk also became the first German to win gold in Lake Placid since Frank Rommel in 2009.
The big mover in the season opening race was Alexander Gassner, who moved up from 11th in the first heat to finish fourth on the strength of the heat's third fastest time. Keisinger and Tomass Dukurs rounded out the top six.
As it's been since the start of the sliding sport season, the track in Lake Placid was fast. Russian Evgeniy Rukosuev set the pace early, only .09 off the track record set by Matt Antoine in 2015. It took until Keisinger as the ninth sled down for the track record to fall. Jungk's time was .01 underneath Antoine's time, with the rest of the top sliders all hovering just above that time in the first heat.
The United States couldn't muster at top ten in the men's skeleton race. Austin Florian finished 14th to lead the American effort. Teammate Alex Ivanov finished 18th in his first World Cup start, while Andrew Blaser just missed out on the second heat in 23rd.
Dom Parsons made his return to action after taking a season off to finish his doctorate degree and get married. The Olympic bronze medalist finished 13th in his World Cup return.
Ahead of Parsons, teammate Marcus Wyatt finished just out of the top ten in 10th, while Craig Thompson missed out on the second run by just over a tenth, finishing 22nd.
Kevin Boyer was the top Canadian in the field with a 17th place run, while teammate Kyle Murray finished tied for 24th with Florian Auer of Austria.
Results:
| | | | | | | | | |
| --- | --- | --- | --- | --- | --- | --- | --- | --- |
| Pos | Name | Nation | Bib | Start 1 | Start 2 | Run 1 | Run 2 | Total |
| 1 | Axel Jungk | GER | 10 | 4.86 | 4.80 | 53.12 | 53.20 | 1:46.32 |
| 2 | Martins Dukurs | LAT | 13 | 4.86 | 4.73 | 53.14 | 53.30 | 1:46.44 |
| 3 | Alexander Tretiakov | RUS | 11 | 4.81 | 4.82 | 53.17 | 53.54 | 1:46.71 |
| 4 | Alexander Gassner | GER | 16 | 4.98 | 4.92 | 53.46 | 53.31 | 1:46.77 |
| 5 | Felix Keisinger | GER | 9 | 4.81 | 4.83 | 53.06 | 53.83 | 1:46.89 |
| 6 | Tomass Dukurs | LAT | 5 | 4.90 | 4.88 | 53.31 | 53.61 | 1:46.92 |
| 7 | Sungbin Yun | KOR | 7 | 4.83 | 4.90 | 53.41 | 53.55 | 1:46.96 |
| 8 | Nikita Tregubov | RUS | 12 | 4.89 | 4.84 | 53.28 | 53.73 | 1:47.01 |
| 9 | Evgeniy Rukosuev | RUS | 2 | 5.00 | 5.04 | 53.22 | 53.83 | 1:47.05 |
| 10 | Marcus Wyatt | GBR | 4 | 4.85 | 4.81 | 53.39 | 53.78 | 1:47.17 |
| 11 | Wenqiang Geng | CHN | 19 | 5.01 | 5.00 | 53.54 | 53.78 | 1:47.32 |
| 12 | Vladyslav Heraskevych | UKR | 8 | 4.97 | 5.02 | 53.28 | 54.20 | 1:47.48 |
| 13 | Dominic Parsons | GBR | 3 | 5.04 | 5.07 | 53.62 | 54.08 | 1:47.70 |
| 14 | Austin Florian | USA | 14 | 4.93 | 4.90 | 53.67 | 54.04 | 1:47.71 |
| 15 | Seunggi Jung | KOR | 15 | 4.95 | 4.89 | 53.75 | 53.97 | 1:47.72 |
| 16 | Jisoo Kim | KOR | 18 | 4.87 | 4.87 | 54.09 | 53.65 | 1:47.74 |
| 17 | Kevin Boyer | CAN | 20 | 4.99 | 5.01 | 53.93 | 53.94 | 1:47.87 |
| 18 | Alex Ivanov | USA | 27 | 5.08 | 5.11 | 53.90 | 54.18 | 1:48.08 |
| 19 | Samuel Maier | AUT | 22 | 5.07 | 5.12 | 54.10 | 54.19 | 1:48.29 |
| 20 | Wengang Yan | CHN | 21 | 4.98 | 4.97 | 54.02 | 54.35 | 1:48.37 |
| 21 | Nicholas Timmings | AUS | 25 | 5.01 | | 54.26 | | |
| 22 | Craig Thompson | GBR | 17 | 4.78 | | 54.28 | | |
| 23 | Andrew Blaser | USA | 23 | 4.97 | | 54.51 | | |
| 24 | Kyle Murray | CAN | 1 | 5.05 | | 54.81 | | |
| 24 | Florian Auer | AUT | 6 | 5.03 | | 54.81 | | |
| 26 | Alexander Hanssen | NOR | 24 | 4.96 | | 54.94 | | |
| 27 | Joel Seligstein | ISR | 26 | 5.29 | | 55.62 | | |