From Lake Placid, USA
Dec. 8, 2019 – It had been a while since Francesco Friedrich had won anything other than gold in 2-man bobsled. After a silver medal to open the 2019/2020 season, Friedrich found his way back to the top of the World Cup podium.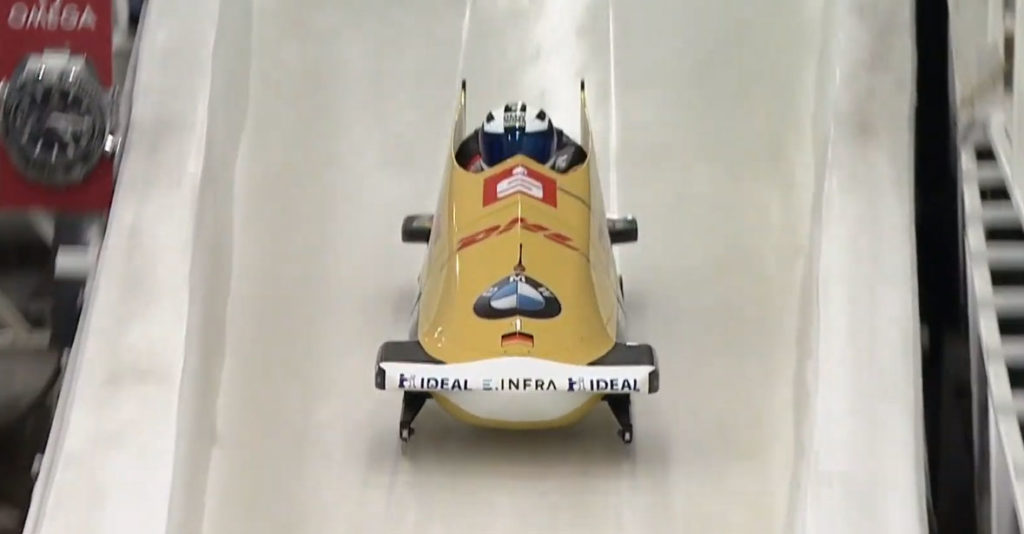 Johannes Lochner, the winner of the first race of the season, led going into the second heat of the race. Friedrich threw down the fastest run of either heat to put pressure on his German teammate.Lochner couldn't answer, finishing with the second quickest run of the heat but not nearly enough to match Friedrich, giving the 2018/2019 World Cup champion the win.
Lochner finished second, just ahead of Justin Kripps in third. The bronze for Kripps was the second in two races.
Oskars Kibermanis and Hunter Church came into the second run tied for third. On the second run, Kibermanis edged Church for what would be fourth place, with Church finishing fifth. Yunjong Won finished sixth.
Codie Bascue suffered a leg injury during the North American Cup races a couple of weeks prior to the start of the World Cup season. Despite the lingering injury, he finished ninth. Teammate Geoff Gadbois finished 18th to round out the American effort.
Results:
| | | | | | | | | |
| --- | --- | --- | --- | --- | --- | --- | --- | --- |
| Pos | Names | Nation | Bib | Start 1 | Start 2 | Run 1 | Run 2 | Total |
| 1 | Friedrich / Schüller | GER | 10 | 5.00 | 4.97 | 54.96 | 54.81 | 1:49.77 |
| 2 | Lochner / Rasp | GER | 13 | 5.06 | 5.05 | 54.92 | 55.08 | 1:50.00 |
| 3 | Kripps / Stones | CAN | 11 | 5.21 | 5.12 | 55.24 | 55.10 | 1:50.34 |
| 4 | Kibermanis / Miknis | LAT | 8 | 5.08 | 5.03 | 55.14 | 55.27 | 1:50.41 |
| 5 | Church / Horn | USA | 4 | 5.25 | 5.26 | 55.14 | 55.43 | 1:50.57 |
| 6 | Won / Seo | KOR | 5 | 5.14 | 5.13 | 55.26 | 55.32 | 1:50.58 |
| 7 | Hafer / Hammers | GER | 12 | 5.26 | 5.25 | 55.38 | 55.62 | 1:51.00 |
| 8 | Maier / Sammer | AUT | 1 | 5.20 | 5.14 | 55.36 | 55.66 | 1:51.02 |
| 9 | Bascue / Wilcox | USA | 9 | 5.28 | 5.27 | 55.47 | 55.68 | 1:51.15 |
| 10 | Rinaldi / Borges Mendonaca | MON | 15 | 5.15 | 5.18 | 55.54 | 55.63 | 1:51.17 |
| 11 | Vogt / Beieri | SUI | 7 | 5.19 | 5.21 | 55.66 | 55.52 | 1:51.18 |
| 12 | Heinrich / Hauterville | FRA | 6 | 5.19 | 5.19 | 55.59 | 55.68 | 1:51.27 |
| 13 | Shao / Shi | CHN | 2 | 5.26 | 5.26 | 55.56 | 55.77 | 1:51.33 |
| 14 | Li / Wu | CHN | 21 | 5.15 | 5.15 | 55.61 | 55.77 | 1:51.38 |
| 15 | Stulnev / Malykh | RUS | 17 | 5.19 | 5.20 | 55.68 | 55.76 | 1:51.44 |
| 16 | Dvorak / Suchy | CZE | 3 | 5.16 | 5.14 | 55.77 | 55.71 | 1:51.48 |
| 17 | Andrianov / Kondratenko | RUS | 18 | 5.22 | 5.25 | 55.72 | 56.06 | 1:51.78 |
| 18 | Gadbois / McConnell | USA | 16 | 5.26 | 5.31 | 55.82 | 56.08 | 1:51.90 |
| 19 | Berzins / Springis | LAT | 19 | 5.19 | 5.16 | 56.10 | 55.92 | 1:52.02 |
| 20 | Suk / Jang | KOR | 14 | 5.29 | 5.34 | 55.84 | 56.23 | 1:52.07 |
| 21 | Treichl / Huber | AUT | 20 | 5.28 | | 56.17 | | |