From Lake Placid, USA
Dec. 13, 2019 – Alexander Tretiakov won his first gold medal of the 2019/2020 season, edging out Martins Dukurs for the spot.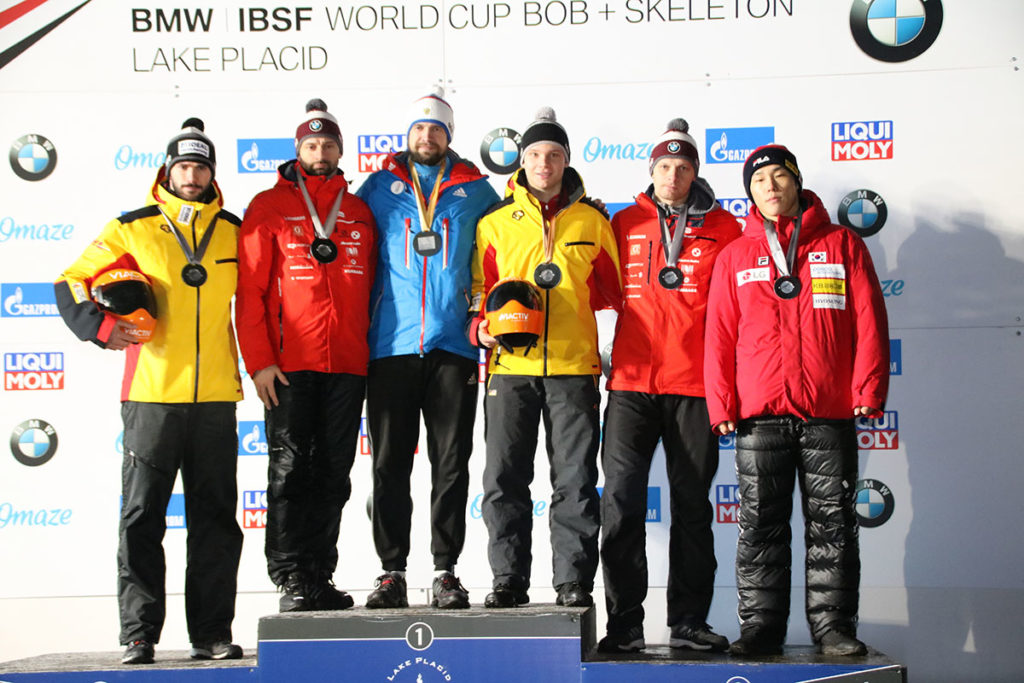 Tretiakov broke a week-old track record in the first heat despite a very sloppy looking run to take a .03 advantage over Dukurs. On the second run the two veterans were nearly identical, separated by .01, giving Tretiakov a .04 second win over Dukurs.
Felix Keisinger, the former track record holder, finished third, moving up from sixth in the first heat. Teammate and Race 1 winner Axel Jungk finished fourth.
Tomass Dukurs popped the groove in the first heat and had a 16th place run. On the second heat he set the fast run of the heat, moving up from 16th to fifth.
Sungbin Yun finished sixth.
Great Britain put one slider in the top ten, with Marcus Wyatt finishing eighth. Behind him, Dom Parsons continued his comeback with a 17th place finish, while Craig Thompson finished 19th on the strength of the to fastest pushes of the competition.
Austin Florian led the way for the United States in 12th place. Alex Ivanov finished 15th and Andrew Blaser 22nd to round out the American effort.
Kevin Boyer and Kyle Murray finished 25th and 26th respectively for Canada.
Results:
| | | | | | | | | |
| --- | --- | --- | --- | --- | --- | --- | --- | --- |
| Pos | Name | Nation | Bib | Start 1 | Start 2 | Run 1 | Run 2 | Total |
| 1 | Alexander Tretiakov | RUS | 9 | 4.77 | 4.78 | 52.87 | 53.68 | 1:46.55 |
| 2 | Martins Dukurs | LAT | 13 | 4.74 | 4.76 | 52.90 | 53.69 | 1:46.59 |
| 3 | Felix Keisinger | GER | 6 | 4.80 | 4.81 | 53.25 | 53.72 | 1:46.97 |
| 4 | Axel Jungk | GER | 12 | 4.80 | 4.81 | 53.14 | 53.88 | 1:47.02 |
| 5 | Tomass Dukurs | LAT | 5 | 5.18 | 4.90 | 53.66 | 53.44 | 1:47.10 |
| 6 | Sungbin Yun | KOR | 7 | 4.76 | 4.77 | 53.02 | 54.09 | 1:47.11 |
| 7 | Nikita Tregubov | RUS | 4 | 4.82 | 4.81 | 53.04 | 54.09 | 1:47.13 |
| 8 | Marcus Wyatt | GBR | 8 | 4.80 | 4.77 | 53.37 | 54.12 | 1:47.49 |
| 9 | Alexander Gassner | GER | 11 | 4.91 | 4.91 | 53.38 | 54.16 | 1:47.54 |
| 10 | Jisoo Kim | KOR | 19 | 4.81 | 4.86 | 53.46 | 54.13 | 1:47.69 |
| 11 | Wengang Yan | CHN | 21 | 4.86 | 4.86 | 53.57 | 54.04 | 1:47.61 |
| 12 | Austin Florian | USA | 17 | 4.87 | 4.89 | 53.50 | 54.14 | 1:47.64 |
| 13 | Seunggi Jung | KOR | 18 | 4.79 | 4.82 | 53.44 | 54.25 | 1:47.69 |
| 14 | Wenqiang Geng | CHN | 14 | 4.99 | 4.97 | 53.82 | 53.96 | 1:47.78 |
| 15 | Alex Ivanov | USA | 1 | 4.97 | 4.97 | 53.45 | 54.44 | 1:47.89 |
| 16 | Evgeniy Rukosuev | RUS | 10 | 5.01 | 5.01 | 53.47 | 54.51 | 1:47.98 |
| 17 | Dominic Parsons | GBR | 16 | 4.99 | 5.02 | 53.81 | 54.36 | 1:48.17 |
| 18 | Vladyslav Heraskevych | UKR | 15 | 4.98 | 4.99 | 53.79 | 54.47 | 1:48.26 |
| 19 | Craig Thompson | GBR | 23 | 4.74 | 4.72 | 53.58 | 54.93 | 1:48.51 |
| 20 | Nicholas Timmings | AUS | 22 | 5.01 | 5.05 | 53.84 | 54.87 | 1:48.71 |
| 21 | Samuel Maier | AUT | 2 | 5.08 | | 53.90 | | |
| 22 | Andrew Blaser | USA | 24 | 4.91 | | 53.91 | | |
| 23 | Alexander Hanssen | NOR | 3 | 4.88 | | 54.18 | | |
| 24 | Florian Auer | AUT | 25 | 5.03 | | 54.76 | | |
| 25 | Kevin Boyer | CAN | 20 | 5.03 | | 54.99 | | |
| 26 | Kyle Murray | CAN | 26 | 5.00 | | 55.02 | | |
| 27 | Joel Seligstein | ISR | 27 | 5.25 | | 55.77 | | |