From Whistler, CAN
Dec. 14, 2019 – Roman Repilov came from behind to win gold in Whistler.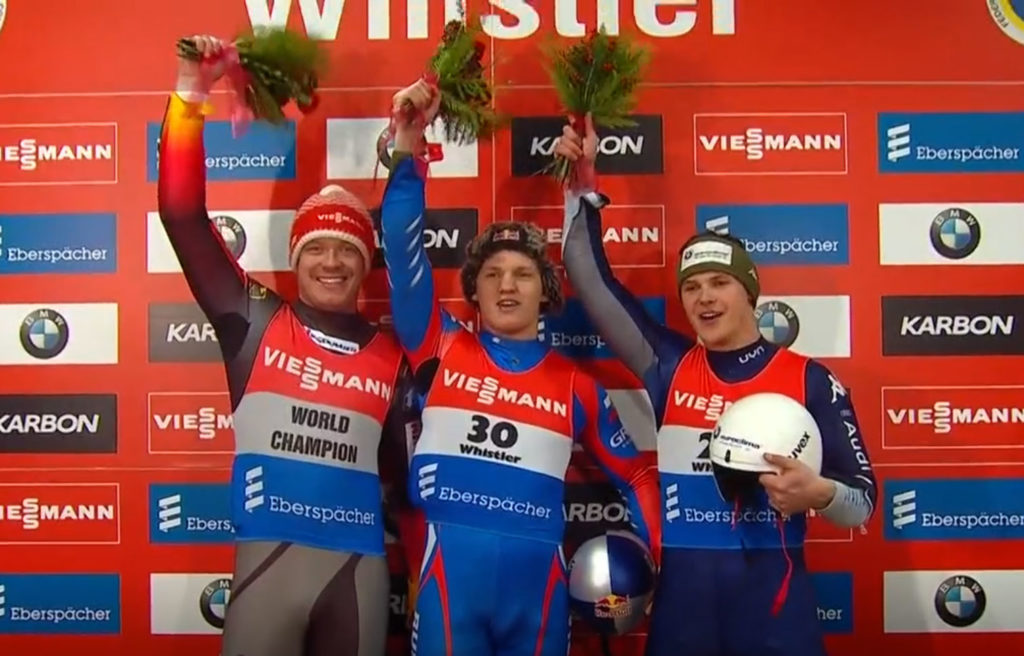 The Russian was back by just .03 behind Johannes Ludwig coming into the second heat of what had already been an action-packed race. Repilov put down a run that mirrored his first, putting the pressure on Ludwig. Like many athletes before him, Ludwig struggled to find consistency on his second run, eventually falling to fourth and giving Repilov the victory.
Felix Loch finished second, .147 behind the Russian, while Dominik Fischnaller jumped up from seventh to win his second World Cup medal of the season.
Ludwig finished a disappointing fourth, while David Glerischer and Reinhard Egger rounded out the top six.
There was a lot of moving on the leaderboard during the second heat. Americans Tucker West and Chris Mazdzer both moved up after their second run, with West going from 11th to eighth, while Mazdzer went from 15th to 13th. Jonny Gustafson struggled on his first run, but put down a better second trip down to move from 30th to 17th.
A young Canadian team struggled to find speed on their home track. Reid Watts led the way for Canada in 21st, while Colton Clarke finished 25th.
Results:
| | | | | | | | | |
| --- | --- | --- | --- | --- | --- | --- | --- | --- |
| Pos | Name | Nation | Bib | Start 1 | Start 2 | Run 1 | Run 2 | Total |
| 1 | Roman Repilov | RUS | 30 | 6.991 | 6.958 | 49.874 | 49.839 | 1:39.713 |
| 2 | Felix Loch | GER | 31 | 7.003 | 7.003 | 49.903 | 49.957 | 1:39.860 |
| 3 | Dominik Fischnaller | ITA | 27 | 7.000 | 7.012 | 49.959 | 49.925 | 1:39.884 |
| 4 | Johannes Ludwig | GER | 25 | 6.945 | 6.975 | 49.848 | 50.072 | 1:39.920 |
| 5 | David Gleirscher | AUT | 16 | 7.015 | 7.030 | 49.920 | 50.083 | 1:40.003 |
| 6 | Reinhard Egger | AUT | 15 | 7.032 | 7.044 | 50.052 | 50.028 | 1:40.080 |
| 7 | Kristers Aparjods | LAT | 23 | 7.029 | 7.046 | 49.993 | 50.135 | 1:40.128 |
| 8 | Tucker West | USA | 26 | 7.009 | 6.998 | 50.060 | 50.096 | 1:40.156 |
| 9 | Inars Kivlenieks | LAT | 17 | 7.008 | 7.024 | 50.058 | 50.161 | 1:40.219 |
| 10 | Jonas Müller | AUT | 32 | 7.010 | 7.022 | 50.076 | 50.146 | 1:40.222 |
| 11 | Max Langenhan | GER | 22 | 7.005 | 6.987 | 50.199 | 50.030 | 1:40.229 |
| 12 | Semen Pavlichenko | RUS | 28 | 6.981 | 6.986 | 49.906 | 50.391 | 1:40.297 |
| 13 | Chris Mazdzer | USA | 21 | 7.079 | 7.080 | 50.157 | 50.141 | 1:40.298 |
| 14 | Moritz Bollmann | GER | 14 | 7.016 | 7.029 | 50.174 | 50.133 | 1:40.307 |
| 15 | Wolfgang Kindl | AUT | 29 | 7.084 | 7.081 | 50.161 | 50.149 | 1:40.310 |
| 16 | Kevin Fischnaller | ITA | 19 | 7.082 | 7.104 | 50.253 | 50.116 | 1:40.369 |
| 17 | Sebastian Bley | GER | 18 | 7.011 | 7.013 | 50.139 | 50.234 | 1:40.373 |
| 18 | JozefNinis | SVK | 11 | 7.103 | 7.109 | 50.150 | 50.240 | 1:40.390 |
| 19 | Maksim Aravin | RUS | 20 | 7.123 | 7.121 | 50.256 | 50.240 | 1:40.496 |
| 20 | Aleksandr Gorbatcevich | RUS | 13 | 7.032 | 7.012 | 50.481 | 50.023 | 1:40.504 |
| 21 | Reid Watts | CAN | 9 | 7.099 | 7.090 | 50.248 | 50.259 | 1:40.507 |
| 22 | Mateusz Sochowicz | POL | 7 | 7.041 | 7.046 | 50.159 | 50.479 | 1:40.638 |
| 23 | Jonathan Gustafson | USA | 12 | 7.097 | 6.986 | 50.564 | 50.202 | 1:40.766 |
| 24 | Riks Rozitis | LAT | 10 | 7.119 | 7.137 | 50.411 | 50.380 | 1:40.791 |
| 25 | Colton Clarke | CAN | 4 | 7.155 | 7.188 | 50.489 | 50.430 | 1:40.919 |
| 26 | Jakub Simonak | SVK | 3 | 7.029 | 7.059 | 50.471 | 50.486 | 1:40.957 |
| 27 | Anton Dukach | UKR | 5 | 7.052 | 7.062 | 50.473 | 50.546 | 1:41.019 |
| 28 | Lukas Gufler | ITA | 1 | 7.185 | 7.184 | 50.463 | 50.616 | 1:41.079 |
| 29 | Andriy Mandziy | UKR | 2 | 7.106 | 7.086 | 50.554 | 50.607 | 1:41.161 |
| 30 | Nico Gleirscher | AUT | 24 | 6.990 | 6.996 | 49.930 | 51.249 | 1:41.179 |
| DNF | Valentin Cretu | ROU | 6 | 7.045 | | DNF | | |
| DSQ | Alexander Ferlaxxo | AUS | 8 | | | DSQ | | |