From Lake Placid, USA
Dec. 14, 2019 – Justin Kripps cruised to victory to open the 2019/2020 IBSF World Cup 4-man season, winning in Lake Placid.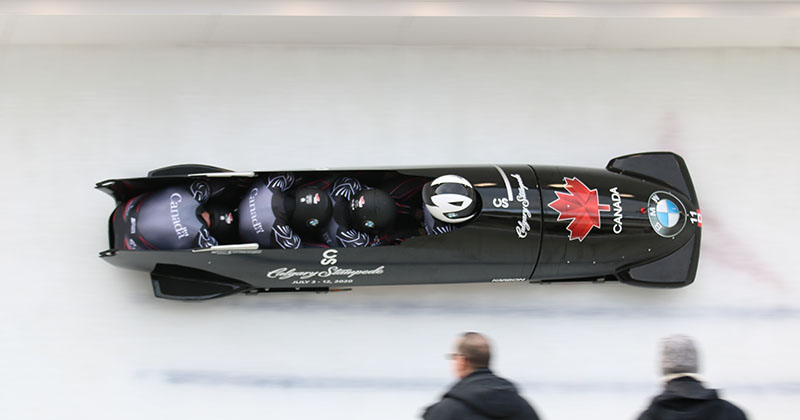 The Canadian carried a .17 second advantage over Oskars Kibermanis of Latvia going into the second heat. On that second run Kibermanis could only muster a third-quickest run, opening the doorfor a victory lap for Kripps.
Kripps was smooth on his final run, which was all he needed for a .39 second victory over the field.
For Kripps, coming to Lake Placid was close to coming home.
"I always love coming to Lake Placid," Kripps said. "I did my first driving school here, and I really like the tracks that are more technical and take some driving. I feel like you can separate yourself a little more on those tracks."
Kibermanis finished second, just ahead of Austria's Benjamin Maier, who used a second-fastest run of the second heat to edge out Germans Francesco Friedrich and Johannes Lochner for the bronze medal.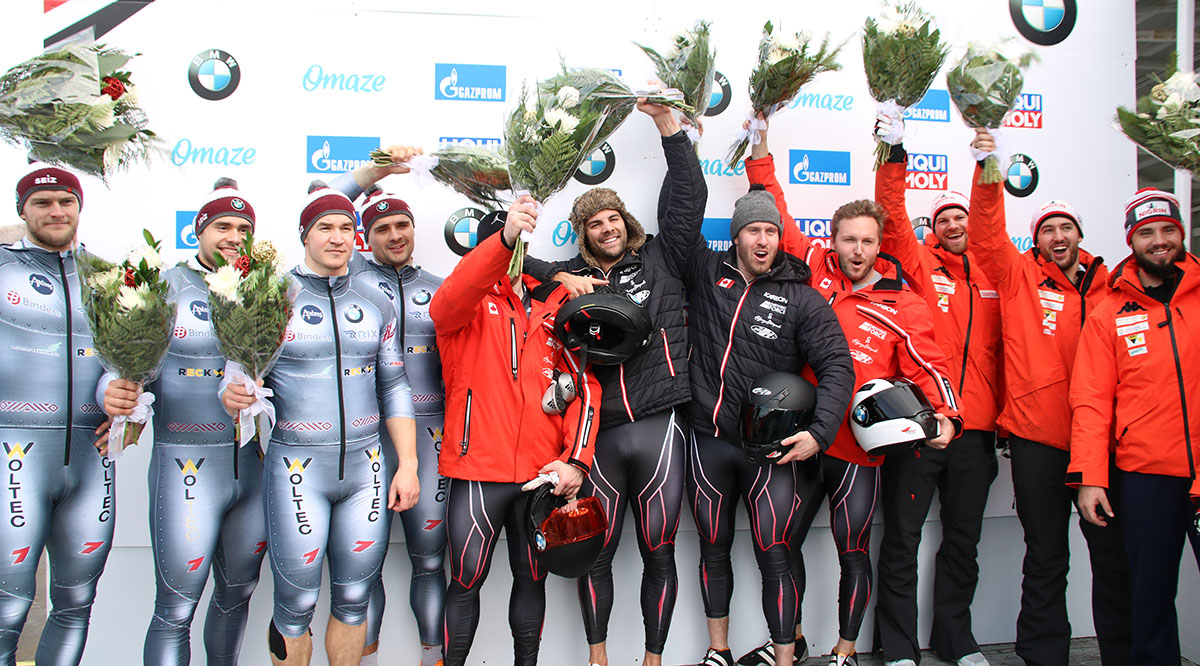 Friedrich and Lochner finished tied for fourth, while Codie Bascue of the United States finished sixth.
Hunter Church came into the second heat with a shot at a top six, but on his second run his push bar appeared to fail. Church managed to pull himself into the sled but would have to settle for a disappointing 11th place finish. Geoff Gadbois finished 20th in the third American sled.
Results:
| | | | | | | | | |
| --- | --- | --- | --- | --- | --- | --- | --- | --- |
| Pos | Names | Nation | Bib | Start 1 | Start 2 | Run 1 | Run 2 | Total |
| 1 | Kripps / Sommer / Stones / Coakwell | CAN | 8 | 5.02 | 5.04 | 54.55 | 54.59 | 1:49.50 |
| 2 | Kibermanis / Kaufmanis / Vilkaste / Miknis | LAT | 7 | 5.02 | 5.02 | 54.72 | 55.17 | 1:49.89 |
| 3 | Maier / Rangl / Sammer / Moldovan | AUT | 16 | 5.03 | 5.05 | 54.84 | 55.13 | 1:49.97 |
| 4 | Friedrich / Bauer / Grothkopp / Schüller | GER | 10 | 4.98 | 4.97 | 54.76 | 55.34 | 1:50.10 |
| 4 | Lochner / Bauer / Weber / Rasp | GER | 9 | 5.00 | 4.99 | 54.93 | 55.17 | 1:50.10 |
| 6 | Bascue / McConnell / Adams / Horn | USA | 15 | 5.06 | 5.06 | 55.04 | 55.39 | 1:50.43 |
| 7 | Vogt / Beieri / Weber / Gyger | SUI | 11 | 5.14 | 5.14 | 55.01 | 55.45 | 1:50.46 |
| 8 | Hafer / Golling / Hammers / Schneider | GER | 20 | 5.10 | 5.12 | 55.17 | 55.54 | 1:50.71 |
| 9 | Treichl / Glück / Mitterer / Huber | AUT | 4 | 5.09 | 5.12 | 55.13 | 55.60 | 1:50.73 |
| 10 | Stulnev / Koshelev / Malykh / Mordasov | RUS | 19 | 5.09 | 5.10 | 55.17 | 55.59 | 1:50.76 |
| 11 | Church / Williamson / Reed / Wilcox | USA | 14 | 5.06 | 5.13 | 54.99 | 55.78 | 1:50.77 |
| 12 | Dvorak / Suchy / Sindelar / Nosek | CZE | 5 | 5.02 | 5.05 | 55.07 | 55.73 | 1:50.80 |
| 12 | Andrianov / Zaytsev / Kondratenko / Samitov | RUS | 12 | 5.09 | 5.12 | 55.18 | 55.62 | 1:50.80 |
| 14 | Rinaldi / Vain / Demarthon / Borges Mendonaca | MON | 13 | 5.11 | 5.10 | 55.17 | 55.65 | 1:50.82 |
| 15 | Won / Kim / Lee / Chae | KOR | 6 | 5.08 | 5.10 | 55.14 | 55.77 | 1:50.91 |
| 16 | Jin / Wu / Wu / Chen | CHN | 3 | 5.15 | 5.14 | 55.20 | 55.83 | 1:51.03 |
| 17 | Heinrich / Lefebre / Hauterville / Laporal | FRA | 2 | 5.15 | 5.16 | 55.26 | 55.99 | 1:51.25 |
| 18 | Suk / Kim / Kim / Jang | KOR | 17 | 5.18 | 5.21 | 55.41 | 55.85 | 1:51.26 |
| 19 | Shao / Liu / Shi / Ma | CHN | 18 | 5.12 | 5.14 | 55.34 | 55.95 | 1:51.29 |
| 20 | Gadbois / Avery / Fogt / Lynch | USA | 1 | 5.19 | 5.22 | 55.26 | 56.15 | 1:51.41 |