From Winterberg, GER
Jan. 4, 2020 – With the IBSF World Cup making its return to Germany to start the 2020 part of the 2019/2020 season, it was expected that the German women would be contending for the top of the podium, a position that only American Kaillie Humphries had seen to start the season. And with a light snow falling in Winterberg, Stephanie Schneider and company flexed their muscle and swept the podium.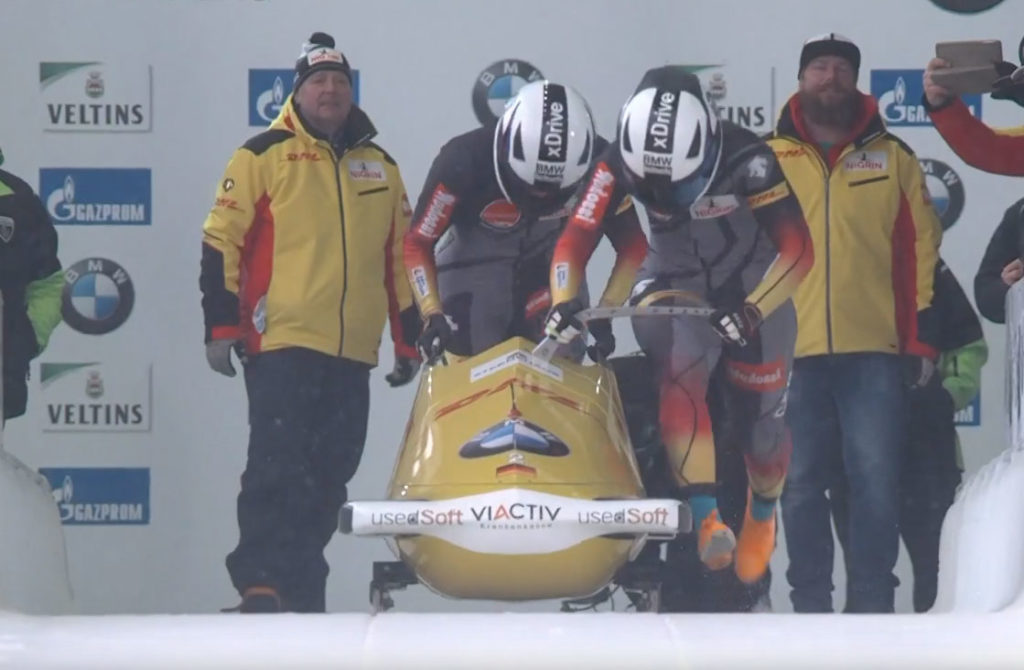 Schneider led rookie teammate Laura Nolte and Olympic gold medalist Mariama Jamanka going into the second heat, with Humphries sitting in fourth just .16 back. On the second run Humphries had a small issue getting in her sled, and while her drive was nearly flawless, having the ninth fastest start set the American back.
Humphries' small setback gave the Germans all they needed to command the podium. Jamanka put down the fastest run of the second heat to leapfrog Nolte and move into the lead with only Schneider to go. Schneider and brakewoman Kira Lipperheide answered with the fastest push of the second heat, and while Jamanka's drive may have been better, Schneider's push was enough to give her a third straight gold medal in Winterberg, ahead of Jamanka and Nolte in second and third.
Kaillie Humphries finished fourth, her first non-gold finish of the season. Nadezhda Sergeeva jumped up from eighth to fifth, while Romania's Andreea Grecu finished sixth in her first World Cup race of the season.
Canada's Christine de Bruin couldn't find her rhythm in the first World Cup race in Europe, finishing just out of the top six in seventh.
Mica McNeill finished 12th in her first World Cup race of the season.
Despite the fourth place finish, Humphries continues to lead the IBSF World Cup standings, 15 points ahead of Schneider. Jamanka is third overall, with de Bruin the only other pilot within 100 points of Humphries.
Germany's Kim Kalicki failed to make the German World Cup team for the second part of the season despite winning two medals in the first two races in Lake Placid
Results:
| | | | | | | | | |
| --- | --- | --- | --- | --- | --- | --- | --- | --- |
| Pos | Names | Nation | Bib | Start 1 | Start 2 | Run 1 | Run 2 | Total |
| 1 | Schneider / Lipperheide | GER | 10 | 5.53 | 5.57 | 57.45 | 58.01 | 1:55.46 |
| 2 | Jamanka / Drazek | GER | 12 | 5.52 | 5.64 | 57.53 | 57.97 | 1:55.50 |
| 3 | Nolte / Levi | GER | 13 | 5.53 | 5.67 | 57.50 | 58.09 | 1:55.59 |
| 4 | Humphries / Gibbs | USA | 8 | 5.64 | 5.78 | 57.61 | 58.29 | 1:55.90 |
| 5 | Sergeeva / Mamedova | RUS | 6 | 5.70 | 5.67 | 58.01 | 58.00 | 1:56.01 |
| 6 | Grecu / Gheorghe | ROU | 7 | 5.63 | 5.65 | 57.98 | 58.06 | 1:56.04 |
| 7 | de Bruin / Bujnowski | CAN | 9 | 5.69 | 5.73 | 57.99 | 58.07 | 1:56.06 |
| 8 | Beierl / Onasanya | AUT | 5 | 5.71 | 5.80 | 57.99 | 58.32 | 1:56.31 |
| 9 | Vannieuwenhuyse / Aerts | BEL | 14 | 5.75 | 5.81 | 58.10 | 58.22 | 1:56.32 |
| 10 | Fontanive / Pasternack | SUI | 4 | 5.75 | 5.77 | 58.09 | 58.43 | 1:56.52 |
| 11 | Chernykh / Shokshueva | RUS | 11 | 5.78 | 5.80 | 58.38 | 58.25 | 1:56.63 |
| 12 | McNeill / Douglas | GBR | 2 | 5.81 | 5.85 | 58.27 | 58.40 | 1:56.67 |
| 13 | Walker / Preiksa | AUS | 15 | 5.69 | 5.76 | 58.37 | 58.45 | 1:56.82 |
| 14 | Osipenko / Parfenova | RUS | 1 | 5.82 | 5.91 | 58.35 | 58.56 | 1:56.91 |
| 15 | Andreutti / Taini | ITA | 3 | 5.98 | 6.13 | 59.23 | 59.41 | 1:58.64 |