From Winterberg, GER
Jan. 4, 2019 – Generally speaking, the German bobsled program is good at most any track they go to. In Winterberg, they're nearly unbeatable,to the point that in the past nine 4-man races in Winterberg, Germany has won 24 of the available 27 available medals.*
Germany once again flexed their Winterberg muscles, sweeping the podium in the European Championships.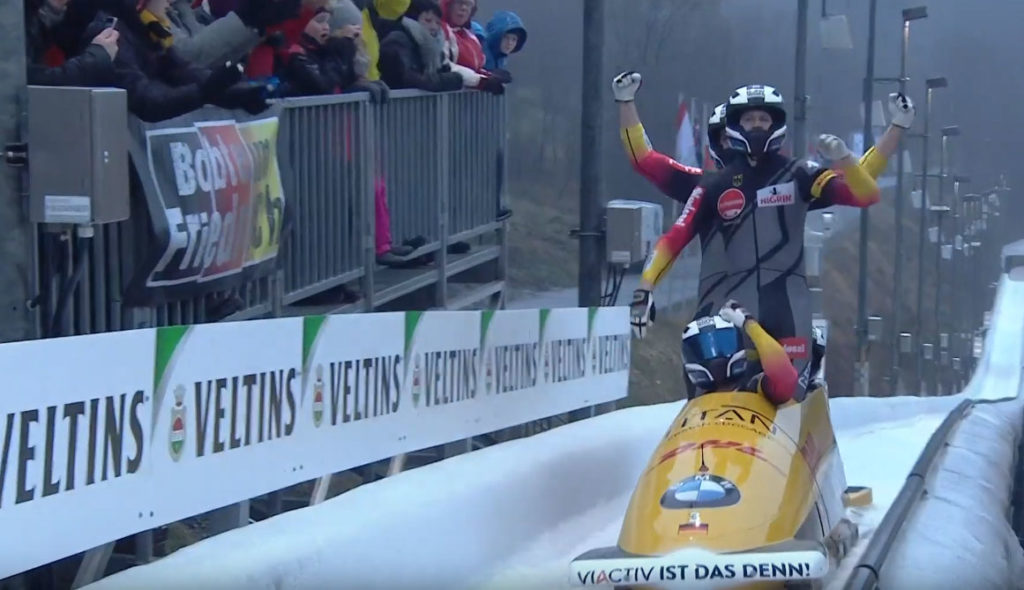 Francesco Friedrich carried a .15 second lead over teammate Johannes Lochner into the second heat, with Nico Walther sitting in third after starting 22nd for the second consecutive day. Walther struggled on his second run, but managed to hold onto his position and guarantee himself at least a bronze medal. Up next was Lochner, and the reigning European champion put down the fastest run of the competition to put the pressure on Friedrich. Friedrich could not answer, his time equaled Walther's and was only good enough for silver.
The win was Lochner's fourth consecutive European Championship 4-man victory.
Russia's Alexey Stulnev was the top-finishing non-German in fourth, matching his career best finish in Winterberg. Oskars Kibermanis finished fifth, while Justin Kripps rounded out the top six, moving up from seventh in the first heat.
In the European Championships, the top five all stayed the same, with Dominik Dvorak moving up into sixth.
With his silver medal run, Friedrich moves into the 4-man World Cup lead, 8 points ahead of Lochner and 17 ahead of Kripps.
Hunter Church finished his first European World Cup weekend with another eighth place finish. The United States pilot, in his first full World Cup season, moved up from tenth to get his second eighth place finish in as many races.
Great Britain once again had a decent showing in Winterberg. Brad Hall scored his second top ten with a tenth place run. Lamin Deen had a tough start draw in the snow, but rallied for a 15th place finish.
Results:
| | | | | | | | | |
| --- | --- | --- | --- | --- | --- | --- | --- | --- |
| Pos | Names | Nation | Bib | Start 1 | Start 2 | Run 1 | Run 2 | Total |
| 1 | Lochner / Bauer / Weber / Rasp | GER | 10 | 5.11 | 5.10 | 55.53 | 55.01 | 1:50.54 |
| 2 | Friedrich / Bauer / Schüller / Margis | GER | 8 | 5.12 | 5.09 | 55.38 | 55.18 | 1:50.56 |
| 3 | Walther / Krenz Korona / Franke | GER | 22 | 5.21 | 5.24 | 55.58 | 55.18 | 1:50.76 |
| 4 | Stulnev / Koshelev / Malykh / Samitov | RUS | 13 | 5.20 | 5.22 | 55.59 | 55.28 | 1:50.87 |
| 5 | Kibermanis / Kaufmanis / Vilkaste / Miknis | LAT | 12 | 5.17 | 5.08 | 55.74 | 55.16 | 1:50.90 |
| 6 | Kripps / Stones / Coakwell / Sommer | CAN | 6 | 5.21 | 5.20 | 55.81 | 55.21 | 1:51.02 |
| 7 | Dvorak / Suchy / Sindelar / Nosek | CZE | 7 | 5.22 | 5.21 | 55.83 | 55.43 | 1:51.26 |
| 8 | Church / Williamson / Reed / Wilcox | USA | 4 | 5.26 | 5.24 | 55.94 | 55.33 | 1:51.27 |
| 9 | Gaitiukevich / Kazantsev / Zharovtsev / Gryaznov | RUS | 9 | 5.14 | 5.13 | 55.77 | 55.51 | 1:51.28 |
| 10 | Hall / Taylor Dawes / Cackett | GBR | 21 | 5.29 | 5.30 | 55.95 | 55.36 | 1:51.31 |
| 11 | Vogt / Weber / Beieri / Michel | SUI | 11 | 5.29 | 5.26 | 55.92 | 55.49 | 1:51.41 |
| 12 | Won / Kim / Lee / Chae | KOR | 5 | 5.29 | 5.24 | 55.94 | 55.52 | 1:51.46 |
| 13 | Suk / Kim / Kim / Kang | KOR | 16 | 5.32 | 5.34 | 55.96 | 55.60 | 1:51.56 |
| 14 | Heinrich / Alais / Hauterville / Laporal | FRA | 14 | 5.30 | 5.30 | 56.04 | 55.53 | 1:51.57 |
| 15 | Deen / Butterworth / Simons / Gilling | GBR | 1 | 5.32 | 5.28 | 56.11 | 55.48 | 1:51.59 |
| 16 | Berzins / Nemme / Springis / Pirogs | LAT | 19 | 5.25 | 5.27 | 56.13 | 55.52 | 1:51.65 |
| 17 | de Bruin / Dumas / Veenker / Franjic | NED | 20 | 5.28 | 5.32 | 56.47 | 55.54 | 1:52.01 |
| 18 | Rinaldi / Riou / Demarthon / Vain | MON | 15 | 5.29 | 5.45 | 56.05 | 56.10 | 1:52.15 |
| 19 | Baumgartner / Ughi / Verginer / Bilotti | ITA | 18 | 5.29 | 5.32 | 56.90 | 55.40 | 1:52.30 |
| 20 | Rohner / Fässler / Leimgruber / Giumma | SUI | 2 | 5.37 | 5.47 | 56.38 | 55.98 | 1:52.36 |
| 21 | Shinohara / Kaneko / Murakami / Asano | JPN | 3 | 5.40 | | 57.71 | | |
| DNS | Tentea / Dobre / Daroczi / Pacioianu | ROU | 17 | | | DNS | | |
*Statistic courtesy The Associated Press' Tim Reynolds