From La Plagne, FRA
Jan. 10, 2020 – The IBSF World Cup women made their first start in La Plagne since 2012, and as expected track records fell by the wayside.
Russian Elena Nikitina set both the start record and track record in the first heat, and broke the track record again in her second run to win by .65 over Austrian Janine Flock.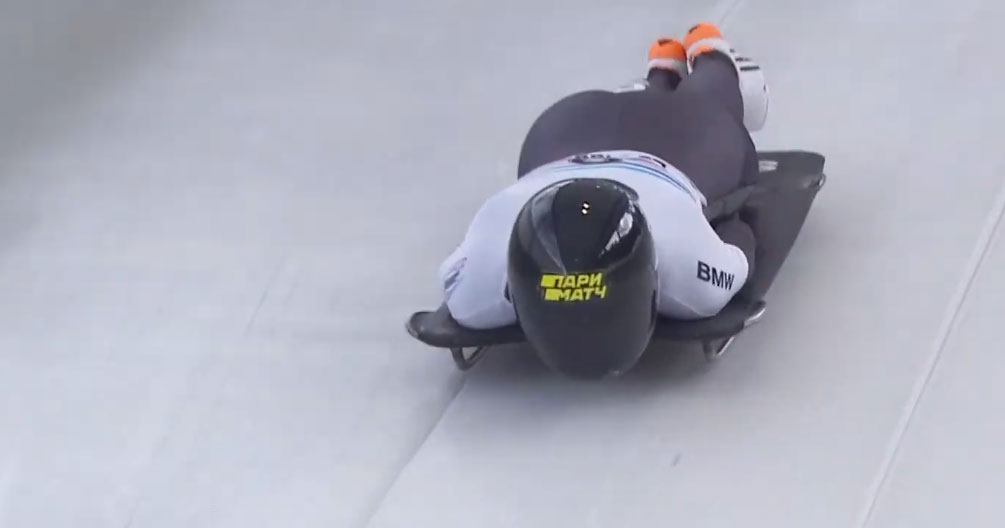 Flock carried two respectable starts into her runs, but found herself with a nearly half-second gap to make up in either run. While the time deficit closed some, it wasn't enough to bump the Russian off the top spot.
Flock finished second, just ahead of German Jacqueline Lölling who finished third, moving up from fourth in the first run.
The top 16 women broke the old track record, a 62.81 set by Alex Coomber in December of 2000, in the first heat.
Marina Gilardoni continued to show her pre-injury form with a fourth place finish, just .07 behind Lölling. Gilardoni's starts were strong in both heats, and one small error on her second run kept her out of the medals.
German's Tina Hermann and Sophia Griebel rounded out the top six in fifth and sixth, respectively.
The United States had two women in the top ten after the first run, but struggled to match that effort in the second heat. Megan Henry led the way for the USA, tying for 11th with British slider Laura Deas. Savannah Graybill was the first woman to break the old track record, finishing 14th, while Kendall Wesenberg picked up .2 on her second run, finishing 17th.
Mimi Rahneva was the top Canadian with an seventh place finish on two blistering starts. Aisde from Rahneva's run, it was an otherwise tough day for the Canadian women. Jane Channell flipped early in her second run, but got her sled righted to get a time and finish 20th. Madi Charney rounded out the Canadian effort in 21st.
Madelaine Smith led the way for Great Britain with a career-best eighth place run, picking up a few spots in her second trip down the French track. Teammate Laura Deas moved up from 16th in the first heat to finish tied for 11th with Henry. Kimberley Murray finished her first World Cup trip to La Plagne in 18th.
Results:
| | | | | | | | | |
| --- | --- | --- | --- | --- | --- | --- | --- | --- |
| Pos | Name | Nation | Bib | Start 1 | Start 2 | Run 1 | Run 2 | Total |
| 1 | Elena Nikitina | RUS | 9 | 6.05 | 6.00 | 61.37 | 61.35 | 2:02.72 |
| 2 | Janine Flock | AUT | 5 | 6.44 | 6.48 | 61.49 | 61.88 | 2:03.37 |
| 3 | Jacqueline Lölling | GER | 7 | 6.59 | 6.54 | 61.76 | 61.82 | 2:03.58 |
| 4 | Marina Gilardoni | SUI | 8 | 6.27 | 6.28 | 61.70 | 61.93 | 2:03.63 |
| 5 | Tina Hermann | GER | 12 | 6.47 | 6.46 | 61.85 | 61.97 | 2:03.82 |
| 6 | Sophia Griebel | GER | 2 | 6.37 | 6.35 | 62.05 | 62.08 | 2:04.13 |
| 7 | Mirela Rahneva | CAN | 4 | 6.25 | 6.28 | 62.21 | 62.33 | 2:04.54 |
| 8 | Madelaine Smith | GBR | 15 | 6.52 | 6.46 | 62.37 | 62.38 | 2:04.75 |
| 9 | Kim Meylemans | BEL | 11 | 6.44 | 6.10 | 62.33 | 62.45 | 2:04.78 |
| 10 | Yulia Kanakina | RUS | 18 | 6.14 | 6.10 | 62.33 | 62.49 | 2:04.82 |
| 11 | Megan Henry | USA | 10 | 6.38 | 6.29 | 62.20 | 62.72 | 2:04.92 |
| 11 | Laura Deas | GBR | 16 | 6.33 | 6.35 | 62.50 | 62.42 | 2:04.92 |
| 13 | Anna Fernstädt | CZE | 6 | 6.81 | 6.77 | 62.46 | 62.48 | 2:04.94 |
| 14 | Savannah Graybill | USA | 1 | 6.67 | 6.70 | 62.30 | 62.75 | 2:05.05 |
| 15 | Rentata Khuzina | RUS | 17 | 6.47 | 6.47 | 62.39 | 62.72 | 2:05.11 |
| 16 | Agathe Bessard | FRA | 3 | 6.88 | 6.75 | 62.47 | 62.71 | 2:05.18 |
| 17 | Kendall Wesenberg | USA | 13 | 6.78 | 6.75 | 62.84 | 62.60 | 2:05.44 |
| 18 | Kimberley Murray | GBR | 21 | 6.47 | 6.45 | 63.01 | 62.78 | 2:05.79 |
| 19 | Huiyang Lin | CHN | 20 | 6.38 | 6.44 | 63.02 | 62.97 | 2:05.99 |
| 20 | Jane Channell | CAN | 14 | 6.28 | 6.35 | 63.03 | 65.68 | 2:08.71 |
| 21 | Madison Charney | CAN | 19 | 6.52 | | 64.42 | | |