From Altenberg, GER
Jan. 12, 2020 – Despite not winning an individual gold medal over the course of the Altenberg weekend, Russia was strong all weekend, putting seven sleds in the top 6 across the three disciplines. In the team relay, Tatyana Ivanova, Semen Pavlichenko, and the duo of Denisv & Antonov combined to get Russia one gold for their efforts over the weekend, edging Germany in the process.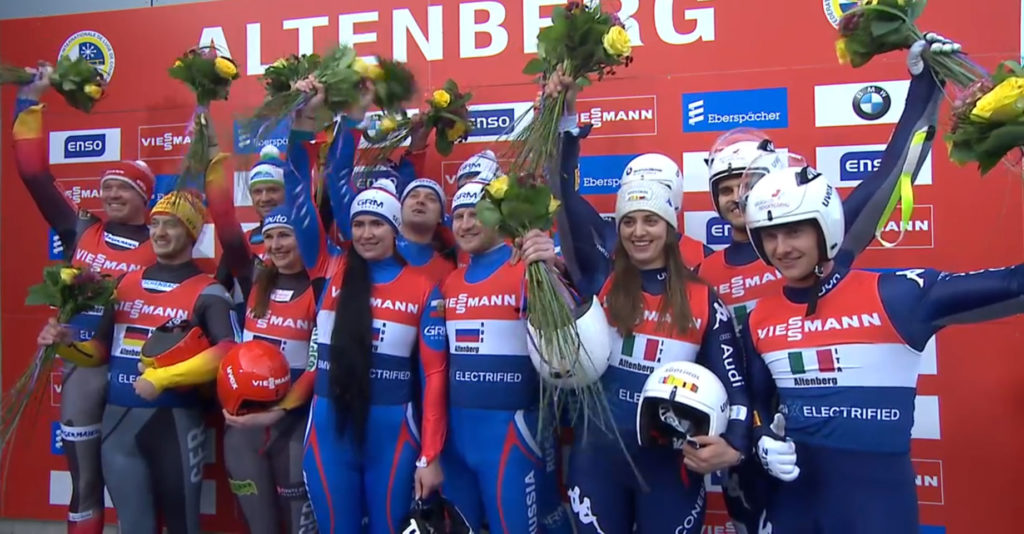 Women's luge gold medalist Julia Taubitz opened up an early lead for Germany, but issues on Felix Loch's run set Germany back behind Russia with just the doubles team of Eggert & Benecken to go. The Germans put down a solid run, but ran out of track, finishing .013 behind gold medalists Russia.
Italy finished third, enough to keep them in the World Cup lead ahead of Germany and Russia.
Austria couldn't match their doubles and men's luge success from Saturday, finishing fourth, while Latvia and the United States rounded out the top six.
Canada finished seventh.
Results:
| | | | | | | |
| --- | --- | --- | --- | --- | --- | --- |
| Pos | Names | Nation | Bib | Women | Men | Total |
| 1 | Ivanova / Pavlichenko / Denisev & Antonov | RUS | 6 | 46.575 | 1:34.177 | 2:22.517 |
| 2 | Taubitz / Loch / Eggert & Benecken | GER | 10 | 46.355 | 1:34.385 | 2:22.530 |
| 3 | Vötter / D. Fischnaller / Rieder & Kainzwaldner | ITA | 12 | 46.656 | 1:34.366 | 2:22.620 |
| 4 | Egle / D. Gleirscher / Steu & Koller | AUT | 11 | 46.633 | 1:34.507 | 2:22.843 |
| 5 | Aparjode / Aparjods / Gudramovics & Kalnins | LAT | 8 | 47.028 | 1:34.727 | 2:22.871 |
| 6 | Britcher / West / Mazdzer & Terdiman | USA | 7 | 46.645 | 1:34.569 | 2:23.132 |
| 7 | Maxwell / Watts / Walker & Snith | CAN | 9 | 46.747 | 1:34.875 | 2:23.369 |
| 8 | Imonakova / Ninis / Vavercak & Zmij | SVK | 5 | 47.170 | 1:35.244 | 2:24.237 |
| 9 | Salnikova / Smitriev / Shander & Mikova | KAZ | 1 | 47.564 | 1:36.978 | 2:26.605 |
| 10 | Jung / Lim / Park & Cho | KOR | 2 | 48.871 | 1:37.964 | 2:26.749 |
| 11 | Marsikova / Lejsek / Vejdelek & Pekny | CZE | 3 | 47.761 | 1:37.001 | 2:27.445 |
| 12 | Smaha / Mandzy / Stakhiv & Lysetskyi | UKR | 4 | 50.636 | 1:39.276 | 2:28.605 |