From La Plagne, FRA
Jan. 12, 2020 – Francesco Friedrich cruised to 4-man victory in La Plagne, beating out European Champion Johannes Lochner in the process.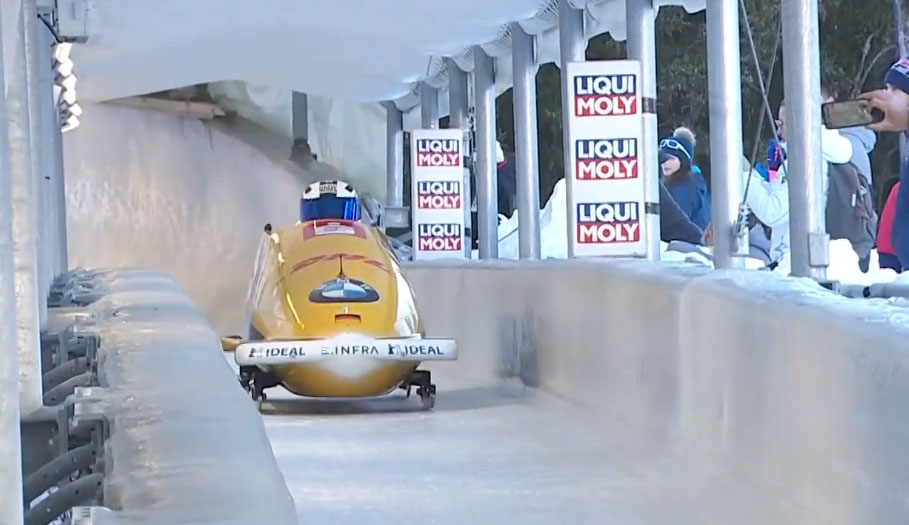 The Olympic gold medalist tied an 18 year old start record in the second heat on his way to a .21 second victory over Lochner, his second win of the season and fourth medal in five races.
Lochner and his team had nearly identical drive times down the French track, but was out-pushed by a combined .13 of a second between the two runs.
Oskars Kibermanis finished third for the second time in three races for his third medal of the season on the strength of the third start in each heat.
Nico Walther finished fourth to put all three Germans sleds in the top four. Canadian Justin Kripps, winner of the first two 4-man races of the season, finished fifth.
Just a hundredth of a second behind Kripps was American Hunter Church in sixth. The trip to La Plagne was Church's first.
Friedrich's win extended his 4-man point lead to 23 points over teammate Lochner. Kripps sits third, with Kibermanis, Alexey Stulnev, and Church rounding out the top six in the standings.
Great Britain's Brad Hall impressed with an eighth place finish, while teammate Lamin Deen overcame issues in the first heat to finish 15th.
Results:
| | | | | | | | | |
| --- | --- | --- | --- | --- | --- | --- | --- | --- |
| Pos | Names | Nation | Bib | Start 1 | Start 2 | Run 1 | Run 2 | Total |
| 1 | Friedrich / Bauer / Schüller / Margis | GER | 4 | 5.74 | 5.73 | 57.85 | 58.00 | 1:55.85 |
| 2 | Lochner / Bauer / Weber / Rasp | GER | 5 | 5.81 | 5.79 | 57.99 | 58.07 | 1:56.06 |
| 3 | Kibermanis / Kaufmanis / Vilkaste / Miknis | LAT | 6 | 5.80 | 5.87 | 58.01 | 58.17 | 1:56.18 |
| 4 | Walther / Krenz / Korona / Franke | GER | 3 | 5.94 | 5.95 | 58.14 | 58.40 | 1:56.54 |
| 5 | Kripps / Stones / Sommer / Coakwell | CAN | 11 | 5.91 | 5.91 | 58.30 | 58.29 | 1:56.59 |
| 6 | Church / Williamson / Reed / Wilcox | USA | 10 | 5.91 | 5.95 | 58.19 | 58.41 | 1:56.60 |
| 7 | Stulnev / Koshelev / Malykh / Samitov | RUS | 12 | 5.90 | 5.89 | 58.35 | 58.41 | 1:56.76 |
| 8 | Hall / Cackett / Dawes / Taylor | GBR | 17 | 6.03 | 6.01 | 58.43 | 58.36 | 1:56.79 |
| 9 | Vogt / Gyger / Beieri / Michel | SUI | 7 | 5.99 | 5.97 | 58.45 | 58.55 | 1:57.00 |
| 10 | Dvroak / Suchy / Sindelar / Nosek | CZE | 13 | 5.88 | 5.91 | 58.48 | 58.53 | 1:57.01 |
| 11 | Heinrich / Alais / Hauterville / Laporal | FRA | 8 | 5.99 | 5.95 | 58.50 | 58.56 | 1:57.06 |
| 12 | Won / Kim / Lee / Chae | KOR | 9 | 5.99 | 5.93 | 58.42 | 58.69 | 1:57.11 |
| 13 | Berzins / Nemme / Springis / Pirogs | LAT | 19 | 5.94 | 5.93 | 58.60 | 58.65 | 1:57.25 |
| 14 | Rinaldi / Vain / Demarthon / Borges Mendonaca | MON | 15 | 6.00 | 6.05 | 58.73 | 58.80 | 1:57.53 |
| 15 | Deen / Simons / Butterworth / Letts | GBR | 14 | 6.01 | 5.99 | 58.81 | 58.76 | 1:57.57 |
| 16 | Baumgartner / Ughi / Verginer / Bilotti | ITA | 18 | 6.06 | 6.05 | 58.95 | 58.78 | 1:57.73 |
| 17 | Suk / Kim / Kim / Kang | KOR | 2 | 6.13 | 6.06 | 58.77 | 59.05 | 1:57.82 |
| 18 | Popov / Zaytsev / Kondratenko / Zharovtsev | RUS | 16 | 5.92 | 5.93 | 58.85 | 58.99 | 1:57.84 |
| 19 | Shinohara / Asano / Murakami / Homma | JPN | 1 | 6.12 | 6.07 | 59.07 | 59.33 | 1:58.40 |
| 20 | Follador / Schläpfer / Julliard / Santoli | SUI | 20 | 6.13 | 6.13 | 59.20 | 59.23 | 1:58.43 |