From Altenberg, GER
Jan. 12, 2020 – Until the women's luge race, Germany had not even been close to winning a gold medal on home soil. That changed with two flawless runs by Julia Taubitz.
The German set the two fastest times of the race on the strength of two strong starts on her way to a .172 victory over Russian Tatyana Ivanova.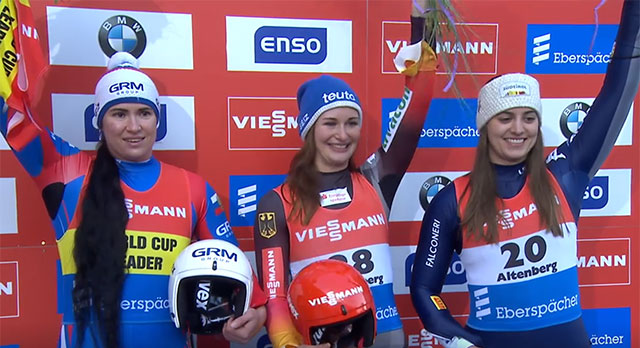 The win for Taubitz matched Ivanova's total on the year, and closed the German to within two points of the World Cup lead currently held by Ivanova.
The bronze medal went to Andrea Vötter, her first. The Italian had eight finishes of sixth or better over the past two seasons, but had never finished on the podium until this stop in Altenberg.
Ekaterina Katnikova finished fourth, ahead of Kendija Aparjoda and Viktoriia Demchenko in fifth and sixth, respectively.
American Summer Britcher made some small mistakes in the first heat that put her 13th after the first run. A fifth fastest run in the second heat bumped her up to eighth overall. Teammate Ashley Farquharson finished 23rd (up from 25th), while Emily Sweeney chose to not start the second heat after a bumpy ride down in her first run.
Canada's Carolyn Maxwell finished in 18th, matching the finish of teammate Ried Watts in the men's event. Trinity Ellis finished 21st, up from 23rd in the first run.
Results:
| | | | | | | | | |
| --- | --- | --- | --- | --- | --- | --- | --- | --- |
| Pos | Name | Nation | Bib | Start 1 | Start 2 | Run 1 | Run 2 | Total |
| 1 | Julia Taubitz | GER | 28 | 5.548 | 5.546 | 52.092 | 52.172 | 1:44.264 |
| 2 | Tatyana Ivanova | RUS | 27 | 5.525 | 5.529 | 52.197 | 52.239 | 1:44.436 |
| 3 | Andrea Vötter | ITA | 20 | 5.538 | 5.547 | 52.403 | 52.244 | 1:44.647 |
| 3 | Ekaterina Katnikova | RUS | 17 | 5.590 | 5.587 | 52.434 | 52.282 | 1:44.716 |
| 5 | Kendija Aparjode | LAT | 13 | 5.599 | 5.587 | 52.350 | 52.424 | 1:44.774 |
| 6 | Viktoriia Demchenko | RUS | 24 | 5.584 | 5.594 | 52.523 | 52.278 | 1:44.801 |
| 7 | Madeleine Egle | AUT | 16 | 5.587 | 5.576 | 52.464 | 52.368 | 1:44.832 |
| 8 | Summer Britcher | USA | 23 | 5.550 | 5.548 | 52.567 | 52.282 | 1:44.849 |
| 9 | Eliza Cauce | LAT | 15 | 5.568 | 5.554 | 52.443 | 52.432 | 1:44.875 |
| 10 | Anna Berreiter | GER | 25 | 5.562 | 5.562 | 52.398 | 52.493 | 1:44.891 |
| 11 | Cheyenne Rosenthal | GER | 19 | 5.530 | 5.524 | 52.503 | 52.471 | 1:44.974 |
| 12 | Jessica Tiebel | GER | 26 | 5.626 | 5.620 | 52.658 | 52.403 | 1:45.061 |
| 13 | Ulla Zirne | LAT | 14 | 5.630 | 5.630 | 52.477 | 52.588 | 1:$5.065 |
| 14 | Verena Hofer | ITA | 11 | 5.613 | 5.620 | 52.479 | 52.674 | 1:45.153 |
| 15 | Marion Oberhofer | ITA | 6 | 5.571 | 5.577 | 52.618 | 52.580 | 1:45.198 |
| 16 | Olesya Mikhaylenko | RUS | 3 | 5.601 | 5.610 | 52.763 | 52.478 | 1:45.241 |
| 17 | Natalie Maag | SUI | 21 | 5.646 | 5.639 | 52.694 | 52.609 | 1:45.303 |
| 18 | Carolyn Maxwell | CAN | 12 | 5.605 | 5.575 | 52.598 | 52.719 | 1:45.317 |
| 19 | Raluca Stramaturaru | ROU | 9 | 5.605 | 5.609 | 52.713 | 62.635 | 1:45.348 |
| 20 | Elina Vitola | LAT | 5 | 5.599 | 5.606 | 52.660 | 52.750 | 1:45.410 |
| 21 | Trinity Ellis | CAN | 22 | 5.621 | 5.621 | 52.857 | 52.700 | 1:45.557 |
| 22 | Nina Zöggeler | ITA | 8 | 5.646 | 5.620 | 52.846 | 52.880 | 1:45.726 |
| 23 | Ashley Farquharson | USA | 7 | 5.620 | 5.621 | 53.260 | 52.970 | 1:46.230 |
| 24 | Veronica Ravenna | ARG | 1 | 5.725 | 5.719 | 53.628 | 53.265 | 1:46.893 |
| 25 | Katarina Simonakova | SVK | 2 | 5.655 | 5.661 | 53.010 | 55.045 | 1:48.055 |
| 26 | Hannah Prock | AUT | 4 | 6.608 | 5.622 | 54.274 | 54.151 | 1:48.425 |
| DNS | Emily Sweeney | USA | 21 | 5.573 | | 52.832 | DNS | |
| DNF | Lisa Schulte | AUT | 10 | 5.573 | | DNF | | |