From Igls, AUT
Jan. 17, 2020 – Martins Dukurs came into Igls as the winner of the last nine World Cup events in Austria. He also won the 2016 World Championship in Igls. By all accounts, he's the best in the world at sliding Igls.
On Friday, he built on that decade of dominance, winning gold yet again on the 1976 Olympic track.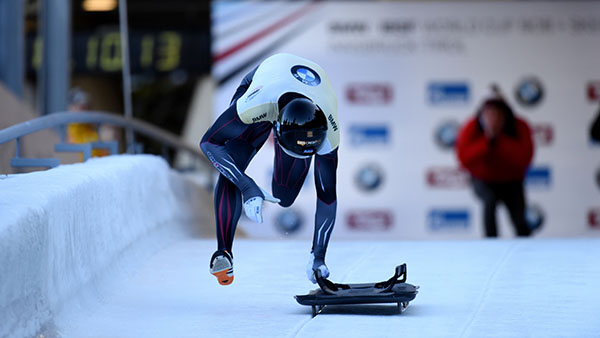 Dukurs carried a .19 second advantage over long-time rival Alexander Tretiakov going into the second heat. On that second run Tretiakov fell behind Sungbin Yun, leaving the door wide open for Dukurs.
The Latvian pushed .06 faster on his second start, and was .18 faster than his first run to give him a .42 second victory over Yun, with Tretiakov finishing just .02 behind the Korean in third.
The win was the first for Dukurs since the race in Igls during the 2018/2019 season. It gives him a 29 point advantage over Tretiakov in the World Cup standings, while Yun sits third after a slow start in Lake Placid.
The back half of the race's top six all finished their races with career-best runs.
Great Britain's Marcus Wyatt came into the second heat with a shot at his first career World Cup medal, but couldn't match the pace of the podium finishers. His fourth place finish was still a career-best.
Korean Jisoo Kim had come into the second heat of the previous two races in medal contention and fell well behind on both occasions. This week, while Kim wasn't in the medal hunt, he held onto his fifth place position, one spot up from his previous career-best of sixth.
Craig Thompson had never finished in the top ten coming into Igls. He came into the second heat in 12th, but a great second run catapulted him up the order into sixth to round out a great day for Great Britain.
Andrew Blaser led the way for the United States, moving up from 19th in the first heat to finish 18th, a World Cup career best on his first trip to Europe. He was the only American in the second heat, with both Austin Florian and Alex Ivanov missing the second run in 26th and 28th, respectively.
Overall it was a tough day for North America. Like their neighbors to the south, the Canadians in the field couldn't find speed in Austria. Kyle Murray and Kevin Boyer both missed the cut for the second heat, with Murray .08 out of 20th in 23rd and Boyer .12 out in 24th.
The race saw 22 men make the second heat, with a three-way tie for 20th between China's Wengang Yan, Switzerland's Ronald Auderset, and Romania's Mihail Enache.
Results:
| | | | | | | | | |
| --- | --- | --- | --- | --- | --- | --- | --- | --- |
| Pos | Name | Nation | Bib | Start 1 | Start 2 | Run 1 | Run 2 | Total |
| 1 | Martins Dukurs | LAT | 4 | 4.90 | 4.84 | 52.34 | 52.16 | 1:44.50 |
| 2 | Sungbin Yun | KOR | 11 | 4.91 | 4.87 | 52.66 | 52.26 | 1:44.92 |
| 3 | Alexander Tretiakov | RUS | 12 | 4.87 | 4.88 | 52.53 | 52.41 | 1:44.94 |
| 4 | Macrus Wyatt | GBR | 7 | 4.83 | 4.86 | 52.61 | 52.61 | 1:45.22 |
| 5 | Jisoo Kim | KOR | 6 | 4.94 | 4.89 | 52.69 | 52.71 | 1:45.40 |
| 6 | Craig Thompson | GBR | 1 | 4.84 | 4.83 | 52.94 | 52.51 | 1:45.45 |
| 7 | Wenqiang Geng | CHN | 10 | 5.05 | 5.02 | 52.90 | 52.59 | 1:45.49 |
| 7 | Felix Keisinger | GER | 13 | 4.92 | 4.93 | 52.81 | 52.68 | 1:45.49 |
| 9 | Seunggi Jung | KOR | 16 | 4.92 | 4.87 | 52.96 | 52.57 | 1:45.53 |
| 10 | Alexander Gassner | GER | 5 | 5.04 | 5.01 | 52.86 | 52.70 | 1:45.56 |
| 11 | Amedeo Bagnis | ITA | 20 | 4.93 | 5.02 | 52.76 | 52.85 | 1:45.61 |
| 12 | Tomass Dukurs | LAT | 9 | 5.03 | 4.99 | 52.89 | 52.78 | 1:45.67 |
| 13 | Nikita Tregubov | RUS | 14 | 5.06 | 5.06 | 53.04 | 52.89 | 1:45.93 |
| 14 | Axel Jungk | GER | 8 | 5.02 | 4.98 | 52.83 | 53.14 | 1:45.97 |
| 15 | Evgeniy Rukosuev | RUS | 15 | 5.05 | 5.07 | 53.12 | 52.98 | 1:46.10 |
| 16 | Wengang Yan | CHN | 18 | 5.16 | 4.99 | 53.32 | 52.83 | 1:46.15 |
| 17 | Vladyslav Heraskevych | UKR | 17 | 5.13 | 5.11 | 53.19 | 53.03 | 1:46.22 |
| 18 | Andrew Blaser | USA | 25 | 5.01 | 5.02 | 53.27 | 53.05 | 1:46.32 |
| 19 | Florian Auer | AUT | 22 | 5.05 | 5.03 | 53.22 | 53.17 | 1:46.39 |
| 20 | Samuel Maier | AUT | 3 | 5.25 | 5.25 | 53.25 | 53.15 | 1:46.40 |
| 21 | Ronald Auderset | SUI | 29 | 5.04 | 5.09 | 53.32 | 53.20 | 1:46.52 |
| 22 | Mihail Enache | ROU | 30 | 5.09 | 5.05 | 53.32 | 53.24 | 1:46.56 |
| 23 | Kyle Murray | CAN | 27 | 5.04 | | 53.40 | | |
| 24 | Kevin Boyer | CAN | 21 | 5.11 | | 53.44 | | |
| 25 | Nicholas Timmings | AUS | 26 | 5.21 | | 53.59 | | |
| 26 | Austin Florian | USA | 19 | 5.11 | | 53.63 | | |
| 27 | Manuel Schwärzer | ITA | 23 | 5.11 | | 53.72 | | |
| 28 | Alex Ivanov | USA | 24 | 5.17 | | 53.74 | | |
| 29 | Alexander Hanssen | NOR | 28 | 5.11 | | 53.83 | | |
| 30 | Jared Firestone | ISR | 2 | 5.04 | | 54.06 | | |