From Igls, AUT
Jan. 18, 2020 – Mariama Jamanka won gold on a snowy track in Igls, edging out teammate Laura Nolte for the top honors.
Jamanka and brakewoman Annika Drazek had both the fastest push and the quickest drive in both heats on their way to a .19 second win over Nolte.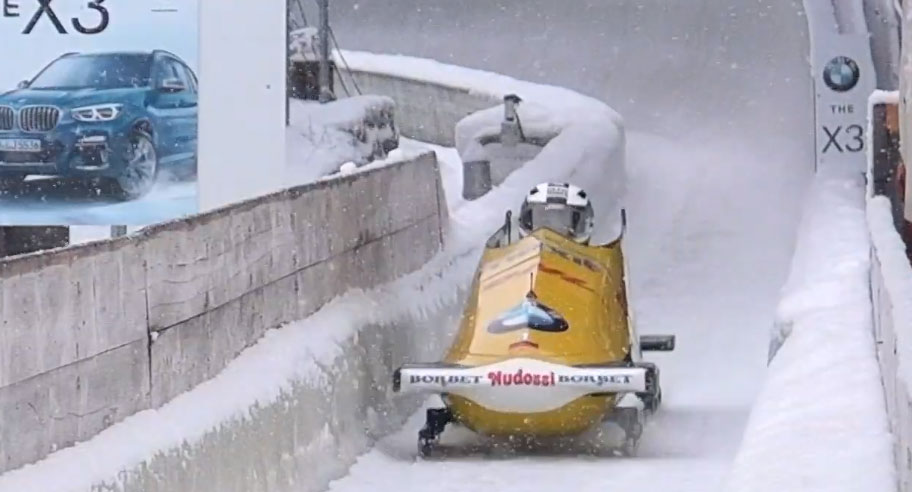 The win was the first gold and second medal on the season for Jamanka, while the silver for Nolte is her third in three races on the World Cup circuit.
The Untied States' Kaillie Humphries won bronze, her first medal of the season in Europe. Humphries was edged out by Nolte just .03 in the second heat in a heavy snowfall.
Canada's Christine de Bruin continued her solid 2019/2020 campaign with a fourth place finish, up from fifth in the first heat, while Stephanie Schneider and Nadezhda Sergeeva rounded out the top six.
Canada brought three sleds to a women's World Cup bobsled race for the first time in the 2019/2020 season, with former brakewomen Cynthia Appiah and Melissa Lotholz both getting their first ever World Cup start. Appiah rounded out the top ten in tenth place, while Lotholz moved up to 15th from 17th in the first heat.
Belgium's An Vannieuwenhuyse's sled lost steering capability at the end of her first run, leaving her unable to take a second run. Great Britain's Mica McNeill did not start due to illness.
Results:
| | | | | | | | | |
| --- | --- | --- | --- | --- | --- | --- | --- | --- |
| Pos | Names | Nation | Bib | Start 1 | Start 2 | Run 1 | Run 2 | Total |
| 1 | Jamanka / Drazek | GER | 12 | 5.51 | 5.51 | 53.68 | 53.66 | 1:47.34 |
| 2 | L. Nolte / E. Nolte | GER | 5 | 5.54 | 5.55 | 53.82 | 53.71 | 1:47.53 |
| 3 | Humphries / Hoffmann | USA | 7 | 5.57 | 5.60 | 53.69 | 53.87 | 1:47.56 |
| 4 | de Bruin / Bujnowski | CAN | 8 | 5.63 | 5.62 | 53.84 | 53.76 | 1:47.60 |
| 5 | Schneider / Strack | GER | 13 | 5.54 | 5.53 | 53.72 | 53.98 | 1:47.70 |
| 6 | Sergeeva / Mamedova | RUS | 11 | 5.66 | 5.61 | 54.09 | 54.10 | 1:48.19 |
| 7 | Beierl / Onasanya | AUT | 9 | 5.71 | 5.71 | 54.15 | 54.12 | 1:48.27 |
| 8 | Ying / Du | CHN | 15 | 5.70 | 5.67 | 54.11 | 54.19 | 1:48.30 |
| 9 | Huai / Huang | CHN | 2 | 5.74 | 5.71 | 54.29 | 54.32 | 1:48.61 |
| 10 | Appiah / Richardson Wilson | CAN | 18 | 5.62 | 5.62 | 54.31 | 54.43 | 1:48.74 |
| 11 | Osipenko / Parfenova | RUS | 17 | 5.78 | 5.77 | 54.50 | 54.33 | 1:48.83 |
| 12 | Chernykh / Shokshueva | RUS | 6 | 5.74 | 5.72 | 54.39 | 54.46 | 1:48.85 |
| 13 | Boch / Senechal | FRA | 14 | 5.81 | 5.79 | 54.45 | 54.46 | 1:48.91 |
| 14 | Fontanive / Pasternack | SUI | 10 | 5.72 | 5.74 | 54.60 | 54.35 | 1:48.95 |
| 15 | Lotholz / McCue | CAN | 1 | 5.76 | 5.74 | 54.80 | 54.50 | 1:49.30 |
| 16 | Walker / Blizzard | AUS | 19 | 5.84 | 5.82 | 54.78 | 54.90 | 1:49.68 |
| 17 | Vicenzino / Taini | ITA | 3 | 5.75 | 5.76 | 55.34 | 55.79 | 1:51.13 |
| DNS | Vannieuwenhuyse / Aerts | BEL | 4 | 5.75 | | 54.33 | DNS | |
| DNS | McNeill / Douglas | GBR | 16 | | | DNS | | |