From Lillehammer, NOR
Jan. 18, 2020 – Tatyana Ivanova's standout FIL World Cup season continued on Saturday, with the Russian winning gold in Lillehammer.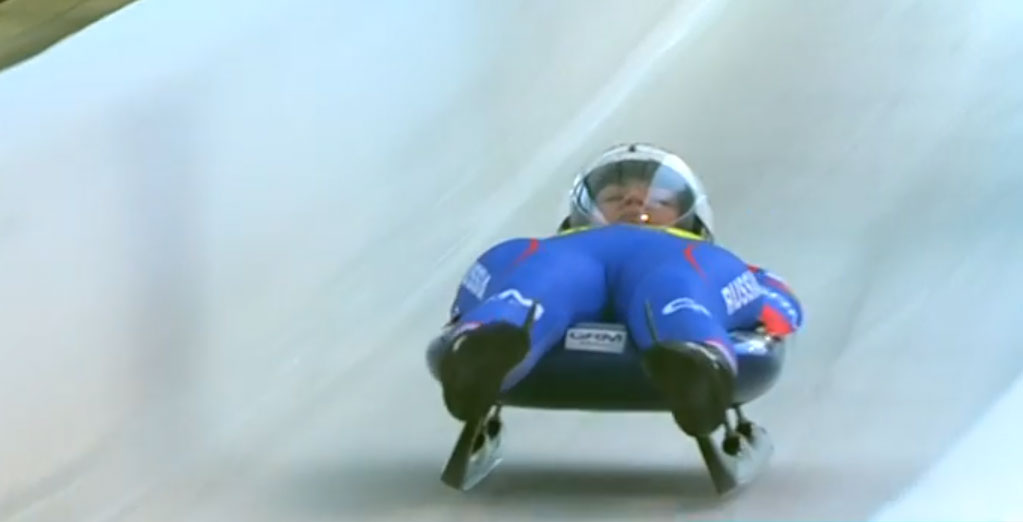 Ivanova came into the second heat in third, behind Germany's Julia Taubitz and Russian teammate Viktoriia Demchenko. On her second run, Ivanova put down the fast run of the heat. Neither Taubitz or Demchenko could answer, with Taubitz falling to third and Demchenko dropping to fourth, with Ivanova scoring the win.
The United States' Summer Britcher moved up from fifth in the first heat to win her third silver medal of the season, while Taubit fell from the lead in the first heat to third.
Demchenko finished fourth, ahead of the previous week's bronze medalist Andrea Vötter in fifth. Austria's Madeleine Egle rounded out the top six.
The United States had a good showing on a European course that's as close to home as anywhere outside of North America. On top of Britcher's silver medal, Brittney Arndt finished a season-best ninth, while Ashley Farquharson climbed from 22nd in the first heat to 17th.
In World Cup points, Ivanova's win gave her a 32 point advantage over Taubitz. Demchenko is third, just 22 points ahead of Britcher. Ekaterina Katnikova is fifth and Emily Sweeney sixth despite missing the race in Lillehammer.
Results:
| | | | | | | | | |
| --- | --- | --- | --- | --- | --- | --- | --- | --- |
| Pos | Name | Nation | Bib | Start 1 | Start 2 | Run 1 | Run 2 | Total |
| 1 | Tatyana Ivanova | RUS | 28 | 2.343 | 2.346 | 47.826 | 47.656 | 1:35.482 |
| 2 | Summer Britcher | USA | 22 | 2.362 | 2.386 | 47.827 | 47.772 | 1:35.599 |
| 3 | Julia Taubitz | GER | 24 | 2.366 | 2.373 | 47.753 | 47.871 | 1:35.624 |
| 4 | Viktoriia Demchenko | RUS | 25 | 2.374 | 2.379 | 47.758 | 47.894 | 1:35.652 |
| 5 | Andrea Vötter | ITA | 23 | 2.383 | 2.350 | 47.937 | 47.912 | 1:35.849 |
| 6 | Madeleine Egle | AUT | 14 | 2.355 | 2.360 | 47.837 | 48.024 | 1:35.861 |
| 7 | Ekaterina Katnikova | RUS | 26 | 2.383 | 2.377 | 48.009 | 47.856 | 1:35.863 |
| 8 | Ulla Zirne | LAT | 17 | 2.384 | 2.389 | 47.967 | 48.143 | 1:36.110 |
| 9 | Brittney Arndt | USA | 16 | 2.388 | 2.389 | 48.038 | 48.164 | 1:36.202 |
| 10 | Jessica Tiebel | GER | 19 | 2.388 | 2.392 | 48.082 | 48.200 | 1:36.282 |
| 11 | Kendija Aparjode | LAT | 20 | 2.376 | 2.381 | 48.130 | 48.263 | 1:36.393 |
| 12 | Eliza Cauce | LAT | 21 | 2.368 | 2.374 | 48.204 | 48.207 | 1:36.411 |
| 13 | Anna Berreiter | GER | 27 | 2.360 | 2.360 | 48.684 | 47.932 | 1:36.616 |
| 14 | Natalie Maag | SUI | 18 | 2.377 | 2.373 | 48.405 | 48.317 | 1:36.722 |
| 15 | Raluca Stramaturaru | ROU | 15 | 2.392 | 2.388 | 48.535 | 48.215 | 1:36.750 |
| 16 | Nina Zöggeler | ITA | 13 | 2.388 | 2.392 | 48.702 | 48.162 | 1:36.864 |
| 17 | Ashley Farquharson | USA | 7 | 2.387 | 2.386 | 48.612 | 48.260 | 1:36.872 |
| 18 | Veronia Ravenna | ARG | 4 | 2.414 | 2.417 | 48.293 | 48.598 | 1:36.891 |
| 19 | Olena Stetskiv | UKR | 12 | 2.376 | 2.378 | 48.547 | 48.372 | 1:36.919 |
| 20 | Marion Oberhofer | ITA | 9 | 2.386 | 2.386 | 48.358 | 48.652 | 1:37.010 |
| 21 | Elina Vitola | LAT | 6 | 2.375 | 2.378 | 48.532 | 48.568 | 1:37.100 |
| 22 | Vilda Tangnes | NOR | 5 | 2.402 | 2.401 | 48.423 | 48.717 | 1:37.140 |
| 23 | Cheyenne Rosenthal | GER | 11 | 2.361 | 2.359 | 48.862 | 48.363 | 1:37.25 |
| 24 | Olesya Mikhaylenko | RUS | 8 | 2.376 | 2.387 | 49.117 | 48.483 | 1:37.600 |
| 25 | Hannah Prock | AUT | 1 | 2.381 | 2.388 | 48.749 | 49.061 | 1:37.810 |
| 26 | Klaudia Domaradzka | POL | 2 | 2.402 | 2.398 | 49.067 | 48.819 | 1:37.886 |
| DNF | Peixuan Wang | CHN | 3 | 2.402 | 2.407 | 48.437 | DNF | |
| DNF | Katarina Simonakova | SVK | 10 | 2.398 | 2.397 | 48.376 | DNF | |