From Lillehammer, NOR
Jan. 18, 2020 – Aleksandr Denisev & Vladislav Antonov cruised to victory for their first FIL World Cup gold medal of the season in Lillehammer.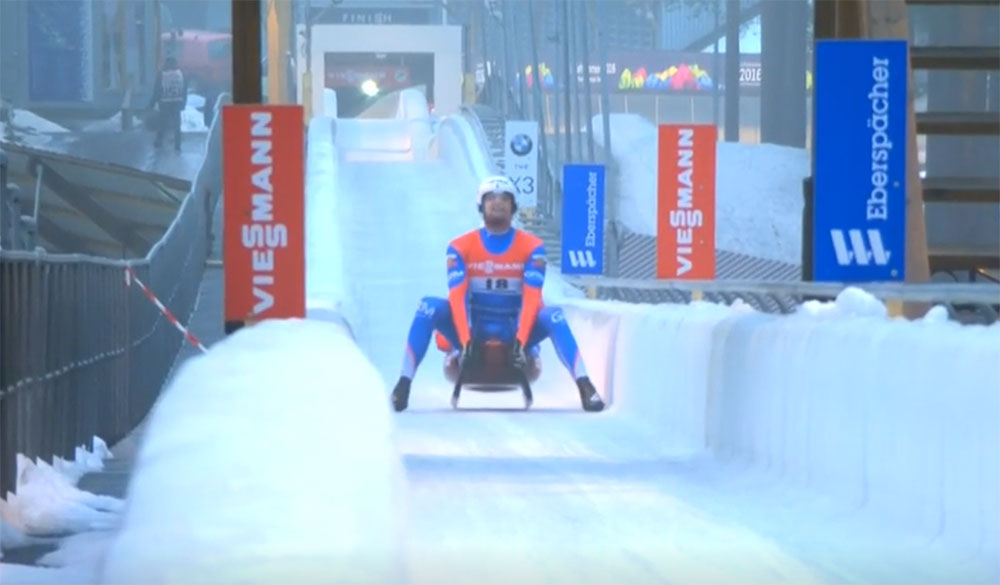 The Russian duo had the quick time in both heats on their way to a one tenth of a second victory over the Austrian duo of Thomas Steu & Lorenz Koller.
The gold was the first for Denisev & Antonov since last season's World Cup stop in Sochi.
Steu & Koller, last week's winner, finished just ahead of Vladislav Yuzhakov & Iurii Prokhorov in third.
Two Italian teams finished fourth and fifth, with Ivan Nagler & Fabian Malleier finishing well ahead of teammates Emanuel Rieder & Simon Kainzwaldner in fifth. The Polish team of Wojciech Chmielewski & Jakub Kowalewski finished a season-best sixth.
No North American teams entered the race.
The race was a disaster for Germany, who failed to place a doubles team in the top six for the first time since the 2013/2014 World Cup season finale in Sigulda where Robin Gueke & David Gamm were the top-finishing German team in 11th*. Nico Grüßner & Chris Rohmeis did not finish in that race.
Despite the disappointing finishes for both Toni Eggert & Sascha Benecken and Tobias Wendl & Tobias Arlt, the Germans sit one-two in the overall standings, with Steu & Koller closing in on them in third.
*Statistic courtesy the Associated Press' Tim Reynolds
Results:
| | | | | | | | | |
| --- | --- | --- | --- | --- | --- | --- | --- | --- |
| Pos | Names | Nation | Bib | Start 1 | Start 2 | Run 1 | Run 2 | Total |
| 1 | Denisev / Antonov | RUS | 18 | 2.304 | 2.307 | 47.779 | 47.806 | 1:35.585 |
| 2 | Steu / Koller | AUT | 16 | 2.306 | 2.306 | 47.815 | 47.870 | 1:35.685 |
| 3 | Yuzhakov / Prokorov | RUS | 12 | 2.324 | 2.332 | 47.880 | 47.877 | 1:35.757 |
| 4 | Nagler / Malleier | ITA | 4 | 2.290 | 2.297 | 47.908 | 47.954 | 1:35.862 |
| 5 | Rieder / Kainzwaldner | ITA | 13 | 2.342 | 2.306 | 47.842 | 48.156 | 1:35.998 |
| 6 | Chmielewski / Kowalewski | POL | 9 | 2.295 | 2.306 | 48.082 | 48.040 | 1:36.112 |
| 7 | Wendl / Arlt | GER | 17 | 2.291 | 2.299 | 47.982 | 48.144 | 1:36.126 |
| 8 | Eggert / Benecken | GER | 19 | 2.292 | 2.325 | 47.992 | 48.229 | 1:36.151 |
| 9 | Rieder / Rastner | ITA | 11 | 2.270 | 2.280 | 48.082 | 48.090 | 1:36.172 |
| 10 | Geueke / Gamm | GER | 20 | 2.307 | 2.304 | 48.182 | 48.089 | 1:36.271 |
| 11 | Kashkin / Korshunov | RUS | 21 | 2.328 | 2.321 | 47.896 | 48.406 | 1:36.302 |
| 12 | Putins / Marcinkevics | LAT | 8 | 2.316 | 2.319 | 48.026 | 48.351 | 1:36.377 |
| 13 | Gudramovics / Kalnins | LAT | 15 | 2.321 | 2.316 | 48.108 | 48.479 | 1:36.587 |
| 14 | Stakhiv / Lysetskyi | UKR | 3 | 2.349 | 2.359 | 48.714 | 48.886 | 1:37.600 |
| 15 | Park / Cho | KOR | 5 | 2.365 | 2.369 | 49.206 | 48.546 | 1:37.752 |
| 16 | Hoi / Levkovych | UKR | 10 | 2.371 | 2.387 | 49.457 | 48.797 | 1:38.254 |
| 17 | Vejdelek / Pekny | CZE | 2 | 2.372 | 2.382 | 49.298 | 49.577 | 1:38.875 |
| 18 | Müller / Frauscher | AUT | 6 | 2.305 | 2.353 | 48.361 | 53.305 | 1:41.666 |
| 19 | Sics / Sics | LAT | 14 | 2.332 | 2.313 | 47.884 | 56.029 | 1:43.913 |
| 20 | Huang / Peng | CHN | 1 | 2.357 | 2.377 | 67.683 | 50.241 | 1:57.924 |
| 21 | Vavercak / Zmij | SVK | 7 | 2.385 | 2.357 | 48.574 | DNF | |