From Igls, AUT
Jan. 18, 2020 – Francesco Friedrich has been nearly unmatched in Igls over the last half of a decade. He's also been nearly unmatched in 2-man bobsled this season. The combination of the two led to a dominating performance in Austria.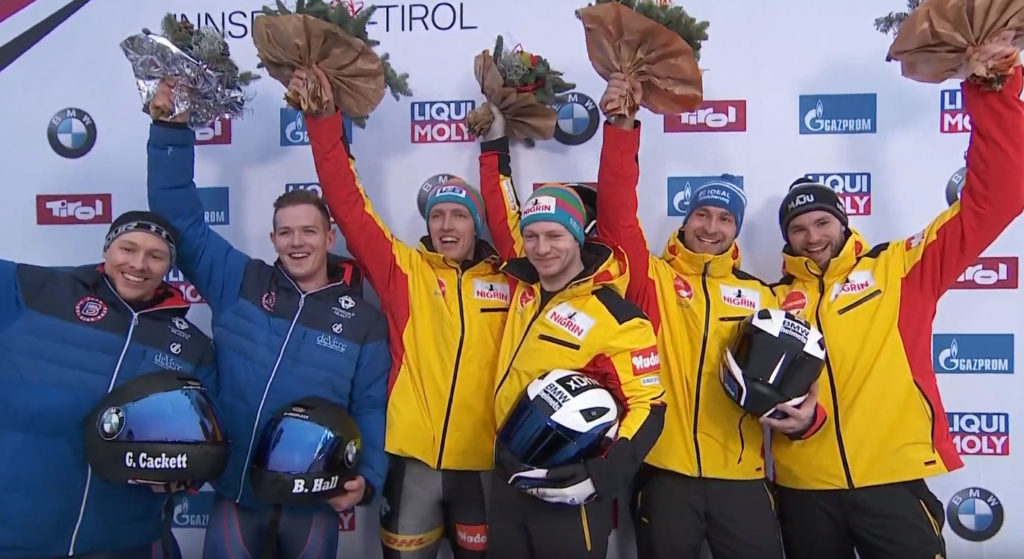 The German pilot had the quick time at every split in the race on his way to a .74 second win, his third straight in 2-man bobsled and sixth straight win in Igls. Friedrich has not finished outside of the top two in a IBSF World Cup 2-man race since November 24, 2017 in Whistler.
Behind Friedrich, British slider Brad Hall won his first 2-man bobsled silver medal in World Cup competition, edging rookie Richard Oelsner by just .01. Hall came into the second run in third place, but put down the second fastest run of the heat to edge out Oelsner.
The silver medal for Hall was the first ever for Great Britain in 2-man World Cup competition.
Oelsner's bronze medal was a personal best in two World Cup events. Prior to joining the senior circuit, Oelsner had one victory and two top fives in European Cup 2-man action in Igls.
Germany put all three of their sleds in the top four, with Nico Walther finishing fourth. Walther started 26th, and entered the second heat in a tie for fifth with Michael Vogt. Vogt finished fifth, while Romain Heinrich rounded out the top six.
American Hunter Church continued his rookie season in Europe with another top ten finish. Church came into the second heat in ninth, but was out-pushed by Dominik Dvorak and Ralfs Berzins. Dvorak finished ninth, while Church finished tied for tenth with Berzins.
Justin Kripps finished 12th after trouble getting in his sled at the start of his first run put him back in the running order.
With his win, Friedrich extends his World Cup point lead, which now stands at 197 over Vogt. Kripps fell to third after his 12th place finish. Oskars Kibermanis came into the race injured and finished 23rd, sending him well down the order, while Church sits fifth overall.
Results:
| | | | | | | | | |
| --- | --- | --- | --- | --- | --- | --- | --- | --- |
| Pos | Names | Nation | Bib | Start 1 | Start 2 | Run 1 | Run 2 | Total |
| 1 | Friedrich / Margis | GER | 10 | 5.14 | 5.08 | 51.99 | 51.88 | 1:43.87 |
| 2 | Hall / Cackett | GBR | 18 | 5.21 | 5.25 | 52.22 | 52.39 | 1:44.61 |
| 3 | Oelsner / Schneider | GER | 6 | 5.17 | 5.21 | 52.15 | 52.47 | 1:44.62 |
| 4 | Walther / Schwenzfeier | GER | 26 | 5.26 | 5.33 | 52.29 | 52.48 | 1:44.77 |
| 5 | Vogt / Bieri | SUI | 11 | 5.16 | 5.18 | 52.29 | 52.50 | 1:44.79 |
| 6 | Heinrich / Hauterville | FRA | 12 | 5.18 | 5.23 | 52.28 | 52.61 | 1:44.89 |
| 7 | Won / Seo | KOR | 8 | 5.19 | 5.23 | 52.35 | 52.55 | 1:44.90 |
| 8 | Stulnev / Malykh | RUS | 16 | 5.26 | 5.30 | 52.37 | 52.64 | 1:45.01 |
| 9 | Dvorak / Nosek | CZE | 13 | 5.19 | 5.20 | 52.44 | 52.58 | 1:45.02 |
| 10 | Berzins / Springis | LAT | 19 | 5.14 | 5.18 | 52.45 | 52.68 | 1:45.13 |
| 10 | Church / Williamson | USA | 4 | 5.29 | 5.30 | 52.38 | 52.75 | 1:45.13 |
| 12 | Kripps / Coakwell | CAN | 5 | 5.20 | 5.26 | 52.53 | 52.64 | 1:45.17 |
| 13 | Rinaldi / Vain | MON | 7 | 5.27 | 5.35 | 52.48 | 52.82 | 1:45.30 |
| 14 | Shao / Liu | CHN | 17 | 5.31 | 5.35 | 52.59 | 52.96 | 1:45.55 |
| 15 | Li / Wu | CHN | 22 | 5.25 | 5.30 | 52.69 | 53.06 | 1:45.75 |
| 16 | de Bruin / Veenker | NED | 21 | 5.33 | 5.35 | 52.89 | 52.92 | 1:45.81 |
| 17 | Maier / Sammer | AUT | 14 | 5.43 | 5.47 | 52.82 | 53.01 | 1:45.83 |
| 18 | Baumgartner / Ughi | ITA | 2 | 5.37 | 5.38 | 52.87 | 53.03 | 1:45.90 |
| 19 | Suk / Jang | KOR | 15 | 5.35 | 5.37 | 52.83 | 53.20 | 1:46.03 |
| 20 | Shinohara / Murakami | JPN | 25 | 5.31 | 5.36 | 52.95 | 53.19 | 1:46.14 |
| 21 | Popov / Mordasov | RUS | 1 | 5.35 | | 53.06 | | |
| 22 | Rohner / Fearon | SUI | 20 | 5.26 | | 53.23 | | |
| 23 | Kibermanis / Miknis | LAT | 9 | 5.65 | | 53.25 | | |
| 24 | Treichl / Glaboniat | AUT | 24 | 5.67 | | 53.39 | | |
| 25 | Silic / Krajisnik | CRO | 3 | 5.48 | | 53.97 | | |
| DSQ | Deen / Simons | GBR | 23 | | | DSQ | | |