From Königssee, GER
Jan. 24, 2020 – It was going to take a big run to beat Jacqueline Lölling on a track where the German held the track record and put down a second run that came within .05 of that time.
Enter Tina Hermann.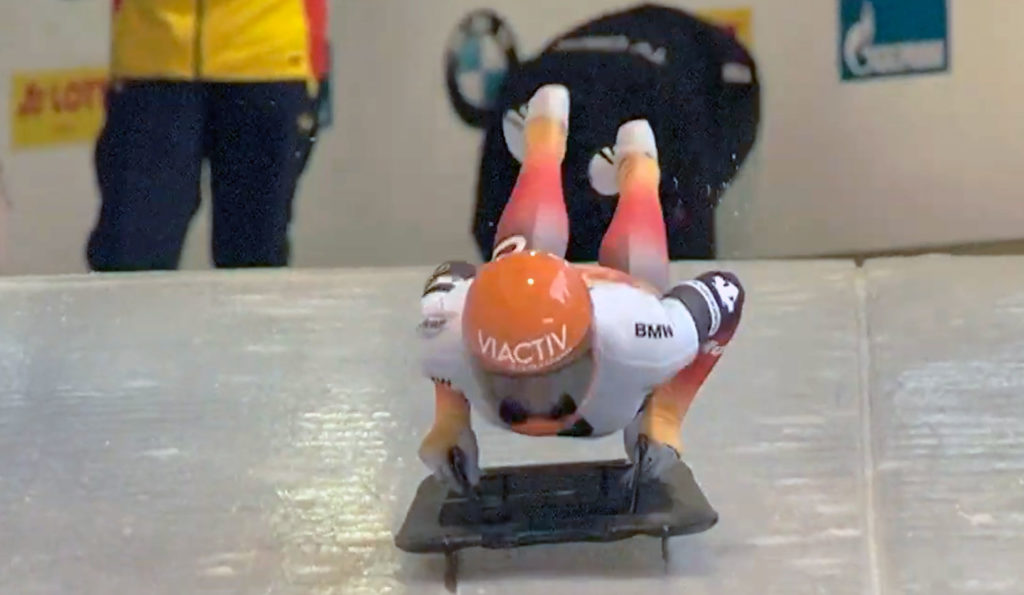 On her home ice, Hermann broke Lölling's track record on her way to a .18 second victory over her German teammate. Hermann's gold is her second on the season (Winterberg being the other). The record had been a 51.28 set by Lölling in 2017, but fell to 51.24 after Hermann's gold medal effort.
While not enough to win gold, Lölling's second run was enough to leapfrog Elena Nikitina for silver, while Nikitina settled for bronze.
Mimi Rahneva finished with her third fourth place result of the season, edging out Austria's Janine Flock in fifth by just .05.
The United States' Megan Henry scored her second straight stop six finish with a sixth place run, her third top ten in the last four races.
The United States had a generally strong day in Germany. Savannah Graybill's second run was .44 faster than her first, and it was enough to pick up three spots to finish ninth, a career best outside of North America and her second best finish ever on the World Cup tour. Teammate Kendall Wesenberg finished 14th to round out the American effort.
Jane Channell finished moved up from 17th to 15th on the strength of a pair of top three starts, while teammate Madi Charney just missed out on a second run, finishing 21st.
Great Britain sent two women to the World Cup stop in Königssee, with Kimberley Murray going back to Lake Placid for the Intercontinental Cup races. Madelaine Smith finished 16th, .01 ahead of teammate Laura Deas in 17th.
Australia's Jackie Narracott had a tremendous second run, .68 faster than her first. That second effort moved her up from 17th to 13th.
In the World Cup points, Lölling's silver gives her some space between herself and Flock, with Hermann moving into third. All three women have finished in the top six in every race so far this season. Nikitina, Rahneva, and Marina Gilardoni currently sit fourth through sixth, respectively. The United States' Megan Henry is just outside of the top six in seventh.
Results:
| | | | | | | | | |
| --- | --- | --- | --- | --- | --- | --- | --- | --- |
| Pos | Name | Nation | Bib | Start 1 | Start 2 | Run 1 | Run 2 | Total |
| 1 | Tina Hermann | GER | 9 | 5.15 | 5.12 | 51.55 | 51.24 | 1:42.79 |
| 2 | Jacqueline Lölling | GER | 8 | 5.12 | 5.16 | 51.64 | 51.33 | 1:42.97 |
| 3 | Elena Nikitina | RUS | 7 | 4.84 | 4.85 | 51.61 | 51.59 | 1:43.20 |
| 4 | Mirela Rahneva | CAN | 4 | 5.00 | 4.96 | 51.75 | 51.71 | 1:43.46 |
| 5 | Janine Flock | AUT | 13 | 5.19 | 5.17 | 51.71 | 51.80 | 1:43.51 |
| 6 | Megan Henry | USA | 12 | 5.06 | 5.01 | 51.98 | 51.87 | 1:43.85 |
| 7 | Sophia Griebel | GER | 16 | 5.10 | 5.15 | 51.94 | 52.01 | 1:43.95 |
| 8 | Anna Fernstädt | CZE | 6 | 5.30 | 5.27 | 52.04 | 51.92 | 1:43.96 |
| 9 | Savannah Graybill | USA | 18 | 5.22 | 5.18 | 52.24 | 51.80 | 1:44.04 |
| 10 | Kim Meylemans | BEL | 10 | 5.11 | 5.10 | 52.11 | 51.94 | 1:44.05 |
| 11 | Marina Gilardoni | SUI | 5 | 5.06 | 5.02 | 52.14 | 51.97 | 1:44.11 |
| 12 | Renata Khuzina | RUS | 19 | 5.15 | 5.16 | 52.21 | 52.42 | 1:44.63 |
| 13 | Jaclyn Narracott | AUS | 1 | 5.13 | 5.14 | 52.69 | 52.01 | 1:44.70 |
| 14 | Kendall Wesenberg | USA | 11 | 5.25 | 5.26 | 52.30 | 52.42 | 1:44.72 |
| 15 | Jane Channell | CAN | 15 | 4.94 | 4.96 | 52.62 | 52.14 | 1:44.76 |
| 16 | Madelaine Smith | GBR | 14 | 5.06 | 5.07 | 52.43 | 52.36 | 1:44.79 |
| 17 | Laura Deas | GBR | 17 | 5.09 | 5.05 | 52.49 | 52.31 | 1:44.80 |
| 18 | Leslie Stratton | SWE | 23 | 5.26 | 5.24 | 52.97 | 52.43 | 1:45.40 |
| 19 | Kimberley Bos | NED | 24 | 5.30 | 5.21 | 53.08 | 53.12 | 1:46.20 |
| 20 | Yulia Kanakina | RUS | 2 | 5.00 | 4.95 | 53.28 | 53.19 | 1:46.47 |
| 21 | Madison Charney | CAN | 21 | 5.16 | | 53.33 | | |
| 22 | Alessia Crippa | ITA | 20 | 5.09 | | 53.37 | | |
| 23 | Kellie Delka | PUR | 3 | 5.19 | | 53.39 | | |
| 24 | Huiyang Lin | CHN | 22 | 5.11 | | 53.78 | | |