From Königssee, GER
Jan. 24, 2020 – The ice in Königssee was fast, to the point Sungbin Yun broke the track record on his first run to take the lead ahead of Alexander Tretiakov and Chinese newcomer Wenqiang Geng.
Despite the huge first run, it was consistency that ruled the day in the men's skeleton event.
Russian Alexander Tretiakov put down two consistent runs with a 50.15 in the first heat and a 50.12 in the second to beat out Yun's track record 49.98 that he coupled with a 50.35 by .06.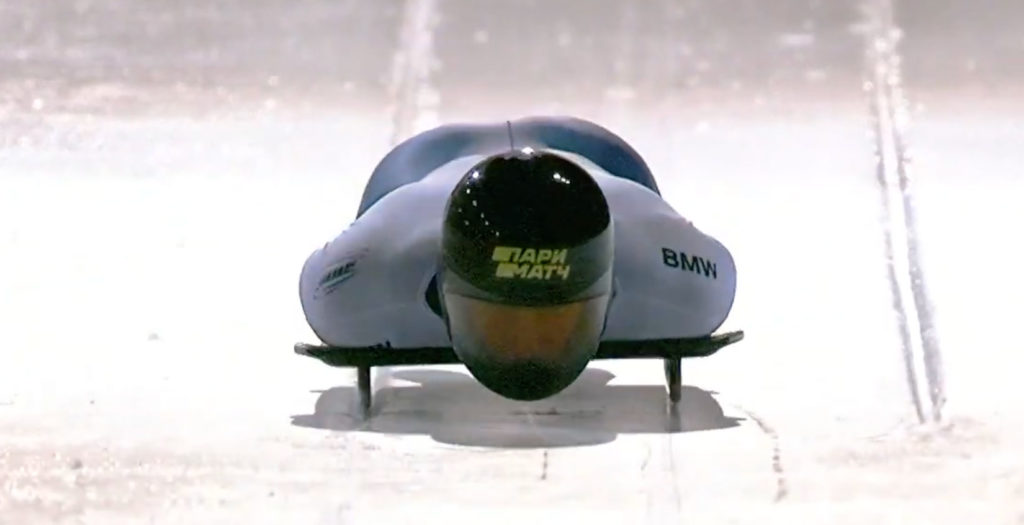 It was the third gold of the season for Tretiakov.
Finishing third was Felix Keisinger who was the big mover of the day. Keisinger's bumpy first run left him 12th in the first heat. His second run was significantly better, only .06 off of Yun's first run track record time. That second run was enough to move him up the order to the bronze medal spot.
Keisinger's run was enough to edge out both of his teammates. Axel Jungk finished fourth and Alexander Gassner fifth, just .01 and .02 behind Keisinger respectively.
Tomass Dukurs rounded out the top six. Geng had trouble on his second run and fell to tenth.
In the World Cup standings, Tretiakov's win gives him the World Cup lead, ahead of Martins Dukurs and Sungbin Yun. Jungk, Keisinger, and Gassner round out the top six.
Kevin Boyer finished the race in  17th for his second best finish since the tour moved back to Europe after Christmas. Teammate Kyle Murray finished 28th in his first ever race at any level in Königssee.
The American men could not match the success of their women's skeleton counterparts. Austin Florian missed the cut for the second heat by .12, while teammate Andrew Blaser was .11 behind him. Alex Ivanov rounded out the American effort in 26th.
Great Britain's Marcus Wyatt put down two blistering starts on his way to a 13th place finish, while North American Cup champion Ander Mirambell finished 24th in his first World Cup start of the season.
Results:
| | | | | | | | | |
| --- | --- | --- | --- | --- | --- | --- | --- | --- |
| Pos | Name | Nation | Bib | Start 1 | Start 2 | Run 1 | Run 2 | Total |
| 1 | Alexander Tretiakov | RUS | 8 | 4.58 | 4.57 | 50.15 | 50.12 | 1:40.27 |
| 2 | Sungbin Yun | KOR | 7 | 4.61 | 4.64 | 49.98 | 50.35 | 1:40.33 |
| 3 | Felix Keisinger | GER | 6 | 4.63 | 4.60 | 50.62 | 50.04 | 1:40.66 |
| 4 | Axel Jungk | GER | 11 | 4.68 | 4.66 | 50.38 | 50.29 | 1:40.67 |
| 5 | Alexander Gassner | GER | 10 | 4.77 | 4.74 | 50.48 | 50.20 | 1:40.68 |
| 6 | Tomass Dukurs | LAT | 12 | 4.74 | 4.70 | 50.55 | 50.23 | 1:40.78 |
| 7 | Martins Dukurs | LAT | 5 | 4.65 | 4.62 | 50.40 | 50.42 | 1:40.82 |
| 8 | Wengang Yan | CHN | 17 | 4.69 | 4.68 | 50.54 | 50.48 | 1:41.02 |
| 9 | Nikita Tregubov | RUS | 15 | 4.71 | 4.70 | 50.59 | 50.52 | 1:41.11 |
| 10 | Wenqiang Geng | CHN | 4 | 4.72 | 4.71 | 50.29 | 51.01 | 1:41.30 |
| 11 | Vladyslav Heraskevych | UKR | 16 | 4.79 | 4.81 | 50.58 | 50.77 | 1:41.35 |
| 12 | Jisoo Kim | KOR | 13 | 4.64 | 4.65 | 50.54 | 50.88 | 1:41.42 |
| 13 | Marcus Wyatt | GBR | 9 | 4.61 | 4.64 | 50.76 | 50.71 | 1:41.47 |
| 14 | Samuel Maier | AUT | 23 | 4.88 | 4.94 | 51.08 | 50.72 | 1:41.80 |
| 15 | Seunggi Jung | KOR | 14 | 4.63 | 4.61 | 50.81 | 51.05 | 1:41.86 |
| 16 | Mihail Enache | ROU | 2 | 4.75 | 4.73 | 50.95 | 50.94 | 1:41.89 |
| 17 | Kevin Boyer | CAN | 21 | 4.77 | 4.76 | 50.89 | 51.14 | 1:42.03 |
| 18 | Florian Auer | AUT | 20 | 4.78 | 4.78 | 50.77 | 51.53 | 1:42.30 |
| 19 | Amedeo Bagnis | ITA | 18 | 4.62 | 4.69 | 51.08 | 51.34 | 1:42.42 |
| 20 | Ronald Auderset | SUI | 28 | 4.80 | 4.82 | 51.04 | 51.60 | 1:42.64 |
| 21 | Austin Florian | USA | 19 | 4.78 | | 51.20 | | |
| 22 | Andrew Blaser | USA | 24 | 4.74 | | 51.31 | | |
| 23 | Manuel Schwärzer | ITA | 22 | 4.79 | | 51.34 | | |
| 24 | Ander Mirambell | ESP | 26 | 5.03 | | 51.52 | | |
| 25 | Alexander Hanssen | NOR | 3 | 4.71 | | 51.53 | | |
| 26 | Alex Ivanov | USA | 25 | 4.89 | | 51.57 | | |
| 27 | Brendan Doyle | IRL | 29 | 4.81 | | 51.74 | | |
| 28 | Kyle Murray | CAN | 27 | 4.86 | | 51.84 | | |
| 29 | Jared Firestone | ISR | 1 | 4.78 | | 52.02 | | |
| 30 | Artem Drozdov | RUS | 30 | 4.82 | | 52.75 | | |