From Sigulda, LAT
Jan. 25, 2020 – Andris & Juris Sics came into the 2019/2020 season having won a myriad of medals in the FIL World Cup, in World Championships, and the Olympics, but hadn't ever won gold.
After a long and storied career the Latvian brothers won Sprint World Cup gold in Lake Placid, and now have a non-sprint gold under their belt with a home-ice win in Sigulda.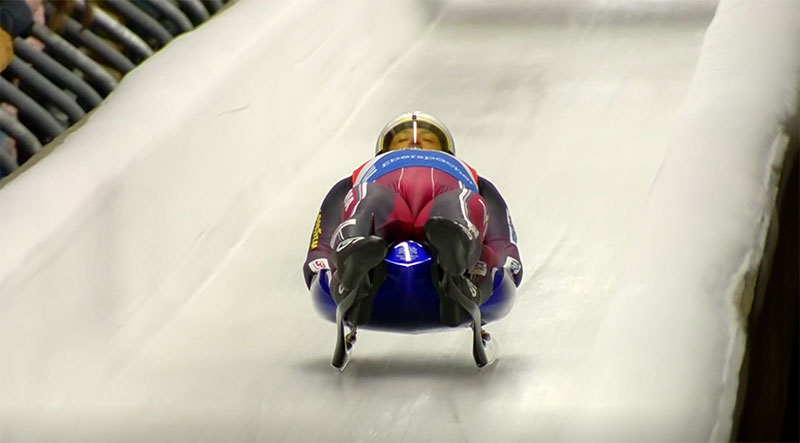 Sics & Sics carried a .033 advantage over Germany's Tobias Wendl & Tobias Arlt going into the second heat. On that second run the Germans set the fast time of the race, but the Latvians kept it close enough to win by .03 over Wendl & Arlt.
The win for Sics & Sics gave them their second medals of the season, and their fourth doubles medals in Sigulda.
World Cup leaders Toni Eggert & Sascha Benecken finished third, over .2 behind teammates Wendl & Arlt, with Robin Geueke & David Gamm finishing fourth to put all three German teams in the top four.
Latvians Oskars Gudramovics & Peteris Kalnins finished fifth, while Aleksandr Denisev & Vladislav Antonov rounded out the top six in sixth.
With Chris Mazdzer & Jayson Terdiman out and on the mend, USA Luge called up the team of Dana Kellogg and Duncan Segger. The young rookies crashed in their first heat, but came back strong with the 12th fastest run of the second heat to finish 20th in their World Cup debut.
Canadians Tristan Walker & Justin Snith finished the race just outside of the top ten in 11th in their return to World Cup competition after taking the previous race off.
Eggert & Benecken finish the race 65 points ahead of teammates Wendl & Arlt. Thomas Steu & Lorenz Koller are currently third, but are out for the remainder of the FIL World Cup season after a crash in training left Steu with a fractured tibia. Sics & Sics are currently fourth.
Results:
| | | | | | | | | |
| --- | --- | --- | --- | --- | --- | --- | --- | --- |
| Pos | Names | Nation | Bib | Start 1 | Start 2 | Run 1 | Run 2 | Total |
| 1 | Sics / Sics | LAT | 10 | 1.555 | 1.604 | 41.970 | 41.834 | 1:23.804 |
| 2 | Wendl / Arlt | GER | 19 | 1.534 | 1.529 | 42.003 | 41.831 | 1:23.834 |
| 3 | Eggert / Benecken | GER | 18 | 1.545 | 1.543 | 42.091 | 41.954 | 1:24.045 |
| 4 | Geueke / Gamm | GER | 12 | 1.549 | 1.544 | 42.188 | 42.052 | 1:24.240 |
| 5 | Gudramovics / Kalnins | LAT | 16 | 1.564 | 1.563 | 42.172 | 42.095 | 1:24.267 |
| 6 | Denisev / Antonov | RUS | 22 | 1.554 | 1.562 | 42.253 | 42.051 | 1:24.304 |
| 7 | Putins / Marcinkevics | LAT | 15 | 1.577 | 1.574 | 42.218 | 42.201 | 1:24.419 |
| 8 | Yuzhakov / Prokhorov | RUS | 13 | 1.559 | 1.579 | 42.288 | 42.142 | 1:24.430 |
| 9 | Kashkin / Korshunov | RUS | 21 | 1.590 | 1.571 | 42.475 | 42.051 | 1:24.526 |
| 10 | Chmielewski / Kowalewski | POL | 8 | 1.552 | 1.564 | 42.394 | 42.320 | 1:24.714 |
| 11 | Walker / Snith | CAN | 9 | 1.573 | 1.578 | 42.490 | 42.378 | 1:24.868 |
| 12 | Shander / Mikov | KAZ | 4 | 1.616 | 1.612 | 42.579 | 42.491 | 1:25.070 |
| 13 | Rieder / Kainzwaldner | ITA | 20 | 1.532 | 1.538 | 42.941 | 42.148 | 1:25.089 |
| 14 | Müller / Frauscher | AUT | 17 | 1.572 | 1.624 | 42.749 | 42.381 | 1:25.130 |
| 15 | Rider / Rastner | ITA | 14 | 1.517 | 1.530 | 42.568 | 42.712 | 1:25.280 |
| 16 | Park / Cho | KOR | 7 | 1.647 | 1.657 | 42.731 | 42.677 | 1:25.408 |
| 17 | Stakhiv / Lysetskyi | UKR | 3 | 1.632 | 1.634 | 42.887 | 42.894 | 1:25.781 |
| 18 | Nagler / Malleier | ITA | 11 | 1.586 | 1.559 | 43.338 | 42.504 | 1:25.842 |
| 19 | Vejdelek / Pekny | CZE | 2 | 1.669 | 1.687 | 43.694 | 43.449 | 1:27.143 |
| 20 | Kellogg / Segger | USA | 6 | 1.627 | 1.619 | 47.810 | 42.344 | 1:30.154 |
| DNF | Hoi / Levkovych | UKR | 1 | 1.669 | 1.681 | 50.935 | DNF | |
| DNF | Vavercak / Zmij | SVK | 5 | 1.606 | | DNF | | |