From Königssee, GER
Jan. 25, 2020 – Francesco Friedrich won his fourth straight 2-man gold medal, cruising to another victory in Königssee.
Friedrich was unmatched in either of his runs, setting the fastest two starts and the quickest to runs of the race on his way to a .51 second victory over the man he shared an Olympic gold medal with, Justin Kripps.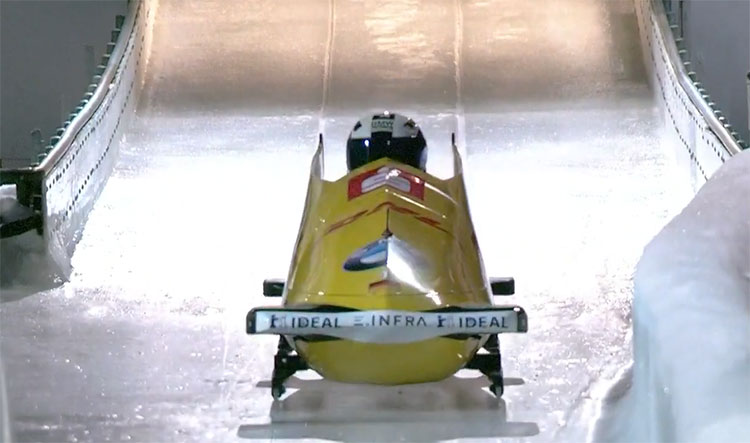 Kripps came into the second heat in fourth place, oly .02 behind a tie for second between Germany's Nico Walther and Richard Oelsner. Walther's run was just a hair slower than Kripps, dropping him behind the Canadian. Oelsner's second run looked to give him a challenge for the medals until a hard hit through the chicane dropped him down to fourth and gave the silver medal to Kripps.
The silver for Kripps was both his third of the season and his third in a row in Königssee in 2-man competition, while the bronze for Walther's bronze was his first 2-man bronze of the season.
Oelsner finished fourth, just ahead of Oskars Kibermanis in fifth.
Great Britain's Brad Hall scored another top six finish, tied with Switzerland's Michael Vogt for sixth. Vogt moved up from ninth to work his way into the top six.
The United States' Hunter Church finished 17th in his first race in Königssee, his worst finish in his first full season in the IBSF World Cup. Church will look to pick things up in the 4-man race on Sunday.
Lamin Deen had a big skid going into the chicane in his first run, putting him back into 20th in the second British sled.
After five races, Friedrich holds a commanding lead in the 2-man standings, currently 228 points ahead of Kripps. Vogt is third, while Kibermanis, Yunjong Won, and Romain Heinrich round out the top six. Church is seventh.
Results:
| | | | | | | | | |
| --- | --- | --- | --- | --- | --- | --- | --- | --- |
| Pos | Names | Nation | Bib | Start 1 | Start 2 | Run 1 | Run 2 | Total |
| 1 | Friedrich / Margis | GER | 4 | 4.87 | 4.83 | 49.27 | 49.39 | 1:38.66 |
| 2 | Kripps / Stones | CAN | 13 | 4.89 | 4.92 | 49.56 | 49.61 | 1:39.17 |
| 3 | Walther / Schwenzfeier | GER | 20 | 4.96 | 4.97 | 49.54 | 49.65 | 1:39.19 |
| 4 | Oelsner / Schneider | GER | 12 | 4.93 | 4.90 | 49.54 | 49.72 | 1:39.26 |
| 5 | Kibermanis / Miknis | LAT | 6 | 4.97 | 4.91 | 49.66 | 49.66 | 1:39.32 |
| 6 | Vogt / Beiri | SUI | 10 | 4.93 | 4.94 | 49.71 | 49.80 | 1:39.51 |
| 6 | Hall / Cackett | GBR | 14 | 4.92 | 4.91 | 49.62 | 49.89 | 1:39.51 |
| 8 | Friedli / Jones | SUI | 18 | 4.92 | 4.91 | 49.69 | 49.88 | 1:39.57 |
| 9 | Tentea / Daroczi | ROU | 19 | 5.01 | 4.98 | 49.74 | 49.95 | 1:39.69 |
| 10 | Won / Seo | KOR | 11 | 4.93 | 4.92 | 49.81 | 49.90 | 1:39.71 |
| 10 | Dvorak / Suchy | CZE | 9 | 4.95 | 4.96 | 49.69 | 50.02 | 1:39.71 |
| 12 | Heinrich / Hauterville | FRA | 5 | 4.96 | 4.97 | 49.97 | 49.82 | 1:39.79 |
| 13 | Li / Wu | CHN | 22 | 4.95 | 4.96 | 49.84 | 50.00 | 1:39.84 |
| 14 | Stulnev / Samitov | RUS | 15 | 5.03 | 5.03 | 49.93 | 49.97 | 1:39.90 |
| 15 | Berzins / Springis | LAT | 16 | 4.92 | 4.92 | 49.93 | 49.99 | 1:39.92 |
| 16 | Shao / Liu | CHN | 17 | 5.03 | 5.02 | 49.97 | 49.98 | 1:39.95 |
| 17 | Church / Wilcox | USA | 7 | 5.03 | 5.05 | 49.95 | 50.14 | 1:40.09 |
| 18 | Suk  /Jang | KOR | 3 | 5.02 | 5.03 | 50.04 | 50.11 | 1:40.15 |
| 19 | de Bruin / Veenker | NED | 21 | 5.02 | 5.01 | 50.15 | 50.14 | 1:40.29 |
| 20 | Deen / Letts | GBR | 11 | 5.07 | 5.07 | 50.28 | 50.30 | 1:40.58 |
| 21 | Treichl / Glück | AUT | 24 | 5.13 | | 50.35 | | |
| 22 | Shinohara / Kaneko | JPN | 1 | 5.03 | | 50.46 | | |
| 23 | Variola / Ughi | ITA | 2 | 4.99 | | 50.47 | | |
| 24 | Popov / Lylov | RUS | 25 | 5.39 | | 51.06 | | |
| 25 | Silic / Krajisnik | CRO | 26 | 5.15 | | 51.13 | | |
| DNS | Rinaldi / Borges Mendonaca | MON | 8 | | | DNS | | |