From Oberhof, GER
Feb 2, 2020 – For the second time in two races, Johannes Ludwig found himself outside of the top 20 going into the second heat due to abysmal track conditions.
In Sigulda, Ludwig was 21st after one heat, but came back to win. In Oberhof he did even better, moving up from 24th place to take gold on his home ice in Oberhof.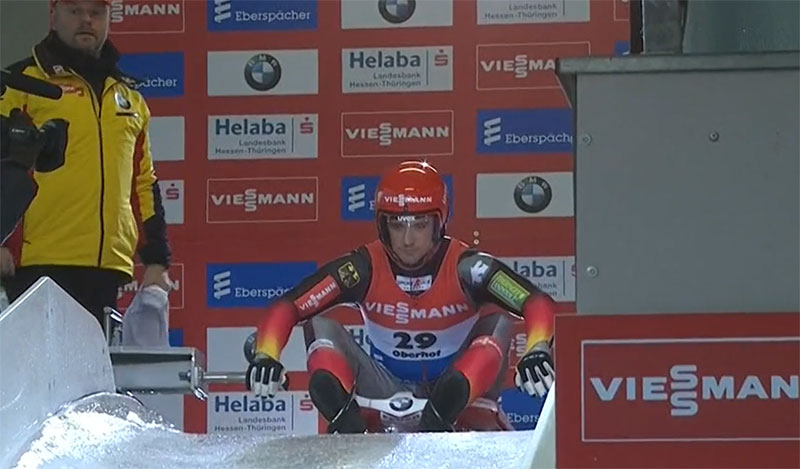 The weather was once again awful for sliding, with heavy rain and temperatures near 10C, which once again led to a quickly deteriorating track. Those who started earlier had significantly better ice in both heats which led to pandemonium throughout the field.
After one run, Jonas Müller held the lead from the 16th starting spot, ahead of Andriy Mandziy (first sled down) and Mateusz Sochowicz (sixth sled down). None of those athletes played a factor in the finish of the race, however, with Müller finishing 11th, Sochowicz 25th, and Mandziy 29th thanks to late start draws in the second heat.
Instead, it was Ludwig once again taking advantage of an earlier start draw coupled with an okay run in the first heat to win gold. Semen Pavlichenko started one sled after Ludwig in the second heat and finished second, while Inars Kivlenieks put together a 14th quickest and 11th quickest run in his two heats to secure bronze.
Kristers Aparjods finished fourth, ahead of Felix Loch and Reinhard Egger, who finished fifth and sixth respectively.
It was a tough go of it for the North Americans in Oberhof. Jonny Gustafson led the way in 22nd, one spot ahead of Reid Watts of Canada in 23rd. Tucker West crashed in his first heat, but put down the fourth fastest run of the second heat to finish 30th.
In the World Cup standings, Roman Repilov holds a 61 point advantage over Dominik Fischnaller with two races to go, while Semen Pavlichenko sits third. David Gleirscher is fourth despite missing the Lake Placid sprint event. Johannes Ludwig is fifth and Jonaes Müller sixth.
Results:
| | | | | | | | | |
| --- | --- | --- | --- | --- | --- | --- | --- | --- |
| Pos | Name | Nation | Bib | Start 1 | Start 2 | Run 1 | Run 2 | Total |
| 1 | Johannes Ludwig | GER | 29 | 7.231 | 7.148 | 44.745 | 43.522 | 1:28.267 |
| 2 | Semen Pavlichenko | RUS | 30 | 7.208 | 7.155 | 44.743 | 43.688 | 1:28.431 |
| 3 | Inars Kivlenieks | LAT | 20 | 7.204 | 7.173 | 44.365 | 44.072 | 1:28.437 |
| 4 | Kristers Aparjods | LAT | 21 | 7.229 | 7.182 | 44.330 | 44.116 | 1:28.446 |
| 5 | Felix Loch | GER | 24 | 7.224 | 7.233 | 44.267 | 44.189 | 1:28.456 |
| 6 | Reinhard Egger | AUT | 23 | 7.291 | 7.272 | 44.440 | 44.067 | 1:28.507 |
| 7 | David Gleirscher | AUT | 31 | 7.285 | 7.194 | 44.922 | 43.610 | 1:28.532 |
| 8 | Roman Repilov | RUS | 26 | 7.207 | 7.151 | 44.557 | 44.009 | 1:28.566 |
| 9 | Dominik Fischnaller | ITA | 28 | 7.271 | 7.208 | 44.731 | 43.841 | 1:28.572 |
| 10 | Arturs Darznieks | LAT | 17 | 7.282 | 7.229 | 44.363 | 44.228 | 1:28.591 |
| 11 | Jonas Müller | AUT | 16 | 7.187 | 7.237 | 43.953 | 44.666 | 1:28.619 |
| 12 | Max Langenhan | GER | 27 | 7.253 | 7.167 | 44.856 | 43.949 | 1:28.805 |
| 13 | Wolfgang Kindl | AUT | 32 | 7.292 | 7.257 | 44.988 | 43.839 | 1:28.827 |
| 14 | Nico Gleirscher | AUT | 15 | 7.198 | 7.242 | 44.137 | 44.696 | 1:28.833 |
| 15 | Moritz Bollmann | GER | 11 | 7.212 | 7.216 | 44.292 | 44.542 | 1:28.834 |
| 16 | Maksim Aravin | RUS | 18 | 7.290 | 7.220 | 44.610 | 44.232 | 1:28.842 |
| 17 | Aleksandr Gorbatcevich | RUS | 19 | 7.234 | 7.189 | 44.641 | 44.201 | 1:28.842 |
| 18 | Sebastian Bley | GER | 14 | 7.221 | 7.248 | 44.139 | 44.709 | 1:28.848 |
| 19 | Kevin Fischnaller | ITA | 25 | 7.287 | 7.268 | 44.686 | 44.198 | 1:28.884 |
| 20 | Riks Rozitis | LAT | 12 | 7.296 | 7.346 | 44.315 | 44.584 | 1:28.899 |
| 21 | Stepan Fedorov | RUS | 22 | 7.247 | 7.213 | 44.897 | 44.071 | 1:28.968 |
| 22 | Jonathan Gustafson | USA | 9 | 7.223 | 7.154 | 44.755 | 44.234 | 1:28.989 |
| 23 | Reid Watts | CAN | 7 | 7.263 | 7.265 | 44.697 | 44.316 | 1:29.013 |
| 24 | Jozef Ninis | SVK | 13 | 7.291 | 7.301 | 44.377 | 44.640 | 1:29.017 |
| 25 | Mateusz Sochowicz | POL | 6 | 7.253 | 7.280 | 44.089 | 45.009 | 1:29.098 |
| 26 | Lukas Gufler | ITA | 2 | 7.312 | 7.363 | 44.178 | 44.997 | 1:29.175 |
| 27 | Leon Felderer | ITA | 3 | 7.281 | 7.290 | 44.189 | 45.029 | 1:29.218 |
| 28 | Valentin Cretu | ROU | 5 | 7.238 | 7.285 | 44.139 | 45.114 | 1:29.253 |
| 29 | Andriy Mandziy | UKR | 1 | 7.268 | 7.322 | 44.085 | 45.319 | 1:29.404 |
| 30 | Tucker West | USA | 10 | 7.218 | 7.196 | 58.665 | 43.800 | 1:42.465 |
| DNF | Anton Dukach | UKR | 4 | 7.240 | | DNF | | |
| DSQ | Jakub Simoak | SVK | 8 | | | DSQ | | |