From St. Moritz, SUI
Feb. 1, 2020 – Johannes Lochner was tied for the World Cup lead in 2-man bobsled going into the holiday break. Over that break Germany held their World Cup team trials, in which Lochner got bumped out of his 2-man seat by Richard Oelsner. Lochner continued to race 4-man, scoring a win in the European Championships, while Oelsner raced in the World Cup in the 2-man sled.
Oelsner went to race in the Junior World Championships, opening up the 2-man seat for Lochner, and Lochner took full advantage.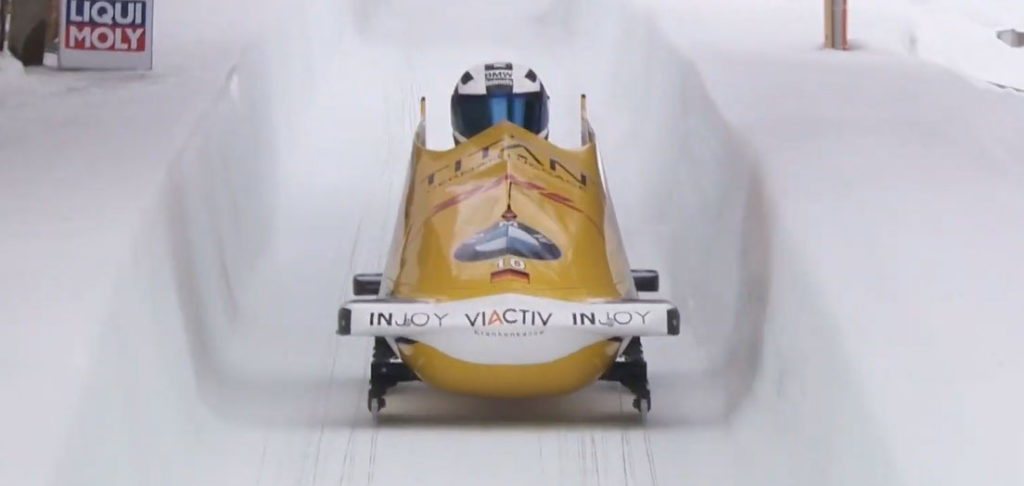 Johannes Lochner opened up a .33 second lead over World Cup leader, teammate Francesco Friedrich. On the second run Friedrich set the fast start of the race and fast time of the heat to put the pressure on Lochner. Lochner answered with the fourth quickest run of the race, but more than enough to take his second win in three races on the season.
Friedrich finished with a silver medal, .07 ahead of Latvian Oskars Kibermanis in third.
The bronze for Kibermanis was his fifth top five in six events. The only race he's finished out of the top five was in Igls where he was nursing injury.
Russian Alexey Stulnev is known as a 4-man specialist, but he put down two very quick and clean runs to finish with a career-best fourth place finish.
Justin Kripps finished fifth, just .05 behind Stulnev. Kripps' fifth place finish was his second straight top five in St. Moritz and fourth this sesaon.
German Nico Walther rounded out the top six with a sixth place finish, one spot ahead of Ivo de Bruin in seventh, which tied a career best for the Dutch slider.
Great Britain's Brad Hall and France's Romain Heinrich were the big movers in the 2-man event, both jumping up six places to eighth and ninth respectively. Hall was 14th and Heinrich 15th coming into the heat.
The United States' Hunter Church had two very clean looking drives down the Swiss track, but lacked the speed he needed to contend for a medal. He finished 12th in his first World Cup race in St. Moritz.
In the World Cup points, Friedrich has a 254 point lead over Kripps, while Kibermanis sits third as the only slider with over 1,000 points. Despite a poor showing on his home track, Michael Vogt is fourth with two races to go, ahead of Romain Heinrich and Hunter Church.
Results:
| | | | | | | | | |
| --- | --- | --- | --- | --- | --- | --- | --- | --- |
| Pos | Names | Nation | Bib | Start 1 | Start 2 | Run 1 | Run 2 | Total |
| 1 | Lochner / Weber | GER | 18 | 5.07 | 5.09 | 66.81 | 67.38 | 2:14.19 |
| 2 | Friedrich / Schüller | GER | 9 | 5.08 | 5.02 | 67.14 | 67.26 | 2:14.40 |
| 3 | Kibermanis / Miknis | LAT | 10 | 5.05 | 5.06 | 67.18 | 67.29 | 2:14.47 |
| 4 | Stulnev / Malykh | RUS | 12 | 5.19 | 5.18 | 67.36 | 67.40 | 2:14.76 |
| 5 | Kripps / Stones | CAN | 7 | 5.13 | 5.11 | 67.55 | 67.26 | 2:14.81 |
| 6 | Walther / Schwenzfeier | GER | 14 | 5.23 | 5.18 | 67.64 | 67.66 | 2:15.30 |
| 7 | de Bruin / Veenker | NED | 19 | 5.24 | 5.22 | 67.76 | 67.76 | 2:15.52 |
| 8 | Hall / Cackett | GBR | 6 | 5.17 | 5.17 | 68.01 | 67.57 | 2:15.58 |
| 9 | Heinrich / Hauterville | FRA | 5 | 5.24 | 5.22 | 68.04 | 67.67 | 2:15.71 |
| 10 | Li / Shi | CHN | 16 | 5.17 | 5.17 | 67.83 | 67.89 | 2:15.72 |
| 11 | Kuonen / Tanner | SUI | 17 | 5.13 | 5.14 | 67.87 | 67.93 | 2:15.80 |
| 12 | Church / Williamson | USA | 8 | 5.23 | 5.23 | 67.86 | 67.98 | 2:15.84 |
| 13 | Suk / Kim | KOR | 3 | 5.27 | 5.25 | 68.09 | 67.88 | 2:15.97 |
| 14 | Andrianov / Antyukh | RUS | 20 | 5.25 | 5.26 | 67.85 | 68.23 | 2:16.08 |
| 15 | Dvorak / Nosek | CZE | 4 | 5.13 | 5.13 | 67.90 | 58.39 | 2:16.29 |
| 16 | Shao / Liu | CHN | 2 | 5.27 | 5.29 | 68.27 | 68.07 | 2:16.34 |
| 17 | Won / Seo | KOR | 11 | 5.17 | 5.18 | 67.99 | 68.37 | 2:16.36 |
| 18 | Vogt / Michel | SUI | 13 | 5.19 | 5.16 | 68.41 | 68.04 | 2:16.45 |
| 19 | Maier / Sammer | AUT | 15 | 5.31 | 5.34 | 68.23 | 58.49 | 2:16.72 |
| 20 | Treichl / Huber | AUT | 1 | 5.24 | 5.32 | 69.07 | 68.45 | 2:17.52 |