From St. Moritz, SUI
Feb. 2, 2020 – Coming into the 2019/2020 season, Justin Kripps had never finished in the top ten in St. Moritz as a 4-man bobsled pilot.
Not only did he finish in the top ten to finish out the season, he won the race.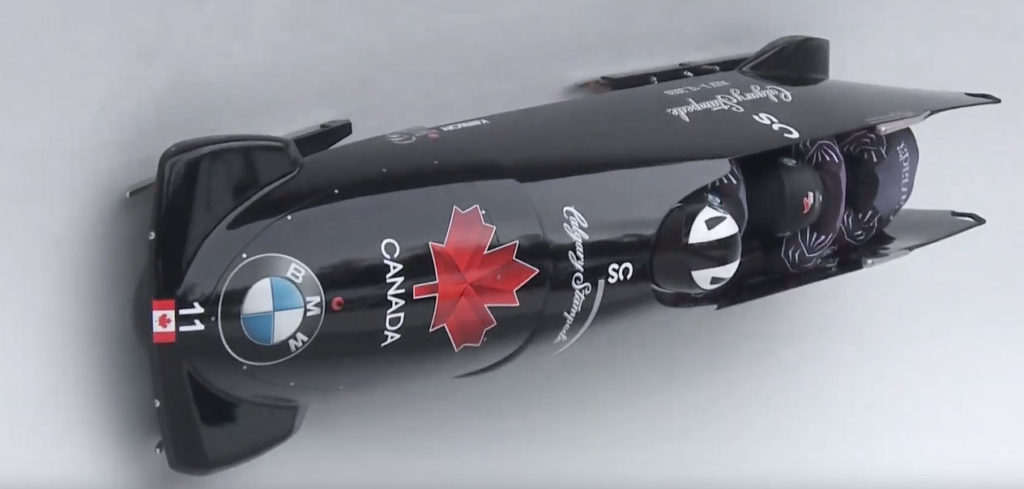 Kripps came into the second heat in second, but put down matching 1:05.56 downtimes in both heats to beat out Oskars Kibermanis by .13 to win his third 4-man race of the season and fifth of his career.
Johannes Lochner came into the second heat as the leader, but couldn't match his first run's consistency and fell back to third place to win bronze.
Lochner's teammates finished just behind him, with Nico Walther fourth and Francesco Friedrich fifth. Benjamin Maier finished the race in sixth place.
Friedrich came into St. Moritz the 4-man point leader, and needed to finish sixth or better if Lochner won to win the Crystal Globe.
After one run Friedrich found himself in seventh place after a surprising run by Chunjian Li from the final starting position. On the second heat Friedrich had another spotty run, but a spotty run by Chunjian Li was enough to move Friedrich into sixth and clinch the title regardless of what happened to Lochner.
Friedrich finished the 4-man season with a 37 point margin of victory over Lochner. Kripps' gold medal put him third on the season, 83 points out. Kibermanis finished the season in fourth.
American pilot Hunter Church finished eighth in his final 4-man race of the season. He started his 2019/2020 campaign with an 11th place finish in the first Lake Placid 4-man race, but rallied to finish in the top ten in the remaining five races to finish fifth overall in the 2019/2020 season.
Great Britain's Brad Hall has struggled with back trouble, and that back pain flared up enough where he could not compete in the second heat.
Friedrich 1686, Lochner -37, Kripps -83, Kibermanis, Church, Stulnev
Results:
| | | | | | | | | |
| --- | --- | --- | --- | --- | --- | --- | --- | --- |
| Pos | Names | Nation | Bib | Start 1 | Start 2 | Run 1 | Run 2 | Total |
| 1 | Kripps / Sommer / Stones / Coakwell | CAN | 7 | 5.07 | 5.05 | 65.56 | 65.56 | 2:11.12 |
| 2 | Kibermanis / Kaufmanis / Vilkaste / Miknis | LAT | 13 | 5.00 | 4.97 | 65.61 | 65.64 | 2:11.25 |
| 3 | Lochner / Bauer / Weber / Schneider | GER | 10 | 5.02 | 5.02 | 65.41 | 66.05 | 2:11.46 |
| 4 | Walther / Korona / Schwenzfeier / Franke | GER | 12 | 5.09 | 5.05 | 65.89 | 65.79 | 2:11.68 |
| 5 | Friedrich / Bauer / Krothkopp / Margis | GER | 5 | 5.05 | 5.04 | 65.93 | 65.89 | 2:11.82 |
| 6 | Maier / Stepan / Sammer / Moldovan | AUT | 16 | 5.12 | 5.12 | 65.70 | 66.13 | 2:11.83 |
| 7 | Li / Wu / Wu / Chen | CHN | 20 | 5.13 | 5.13 | 65.83 | 66.05 | 2:11.88 |
| 8 | Church / Williamson / Reed / Horn | USA | 11 | 5.06 | 5.08 | 66.08 | 66.09 | 2:12.17 |
| 9 | Treichl / Glück / Mitterer / Huber | AUT | 17 | 5.13 | 5.12 | 66.35 | 65.97 | 2:12.32 |
| 10 | Dvorak / Suchy / Sindelar / Nosek | CZE | 6 | 5.11 | 5.13 | 66.11 | 66.24 | 2:12.35 |
| 10 | Vogt / Weber / Bieri / Gyger | SUI | 8 | 5.13 | 5.14 | 66.07 | 66.28 | 2:12.35 |
| 12 | Stulnev / Koshelev / Malykh / Samitov | RUS | 4 | 5.10 | 5.12 | 66.11 | 66.29 | 2:12.40 |
| 13 | Won / Kim / Lee / Chae | KOR | 9 | 5.15 | 5.15 | 66.32 | 66.28 | 2:12.60 |
| 14 | Shao / Liu / Shi / Zhen | CHN | 18 | 5.18 | 5.19 | 66.33 | 66.42 | 2:12.75 |
| 15 | Heinrich / Boutherin / Hauterville / Laporal | FRA | 14 | 5.15 | 5.18 | 66.36 | 66.47 | 2:12.83 |
| 16 | Andrianov / Lylov / Kondratenko / Zaytsev | RUS | 1 | 5.15 | 5.14 | 66.29 | 66.62 | 2:12.91 |
| 17 | Suk / Kim / Kim / Kang | KOR | 15 | 5.18 | 5.18 | 66.65 | 66.55 | 2:13.20 |
| 18 | de Bruin / Dumas / Veenker / Franjic | NED | 2 | 5.24 | 5.21 | 66.59 | 66.76 | 2:13.35 |
| 19 | Kuonen / Tedeschi / Dörig / Tanner | SUI | 19 | 5.19 | 5.19 | 66.47 | 67.09 | 2:13.56 |
| DNS | Hall / Taylor / Dawes / Cackett | GBR | 3 | 5.17 | | 66.54 | DNS | |