From Oberhof, GER
Feb. 2, 2020 – Tobias Wendl & Tobias Arlt had to both fight off a strong field of doubles luge teams and warm weather that left the track in Oberhof unpredictable at best to win gold.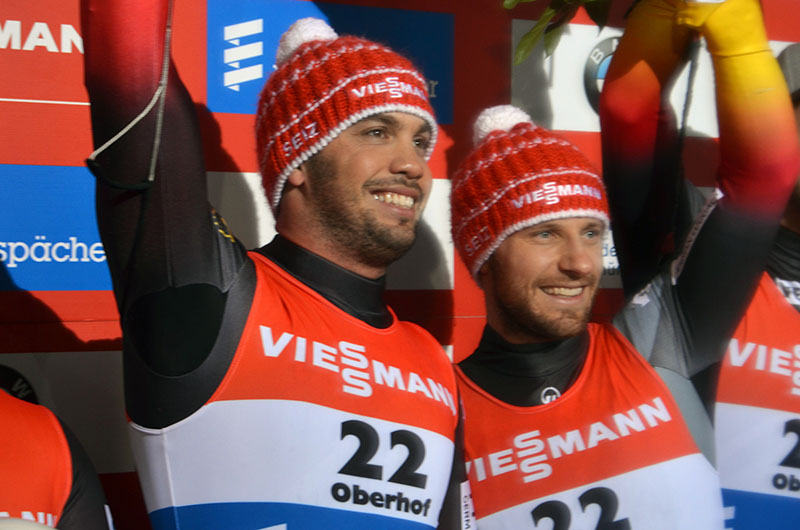 Wendl & Arlt took the lead in the first heat despite a track that, like the men's race before it, was falling off quickly. In the second heat, the German duo managed the sixth quickest run of the heat, more than enough to hold back the Latvian team of Andris & Juris Sics by over a tenth of a second.
Sics & Sics looked as though they would win the race in Oberhof. Earlier in the day, Johannes Ludwig had won after finishing the first heat in 24th. As the track deteriorated, slider by slider failed to match his combined time. Sics & Sics finished the first heat in tenth, and held off eight of the final nine teams, only being bested by Wendl & Arlt.
Gold for Wendl & Arlt is the second on the season, while the silver for Sics & Sics was their third straight FIL medal and fourth on the season.
Robin Geueke & David Gamm finished third from 13th in the first heat to win bronze, their first medal of the season.
Oskars Gudramovics & Peteris Kalnins of Latvia finished fourth, just .016 out of the medals, while Ivan Nagler & Fabian Malleier and Toni Eggert & Sascha Benecken rounded out the top six.
Canadians Tristan Walker & Justin Snith finished just outside of the top six in seventh place. The duo came into the second heat in third place but iffy track conditions dropped them out of the top six.
Chris Mazdzer & Jayson Terdiman finished 12th in their return to action. The American team was back on their old sled after spending most of the season on a new project sled. Teammates Dana Kellogg & Duncan Segger finished 16th in their first World Cup race in Oberhof.
Despite their sixth place finish, Eggert & Benecken leave Oberhof as the World Cup leaders with two races to go. Wendl & Arlt are second, only 10 points behind, while Sics & Sics are a distant third.
Results:
| | | | | | | | | |
| --- | --- | --- | --- | --- | --- | --- | --- | --- |
| Pos | Names | Nation | Bib | Start 1 | Start 2 | Run 1 | Run 2 | Total |
| 1 | Wendl / Arlt | GER | 22 | 6.589 | 6.619 | 41.681 | 42.014 | 1:23.695 |
| 2 | Sics / Sics | LAT | 23 | 6.687 | 6.703 | 42.071 | 41.741 | 1:23.812 |
| 3 | Geueke / Gamm | GER | 24 | 6.686 | 6.661 | 42.127 | 41.739 | 1:23.866 |
| 4 | Gudramovics / Kalnins | LAT | 14 | 6.692 | 6.706 | 41.772 | 42.110 | 1:23.882 |
| 5 | Nagler / Malleier | ITA | 19 | 6.654 | 6.663 | 41.922 | 41.967 | 1:23.889 |
| 6 | Eggert / Benecken | GER | 21 | 6.633 | 6.713 | 41.810 | 42.109 | 1:23.919 |
| 7 | Walker / Snith | CAN | 9 | 6.609 | 6.634 | 41.803 | 42.280 | 1:24.083 |
| 8 | Rieder / Kainzwaldner | ITA | 17 | 6.673 | 6.654 | 41.909 | 42.187 | 1:24.096 |
| 9 | Denisev / Antonov | RUS | 20 | 6.746 | 6.681 | 42.369 | 41.769 | 1:24.138 |
| 10 | Chmielewski / Kowalewski | POL | 12 | 6.633 | 6.646 | 42.075 | 42.094 | 1:24.169 |
| 11 | Müller/ Frauscher | AUT | 13 | 6.711 | 6.737 | 42.239 | 41.979 | 1:24.218 |
| 12 | Mazdzer / Terdiman | USA | 8 | 6.748 | 6.782 | 41.910 | 42.324 | 1:24.234 |
| 13 | Yuzhakov / Prokhorov | RUS | 16 | 6.766 | 6.782 | 42.119 | 42.176 | 1:24.295 |
| 14 | Rieder / Rastner | ITA | 10 | 6.659 | 6.601 | 41.883 | 42.417 | 1:24.300 |
| 15 | Park / Cho | KOR | 6 | 6.792 | 6.834 | 42.243 | 42.303 | 1:24.546 |
| 16 | Kellogg / Segger | USA | 7 | 6.835 | 6.841 | 42.220 | 42.343 | 1:24.563 |
| 17 | Stakhiv / Lysetskyi | UKR | 5 | 6.822 | 6.874 | 42.264 | 42.446 | 1:24.710 |
| 18 | Hoi / Levkovych | UKR | 3 | 6.893 | 6.932 | 42.775 | 42.818 | 1:25.593 |
| 19 | Huang / Peng | CHN | 2 | 6.914 | 6.918 | 43.854 | 46.674 | 1:30.528 |
| 20 | Kashkin / Korshunov | RUS | 18 | 6.761 | 6.732 | 42.254 | 50.572 | 1:32.826 |
| 21 | Vejdelek / Pekny | CZE | 4 | 6.922 | 6.910 | 42.452 | 52.974 | 1:35.426 |
| DNF | Vavercak / Zmij | SVK | 1 | 6.734 | 6.752 | 41.899 | DNF | |
| DNS | Shander / Mikov | KAZ | 11 | 6.780 | | 60.266 | DNS | |
| DSQ | Putins / Marcinkevics | LAT | 15 | | | DSQ | | |