From Oberhof, GER
Feb. 2, 2020 – Anna Berreiter won her first FIL World Cup gold medal in Germany, edging out new World Cup leader Tatyana Ivanova for the win.
The Bavarian slider had the fastest start in the second heat and the quickest time in on her way to a .04 second victory over Ivanova.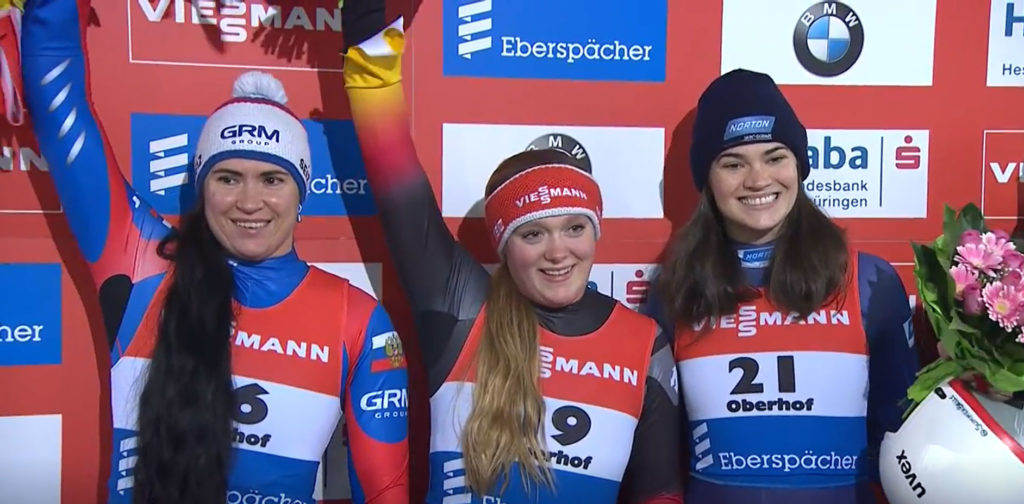 The win was both the first of Berreiter's career and her first medal of the season.
Nobody was as surprised about Berreiter's win as Berreiter.
"Oberhof is not my favourite track. So I have no idea how I managed to win here," Berreiter told the FIL.
Ivanova's silver medal was her seventh straight medal and eighth overall in the 2019/2020 season.
The United States' Summer Britcher finished third, moving up from fifth in the first heat to win her fourth medal of the season.
Julia Taubitz, the World Cup leader coming into the race, finished .027 out of the medals in fourth place. That finish, coupled with Ivanova's silver, moved Ivanova back into the points lead by 12 points over Taubitz.
Viktoriia Demchenko finished fifth, .05 ahead of Kendija Aparjode in sixth.
American Ashley Farquharson finished 13th, up from 15th in the first heat. Teammate Brittney Arndt finished just behind her in 16th.
Carolyn Maxwell led the way for Canada, moving up from 28th in the first heat to 22nd in the second. Teammate Trinity Ellis finished one spot back in 23rd.
Emily Sweeney finished her first run in 20th place, but chose to not take a start in the second heat. The American was coming back from a neck injury and re-injured herself on that run. She has, in turn, decided to sit out the rest of the 2019/2020 season to recover.
Results:
| | | | | | | | | |
| --- | --- | --- | --- | --- | --- | --- | --- | --- |
| Pos | Name | Nation | Bib | Start 1 | Start 2 | Run 1 | Run 2 | Total |
| 1 | Anna Berreiter | GER | 19 | 6.855 | 6.822 | 41.458 | 41.378 | 1:22.836 |
| 2 | Tatyana Ivanova | RUS | 26 | 6.824 | 6.832 | 41.474 | 41.402 | 1:22.876 |
| 3 | Summer Britcher | USA | 21 | 6.856 | 6.839 | 41.546 | 41.394 | 1:22.940 |
| 4 | Julia Taubitz | GER | 27 | 6.876 | 6.923 | 41.505 | 41.462 | 1:22.967 |
| 5 | Viktoriia Demchenko | RUS | 25 | 6.921 | 6.907 | 41.610 | 41.449 | 1:23.059 |
| 6 | Kendija Aparjode | LAT | 20 | 6.874 | 6.880 | 41.542 | 41.567 | 1:23.109 |
| 7 | Ekaterina Katnikova | RUS | 23 | 6.901 | 6.912 | 41.612 | 41.613 | 1:23.225 |
| 8 | Natalie Maag | SUI | 16 | 6.936 | 6.913 | 41.709 | 41.553 | 1:23.262 |
| 9 | Madeleine Egle | AUT | 28 | 6.819 | 6.886 | 41.649 | 41.659 | 1:23.308 |
| 10 | Cheyenne Rosenthal | GER | 22 | 6.924 | 6.912 | 41.773 | 41.633 | 1:23.406 |
| 11 | Eliza Cauce | LAT | 18 | 6.884 | 6.863 | 41.765 | 41.651 | 1:23.416 |
| 12 | Ulla Zirne | LAT | 17 | 6.924 | 6.969 | 41.808 | 41.801 | 1:23.609 |
| 13 | Ashley Farquharson | USA | 12 | 6.961 | 6.970 | 41.865 | 41.767 | 1:23.632 |
| 14 | Olesya Mikhaylenko | RUS | 15 | 6.937 | 6.921 | 41.821 | 41.896 | 1:23.717 |
| 15 | Lisa Schulte | AUT | 5 | 6.898 | 6.895 | 41.969 | 41.795 | 1:23.764 |
| 16 | Brittney Arndt | USA | 13 | 7.013 | 6.991 | 41.917 | 41.010 | 1:23.818 |
| 17 | Hannah Prock | AUT | 8 | 6.968 | 6.956 | 42.073 | 41.791 | 1:23.864 |
| 18 | Raluca Stramaturaru | ROU | 14 | 6.940 | 6.939 | 41.835 | 42.040 | 1:23.875 |
| 19 | Andrea Vötter | ITA | ITA | 6.877 | 6.852 | 42.237 | 41.785 | 1:24.022 |
| 20 | Sandra Robatscher | ITA | 1 | 6.971 | 6.941 | 41.988 | 42.079 | 1:24.067 |
| 21 | Katarina Simonakova | SVK | 10 | 6.991 | 7.003 | 42.105 | 42.045 | 1:24.150 |
| 22 | Carolyn Maxwell | CAN | 9 | 6.921 | 6.889 | 42.355 | 41.821 | 1:24.176 |
| 23 | Trinity Ellis | CAN | 7 | 7.024 | 7.021 | 42.236 | 41.978 | 1:24.214 |
| 24 | Klaudia Domaradzka | POL | 2 | 6.961 | 6.984 | 42.145 | 42.220 | 1:24.365 |
| 25 | Nina Zöggler | ITA | 3 | 6.960 | 6.867 | 42.309 | 42.153 | 1:24.462 |
| 26 | Olena Stetskiv | UKR | 6 | 6.973 | 6.954 | 42.290 | 42.187 | 1:24.477 |
| 27 | Veronica Ravenna | ARG | 4 | 7.086 | 7.069 | 42.342 | 42.200 | 1:24.542 |
| DNS | Emily Sweeney | USA | 11 | 6.911 | | 42.080 | DNS | |