From Sochi, RUS
Feb. 15, 2020 – Toni Eggert and Sascha Benecken won the doubles luge World Championship race in Sochi, one day after struggling in the sprint competition.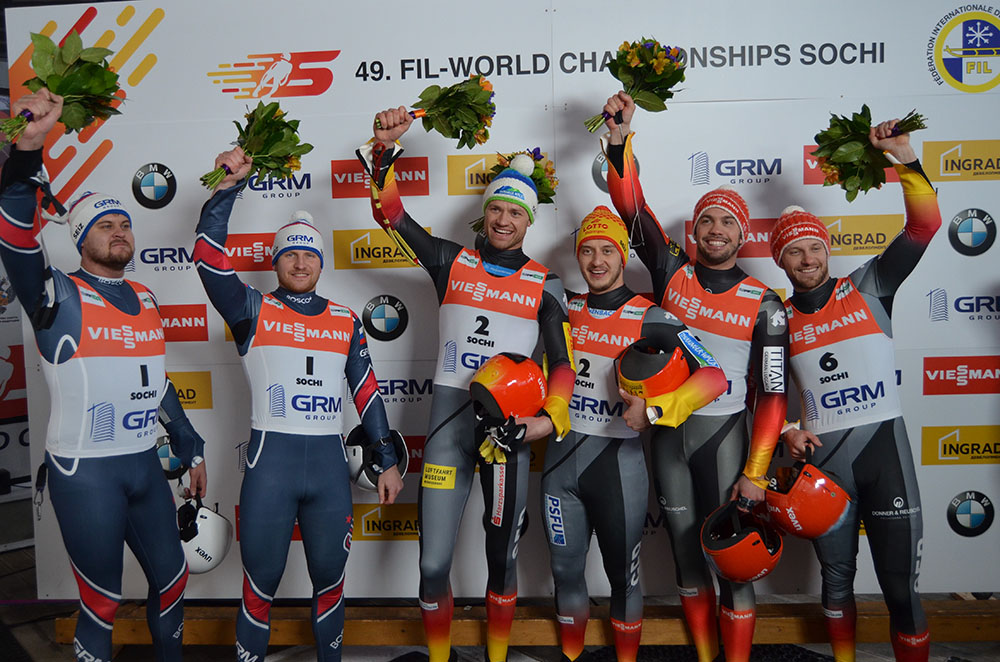 The German duo threw down the fastest run of the race in the first heat to open up a .12 advantage over teammates Tobias Wendl & Tobias Alrt. On the second run Eggert & Benecken weren't perfect, setting the fourth fastest run of the heat, but it was more than enough to keep them ahead of the field for their third World Championship.
A day prior, the duo finished fifth in the one-heat sprint race, and knew they would need to fix things before the full course race on Saturday.
"After our poor sprint on Friday, we were very relieved after the first run," Eggert told the FIL in an interview. "We were happy that we got through it okay."
The Russian duo of Aleksandr Denisev & Vladislav Antonov finished a tenth back in second, moving up from third in the first heat, for a career best World Champion effort.
A tough start in the second run set Wendl & Arlt back, but they rallied to finish third to put two German teams on the podium.
Vsevolod Kashkin & Konstantin Korshunov finished just out of the medals in fourth, while Emanuel Rieder & Simon Kainzwaldner finished fifth. Vladislav Yuzhakov & Iurii Prokhorov helped put three Russian sleds in the top six in sixth.
The Latvian team of Sics & Sics finished tenth after a mishap in the first heat left them in 14th. Their second run was the fastest of the heat and the second fastest of the day, and good enough to move them up four spots.
Americans Chris Mazdzer & Jayson Terdiman were disqualified for irregular runner temperatures.
Results:
| | | | | | | | | |
| --- | --- | --- | --- | --- | --- | --- | --- | --- |
| Pos | Names | Nation | Bib | Start 1 | Start 2 | Run 1 | Run 2 | Total |
| 1 | Eggert / Benecken | GER | 2 | 3.808 | 3.819 | 49.568 | 49.816 | 1:39.384 |
| 2 | Denisev / Antonov | RUS | 1 | 3.824 | 3.823 | 49.723 | 49.765 | 1:39.488 |
| 3 | Wendl / Arlt | GER | 6 | 3.809 | 3.862 | 49.688 | 49.838 | 1:39.526 |
| 4 | Kashkin / Korshunov | RUS | 11 | 3.850 | 3.848 | 49.774 | 49.813 | 1:39.587 |
| 5 | Rieder / Kainzwaldner | ITA | 12 | 3.843 | 3.850 | 49.842 | 49.842 | 1:39.684 |
| 6 | Yuzhakov / Prokhorov | RUS | 9 | 3.878 | 3.866 | 49.875 | 49.845 | 1:39.720 |
| 7 | Gudramovics / Kalnins | LAT | 5 | 3.890 | 3.867 | 50.022 | 49.921 | 1:39.943 |
| 8 | Nagler / Malleier | ITA | 8 | 3.814 | 3.817 | 50.010 | 50.071 | 1:40.080 |
| 9 | Geueke / Gamm | GER | 4 | 3.840 | 3.862 | 50.001 | 50.137 | 1:40.138 |
| 10 | Sics / Sics | LAT | 3 | 3.835 | 3.843 | 50.441 | 49.700 | 1:40.141 |
| 11 | Mueller / Frauscher | AUT | 14 | 3.920 | 3.897 | 50.204 | 50.144 | 1:40.348 |
| 12 | Rieder / Rastner | ITA | 10 | 3.807 | 3.816 | 50.308 | 50.223 | 1:40.531 |
| 13 | Chmielewski / Kowalewski | POL | 7 | 3.862 | 3.861 | 50.366 | 50.437 | 1:40.803 |
| 14 | Park / Cho | KOR | 16 | 3.920 | 3.918 | 50.494 | 50.325 | 1:40.819 |
| 15 | Shander / Mikov | KAZ | 17 | 3.939 | 3.915 | 50.473 | 50.415 | 1:40.888 |
| 16 | Putins / Marcinkevics | LAT | 13 | 3.829 | 3.821 | 51.178 | 49.960 | 1:41.138 |
| 17 | Vavercak / Zmij | SVK | 18 | 3.929 | 3.904 | 50.738 | 50.749 | 1:41.487 |
| 18 | Vajelek / Pekny | CZE | 19 | 3.985 | | 51.578 | | |
| DSQ | Mazdzer / Terdiman | USA | 15 | 3.857 | | 50.114 | DSQ | |