From Umhausen, AUT
Feb. 18, 2020 – The Austrian team of Tina Unterberger and Thomas Kammerlander rallied from third to win the final relay of the season.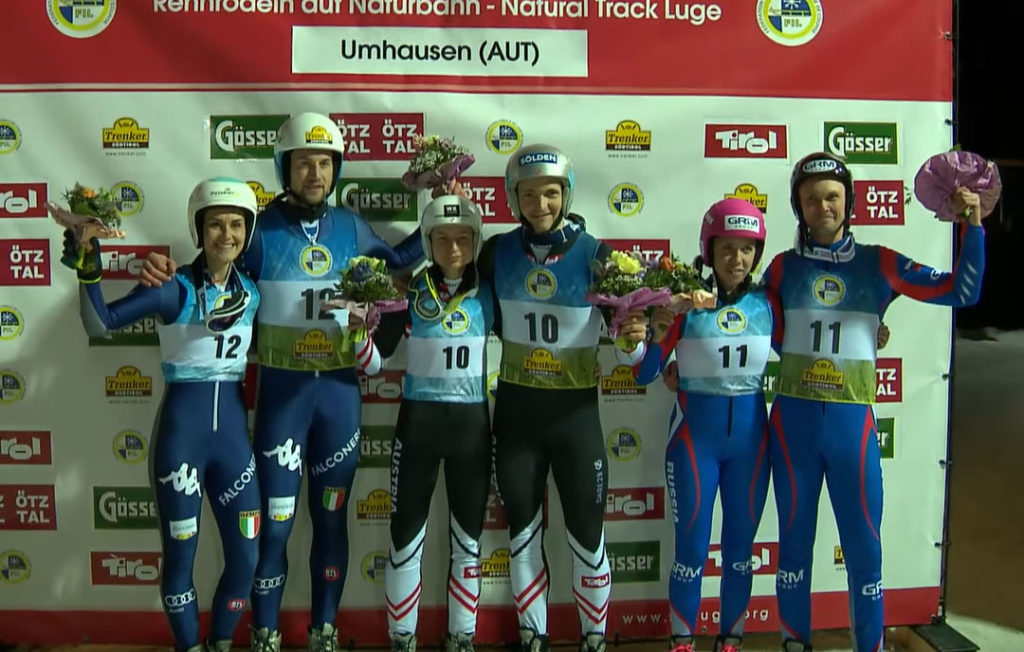 Of Austria, Italy, and Russia, the Austrians were first. Unterberger put down a time that was enough to put the duo in the lead. She was followed by Kammerlander, who threw down the fastest run of the race to put Austria well ahead of anyone else who'd been down thus far.
Russia was next, and while Ekaterina Lavrenteva put down a time that was just ahead of Unterberger's time. Kammerlander, however, easily out-paced Aleksandr Egorov to leave the Austrians out front with just Italy to go.
Once again a slider took the lead on the first run, this time with World Cup title holder Evelin Lanthaler opening up a nearly .73 advantage over Unterberger's time. Once again it was Kammerlander's slide that was the difference, with the Austrian bettering Patrick Pigneter by a full second to take the victory.
Italy finished second, and Russia third, with Germany, Poland, and Argentina rounding out the top six.
Results:
| | | | | | | |
| --- | --- | --- | --- | --- | --- | --- |
| Pos | Names | Nation | Bib | Run 1 | Run 2 | Total |
| 1 | Unterberger / Kammerlander | AUT | 10 | 1:16.30 | 1:14.35 | 2:30.65 |
| 2 | Lanthaler / Pigneter | ITA | 12 | 1:15.57 | 1:15.35 | 2:30.92 |
| 3 | Lavrenteva / Egorov | RUS | 11 | 1:16.23 | 1:15.11 | 2:31.34 |
| 4 | Bachmann / Limmer | GER | 9 | 1:17.87 | 1:17.50 | 2:35.37 |
| 5 | Plowy / Jedrzejko | POL | 8 | 1:20.87 | 1:18.34 | 2:39.21 |
| 6 | Fissore / Attance Conde | ARG | 4 | 1:24.67 | 1:18.20 | 2:42.87 |
| 7 | Elsässer / Almer | SUI | 1 | 1:23.58 | 1:20.90 | 2:44.48 |
| 8 | Subic / Mekina | SLO | 3 | 1:26.96 | 1:17.85 | 2:44.81 |
| 9 | Buyukpolat / Guzeloglu | TUR | 6 | 1:28.03 | 1:17.99 | 2:46.02 |
| 10 | Nagovitsyna / Lebedev | KAZ | 7 | 1:24.61 | 1:21.52 | 2:46.13 |
| 11 | Stanic / Novakovic | SRB | 2 | 1:26.97 | 1:23.51 | 2:50.48 |
| 12 | Antoniuk / Lenko | UKR | 5 | 1:31.57 | 1:14.68 | 3:06.25 |