From Sigulda, LAT
Feb. 16, 2020 – Oskars Kibermanis came into the season-ending 2-man races in Sigulda without ever winning an IBSF World Cup gold medal. He left his home country with a pair of them.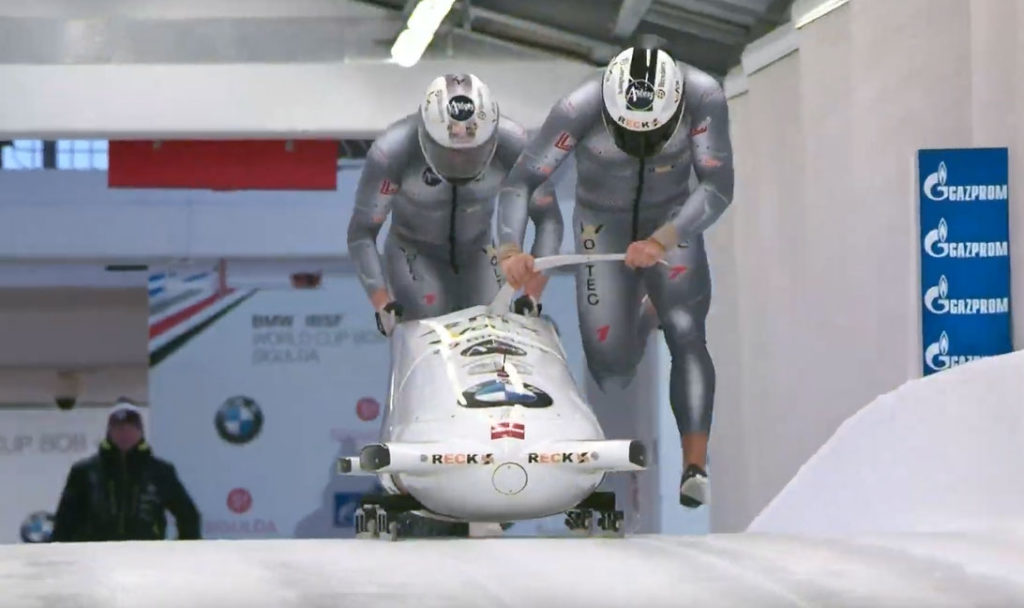 In the second of two 2-man events on the weekend, Kibermanis once again cruised to victory, setting the two fastest times of the race on his way to a .36 second victory over Swiss pilot Simon Friedli.
Kibermanis just missed out on the track record in his first run, and couldn't quite get there with his second either, but the Latvian otherwise dominated a race where Francesco Friedrich did not start.
Behind Kibermanis, Simon Friedli made up for a crash on Saturday with a pair of silver medal runs on Sunday for his first IBSF World Cup medal in only his third 2-man start at the senior level.
Canadian Justin Kripps won his second bronze medal in as many days, once again rallying from fifth in the first heat to score a medal.
Chrisoph Hafer finished fourth, .05 ahead of Oskars Melbardis in his return to World Cup action after a season on the European Cup circuit. Romain Heinrich rounded out the top six.
Francesco Friedrich had already clinched the World Cup title in the penultimate race, and sat out the finale. Oskars Kibermanis finished strong with two wins to move to second overall, while Justin Kripps finished the season ranked third in 2-man bobsled.
Michael Vogt finished the season ranked fourth, ahead of Romain Heinrich in fifth and Yunjong Won in sixth.
Brad Hall finished his World Cup season in 12th place in the race, but that was enough to finish the season ranked eighth overall despite missing the first few races in North America.
The United States did not field a sled in any of the bobsled races in Sigulda, choosing instead to send their teams to Altenberg to prepare for the World Championships. Hunter Church finished the 2-man season in tenth despite missing the final two races of the year.
Resuts:
| | | | | | | | | |
| --- | --- | --- | --- | --- | --- | --- | --- | --- |
| Pos | Names | Nation | Bib | Start 1 | Start 2 | Run 1 | Run 2 | Total |
| 1 | Kibermanis / Miknis | LAT | 7 | 4.83 | 4.82 | 49.53 | 49.65 | 1:39.18 |
| 2 | Friedli / Jones | SUI | 6 | 4.93 | 4.93 | 49.66 | 49.88 | 1:39.54 |
| 3 | Kripps / Giguere | CAN | 8 | 4.91 | 4.94 | 49.78 | 49.81 | 1:39.59 |
| 4 | Hafer / Hammers | GER | 3 | 5.05 | 5.08 | 49.70 | 50.00 | 1:39.70 |
| 5 | Melbardis / Dambis | LAT | 14 | 4.98 | 5.00 | 49.88 | 49.87 | 1:39.75 |
| 6 | Heinrich / Hauterville | FRA | 4 | 4.99 | 4.99 | 49.90 | 49.92 | 1:39.82 |
| 7 | Maier / Sammer | AUT | 1 | 4.97 | 4.99 | 49.74 | 50.13 | 1:39.87 |
| 8 | Gaitiukevich / Mordasov | RUS | 15 | 4.90 | 4.88 | 50.01 | 49.90 | 1:39.91 |
| 9 | Stulnev / Malykh | RUS | 5 | 4.99 | 5.00 | 49.95 | 50.01 | 1:39.96 |
| 10 | Won / Kim | KOR | 12 | 5.01 | 5.05 | 49.92 | 50.04 | 1:39.96 |
| 11 | Tentea / Daroczi | ROU | 11 | 4.99 | 4.98 | 49.93 | 50.17 | 1:40.10 |
| 12 | Hall / Cackett (1) / Daws (2) | GBR | 10 | 4.97 | 5.03 | 49.96 | 50.20 | 1:40.16 |
| 13 | Vogt / Michel | SUI | 9 | 5.00 | 4.99 | 50.09 | 50.13 | 1:40.22 |
| 14 | de Bruin / Veenker | NED | 2 | 5.06 | 5.05 | 50.15 | 50.17 | 1:40.32 |
| 15 | Treichl / Glück | AUT | 18 | 5.17 | 5.10 | 50.38 | 50.13 | 1:40.51 |
| 16 | Illmann / Strauss | GER | 17 | 5.05 | 4.98 | 50.28 | 50.33 | 1:40.61 |
| 17 | Suk / Chae | KOR | 16 | 5.08 | 5.03 | 50.54 | 50.16 | 1:40.70 |
| 18 | Variola / Atchori Essoh | ITA | 19 | 5.17 | 5.19 | 55.96 | 50.91 | 1:46.87 |
| DNS | Dvorak / Nosek | CZE | 13 | | | DNS | | |