From Sochi, RUS
Feb. 16, 2020 – Roman Repilov continued a successful World Championships for Russia, edging Jonas Müller for gold on home ice.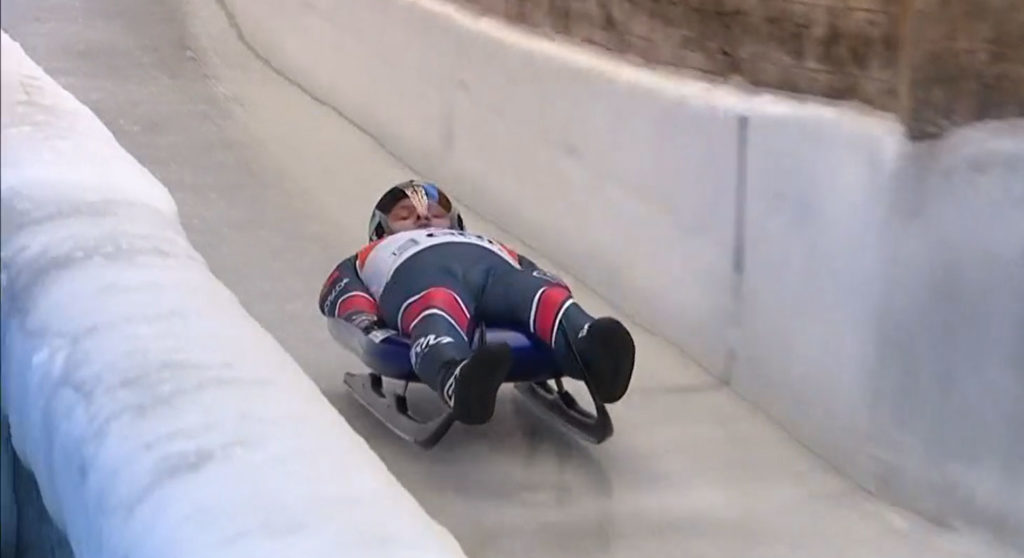 Repilov came into the second run in second place, behind 2018 Olympic champion David Gleirscher. After Müller put down the fast run of the second heat, Repilov answered with a quick enough run to take the lead with only Gleirscher to go.
In the first half of his final run, Gleirscher was in the hunt for gold when an early hit into Curve 9 flipped him out of his sled. Gleirscher couldn't get back on the sled, and scored a DNF.
Gleirscher's crash handed Repilov his first career World Championship gold, and Müller his second World Championships medal with silver.
Wolfgang Kindl finished third, sliding into the medals from sixth place in the first heat and edging out Johannes Ludwig in fourth.
Kristers Aparjods made the big jump from 11th in the first heat to fifth overall, while Russian Aleksandr Goratcevich rounded out the top six.
Tucker West led the way for the United States, finishing 14th, up from 16th in the first heat. Jonathan Gustafson finished 17th, up from 18th, while Chris Mazdzer finished 19th.
Great Britain's Rupert Staudinger finished 31st.
Results:
| | | | | | | | | |
| --- | --- | --- | --- | --- | --- | --- | --- | --- |
| Pos | Name | Nation | Bib | Start 1 | Start 2 | Run 1 | Run 2 | Total |
| 1 | Roman Repilov | RUS | 3 | 4.619 | 4.626 | 51.513 | 51.586 | 1:43.099 |
| 2 | Jonas Müller | AUT | 16 | 4.641 | 4.639 | 51.564 | 51.567 | 1:43.131 |
| 3 | Wolfgang Kindl | AUT | 15 | 4.692 | 4.690 | 51.646 | 51.655 | 1:43.301 |
| 4 | Johannes Ludwig | GER | 2 | 4.628 | 4.637 | 51.539 | 51.786 | 1:43.325 |
| 5 | Kristers Aparjods | LAT | 11 | 4.653 | 4.660 | 51.768 | 51.614 | 1:43.382 |
| 6 | Aleksandr Gorbatcevich | RUS | 1 | 4.672 | 4.669 | 51.610 | 51.811 | 1:43.421 |
| 7 | Semen Pavlichenko | RUS | 5 | 4.610 | 4.614 | 51.663 | 51.790 | 1:43.453 |
| 8 | Kevin Fischnaller | ITA | 13 | 4.679 | 4.696 | 51.762 | 51.760 | 1:43.522 |
| 9 | Felix Loch | GER | 10 | 4.669 | 4.655 | 51.726 | 51.817 | 1:43.543 |
| 10 | Dominik Fischnaller | ITA | 6 | 4.639 | 4.658 | 51.878 | 51.706 | 1:43.584 |
| 11 | Maksim Aravin | RUS | 9 | 4.716 | 4.703 | 51.763 | 51.890 | 1:43.653 |
| 12 | Jozef Ninis | SVK | 17 | 4.681 | 4.698 | 51.831 | 51.906 | 1:43.737 |
| 13 | Inars Kivlenieks | LAT | 4 | 4.640 | 4.649 | 51.838 | 51.967 | 1:43.805 |
| 14 | Tucker West | USA | 20 | 4.633 | 4.640 | 51.976 | 51.908 | 1:43.884 |
| 15 | Riks Rozitis | LAT | 18 | 4.714 | 4.720 | 52.088 | 51.929 | 1:44.017 |
| 16 | Sebastian Bley | GER | 21 | 4.640 | 4.654 | 52.176 | 51.916 | 1:44.092 |
| 17 | Jonathan Gustafson | USA | 22 | 4.631 | 4.641 | 52.069 | 52.093 | 1:44.162 |
| 18 | Arturs Darznieks | LAT | 12 | 4.652 | 4.649 | 52.208 | 52.113 | 1:44.321 |
| 19 | Chris Mazdzer | USA | 19 | 4.669 | 4.667 | 52.057 | 52.317 | 1:44.374 |
| 20 | Valentin Cretu | ROU | 30 | 4.684 | 4.653 | 52.459 | 52.206 | 1:44.665 |
| 21 | Max Langenhan | GER | 8 | 4.715 | 4.650 | 52.450 | 52.319 | 1:44.769 |
| 22 | Mateusz Sochowicz | POL | 23 | 4.659 | 4.665 | 52.401 | 52.468 | 1:44.869 |
| 23 | Aleksandr Dmitriev | KAZ | 26 | 4.691 | 4.686 | 52.572 | 52.833 | 1:45.405 |
| 24 | Reinhard Egger | AUT | 14 | 4.681 | 4.700 | 51.795 | 64.038 | 1:55.833 |
| 25 | Svante Kohala | SWE | 28 | 4.736 | | 52.775 | | |
| 26 | Jakub Simonak | SVK | 25 | 4.660 | | 53.014 | | |
| 27 | Alexander Ferlazzo | AUS | 24 | 4.672 | | 53.065 | | |
| 28 | Kacper Tarnawski | POL | 29 | 4.717 | | 53.079 | | |
| 29 | Michael Lejsek | CZE | 34 | 4.773 | | 53.187 | | |
| 30 | Namkyu Lim | KOR | 33 | 4.733 | | 53.296 | | |
| 31 | Rupert Staudinger | GBR | 32 | 4.748 | | 53.314 | | |
| 32 | Theodor Turea | ROU | 31 | 4.680 | | 53.416 | | |
| 33 | Alexey Dmitriev | KAZ | 27 | 4.712 | | 54.377 | | |
| DNF | David Gleirscher | AUT | 7 | 4.679 | 4.668 | 51.466 | DNF | |