From Altenberg, GER
Feb. 22, 2020 – Over the past few seasons there's been one woman who has owned the top of the women's bobsled podium in Altenberg. Coming into the 2020 World Championships, Kaillie Humphries had won her last three starts in Altenberg. After sitting out the 2018/2019 World Cup season, the American slider was ready to take her place back at the top of the podium.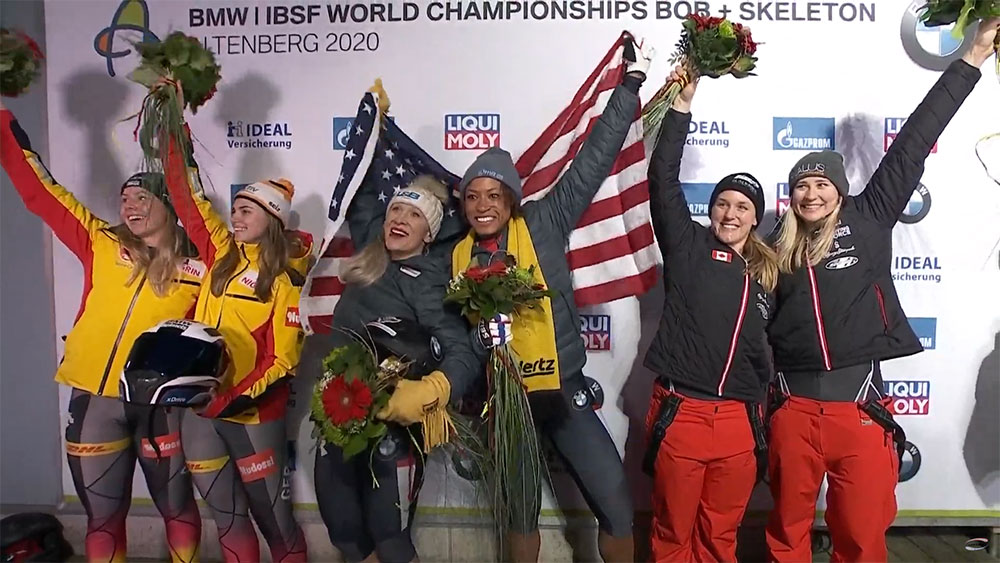 Over four heats in the women's bobsled World Championship Humphries was nearly unbeatable. Along with Lauren Gibbs, Humphries had both the fast start and fast downtime in three of the four heats on her way to a .37 second victory.
The World Championship was the third for Humphries, and her first since the 2013 Championships in St. Moritz. For Gibbs, it was her first gold medal in a four-heat race (either World Championships or Olympic Winter Games).
Kim Kalicki put up a valiant fight to try to take gold from Humphries but fell just short.
Kalicki finished her first heat and had moved up to second after her second run. She did what she could in the third heat, setting the fast time of the heat to close within .19 of Humphries, but the reigning Junior World Champion could only muster the fourth fastest time in the final heat.
That effort for Kalicki was still enough to win silver in her first World Championships.
After a catastrophic third run by Stephanie Schneider, both Mariama Jamanka and Christine de Bruin moved up into third and fourth respectively, separated by just .02. On the fourth run Christine de Bruin put down a great final effort, and it was one that Jamanka could not match, giving de Bruin her second consecutive World Championships bronze medal, just .14 ahead of Jamanka.
Schneider's third run was eighth quickest, dropping her to fifth overall. Her fourth trip down was a tenth better, but not nearly enough to put her back in contention.
Nadezhda Sergeeva struggled on her third run, but made up for it with the second fastest run of the final heat (tied with Martina Fontanive) to move up to sixth. Fontanive finished one spot back in seventh.
Great Britain's Mica McNeill came into the final heat in sixth place, but couldn't put together a strong final run and fell from sixth to eighth.
Results:
| | | | | | | | | |
| --- | --- | --- | --- | --- | --- | --- | --- | --- |
| Pos | Names | Nation | Bib | Run 1 | Run 2 | Run 3 | Run 4 | Total |
| 1 | Humphries / Gibbs | USA | 5 | 56.47 | 56.33 | 56.27 | 56.42 | 2:45.49 |
| 2 | Kalicki / Lipperheide | GER | 18 | 56.56 | 56.45 | 56.25 | 56.60 | 3.45.86 |
| 3 | de Bruin / Bujnowski | CAN | 7 | 56.60 | 56.87 | 56.47 | 56.61 | 3:46.55 |
| 4 | Jamanka / Drazek | GER | 6 | 56.86 | 56.58 | 56.48 | 56.77 | 3:46.69 |
| 5 | Schneider / Fiebig | GER | 4 | 56.50 | 56.84 | 56.84 | 56.74 | 3:46.92 |
| 6 | Sergeeva / Mamedova | RUS | 8 | 56.80 | 57.09 | 56.77 | 56.57 | 3:47.23 |
| 7 | Fontanive / Pasternack | SUI | 11 | 57.20 | 56.90 | 56.62 | 56.57 | 3:47.29 |
| 8 | McNeill / Douglas | GBR | 15 | 56.83 | 56.99 | 56.56 | 57.16 | 3:47.54 |
| 9 | Beierl / Onasanya | AUT | 10 | 57.00 | 57.04 | 56.96 | 56.76 | 3:47.76 |
| 10 | Ying / Du | CHN | 1 | 57.07 | 57.09 | 57.13 | 57.01 | 3:48.30 |
| 11 | Vannieuwenhuyse / van Petegem | 2BEL | 13 | 57.16 | 57.09 | 57.20 | 57.06 | 3:48.51 |
| 12 | Huai / Lu | CHN | 14 | 57.29 | 57.01 | 57.10 | 57.17 | 3:48.57 |
| 13 | Chernykh / Parfenova | RUS | 2 | 57.50 | 57.22 | 57.37 | 57.18 | 3:49.27 |
| 14 | Walker / Preiska | AUS | 17 | 57.68 | 57.96 | 57.56 | 57.42 | 3:50.62 |
| 15 | Hasler / Naef | SUI | 16 | 57.71 | 58.15 | 57.68 | 57.65 | 3:51.19 |
| 16 | Smolarek / Byczkowska | POL | 20 | 59.35 | 58.65 | 58.37 | 58.02 | 3:54.39 |
| DNS | Nolte / Strack | GER | 9 | 57.04 | 65.52 | DNS | | |
| DSQ | Andreutti / Taini | ITA | 19 | 58.71 | DSQ | | | |
| DNS | Vicenzino / Tavella | ITA | 3 | 61.28 | DNS | | | |
| DNS | Grecu / Gheorghe | ROU | 12 | 62.26 | DNS | | | |