From Winterberg, GER
Feb. 22, 2020 – Johannes Ludwig cruised to victory in Winterberg, winning by nearly .2 over the field.
In the first heat, Ludwig opened up a quarter-second lead over Kevin Fischnaller and Sebastian Bley, who sat second and third, with Latvian Kristers Aparjods sitting well out of the top three in eighth.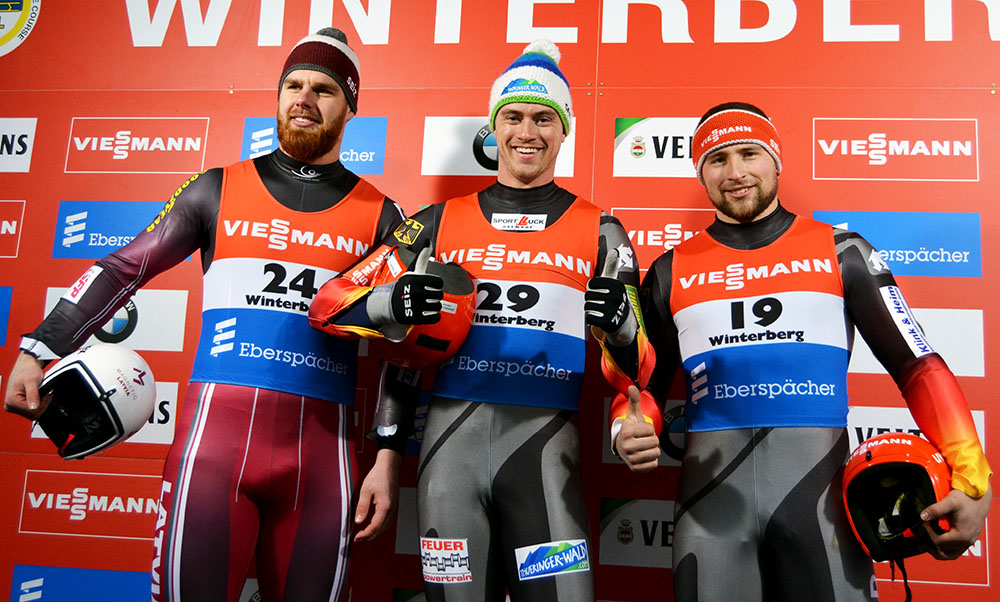 On the second run, Aparjods threw down the fastest run of the race. One by one he moved up the scoring sheet until he got to the silver medal position with just Ludwig to go.
Ludwig's second run time was only the fifth quickest of the heat, but was enough to hold off Aparjods for his second straight gold medal of the 2019/2020 season.
Aparjods had a career-best finish with his silver medal. His previous best was a bronze medal effort in Oberhof during the 2018/2019 season.
Sebastian Bley finished third for his first bronze medal of the season, just ahead Dominik Fischnaller in fourth. Chris Eißler finished fifth, while Kevin Fischnaller rounded out the top six.
For the first time in recent memory, Great Britain placed three men in the World Cup men's luge race. Rupert Staudinger led the way for the Brits in 17th, while Luke Farrar finished 23rd and Raymond Thompson 24th respectively. The race was Thompson's first World Cup start in seven seasons.
The race was marred with trouble on and off the ice. World Cup points leader Roman Repilov, Felix Loch, Olympic champion David Gleirscher, the entire Austrian team, the entire United States team sat out the race in protest of issues regarding the track.
Because of those issues, the International Luge Federation moved the start of the men's race from the men's start to the women's/doubles start. Despite that, the race saw three crashes in a 27 sled field.
Despite Repilov being out of the race, he still carries a one point lead over Dominik Fischnaller into the final race weekend in Königssee. Semen Pavlichenko is third, while Johannes Ludwig is fourth.
Results:
| | | | | | | | | |
| --- | --- | --- | --- | --- | --- | --- | --- | --- |
| Pos | Name | Nation | Bib | Start 1 | Start 2 | Run 1 | Run 2 | Total |
| 1 | Johannes Ludwig | GER | 29 | 4.794 | 4.800 | 55.662 | 56.623 | 1:52.285 |
| 2 | Kristers Aparjods | LAT | 24 | 4.882 | 4.844 | 56.084 | 56.380 | 1:52.464 |
| 3 | Sebastian Bley | GER | 19 | 4.857 | 4.830 | 55.909 | 56.598 | 1:52.507 |
| 4 | Dominik Fischnaller | ITA | 25 | 4.868 | 4.872 | 55.981 | 56.669 | 1:52.650 |
| 5 | Chris Eißler | GER | 20 | 4.816 | 4.833 | 56.077 | 56.587 | 1:52.664 |
| 6 | Kevin Fischnaller | ITA | 21 | 4.963 | 4.956 | 55.905 | 56.814 | 1:52.719 |
| 7 | Max Langenhan | GER | 23 | 4.821 | 4.889 | 56.006 | 56.790 | 1:52.796 |
| 8 | Inars Kivlenieks | LAT | 26 | 4.802 | 4.880 | 56.195 | 56.821 | 1:53.016 |
| 9 | Maksim Aravin | RUS | 22 | 4.963 | 4.943 | 56.460 | 56.719 | 1:53.179 |
| 10 | Jozef Ninis | SVK | 13 | 4.940 | 4.948 | 56.240 | 57.118 | 1:53.358 |
| 11 | Aleksandr Gorbatcevich | RUS | 27 | 4.826 | 4.872 | 56.996 | 56.391 | 1:53.387 |
| 12 | Semen Pavlichenko | RUS | 28 | 4.793 | 4.781 | 55.962 | 57.524 | 1:53.486 |
| 13 | Alexander Ferlazzo | AUS | 14 | 4.868 | 4.881 | 56.459 | 57.074 | 1:53.533 |
| 14 | Mateusz Sochowicz | POL | 12 | 4.907 | 4.950 | 56.641 | 57.116 | 1:53.757 |
| 15 | Lukas Gufler | ITA | 9 | 5.106 | 5.017 | 56.991 | 56.895 | 1:53.886 |
| 16 | Theodor Turea | ROU | 10 | 4.927 | 4.948 | 56.785 | 57.380 | 1:54.165 |
| 17 | Rupert Staudinger | GBR | 4 | 5.019 | 5.007 | 57.001 | 57.225 | 1:54.226 |
| 18 | Valentin Cretu | ROU | 11 | 4.995 | 5.030 | 56.953 | 57.390 | 1:54.343 |
| 19 | Svante Kohala | SWE | 6 | 5.008 | 5.027 | 57.401 | 57.374 | 1:54.775 |
| 20 | Kacper Tarnawski | POL | 7 | 5.002 | 4.961 | 57.268 | 57.589 | 1:54.857 |
| 21 | Michael Lejsek | CZE | 8 | 5.077 | 5.211 | 56.948 | 57.911 | 1:54.859 |
| 22 | Namkyu Lim | KOR | 5 | 5.033 | 5.056 | 57.488 | 57.728 | 1:55.216 |
| 23 | Luke Farrar | GBR | 2 | 5.232 | 5.188 | 58.759 | 59.009 | 1:57.768 |
| 24 | Raymond Thompson | GBR | 1 | 5.253 | 5.238 | 58.624 | 49.354 | 1:57.978 |
| DNF | Andriy Mandziy | UKR | 16 | 4.925 | | DNF | | |
| DNF | Pavel Angelov | BUL | 3 | 5.242 | | DNF | | |
| DNF | Anton Dukach | UKR | 18 | 4.906 | | DNF | | |