From Altenberg, GER
Feb. 23, 2020 – Germany's Francesco Friedrich came into the 2020 IBSF World Championships as the favorite in 2-man bobsled.
The German did not disappoint, breaking the track record as part of a dominating performance where he both crushed the competition and broke a 58 year old consecutive World Championships record.
Friedrich's first two runs were in almost ideal sliding conditions and he took full advantage, dropping the track record in the first heat by nearly a half of a second. On his second run he just missed the record again with a run that was just .09 off his first run's heat. That gave him a nearly full second lead on anyone else going into halftime.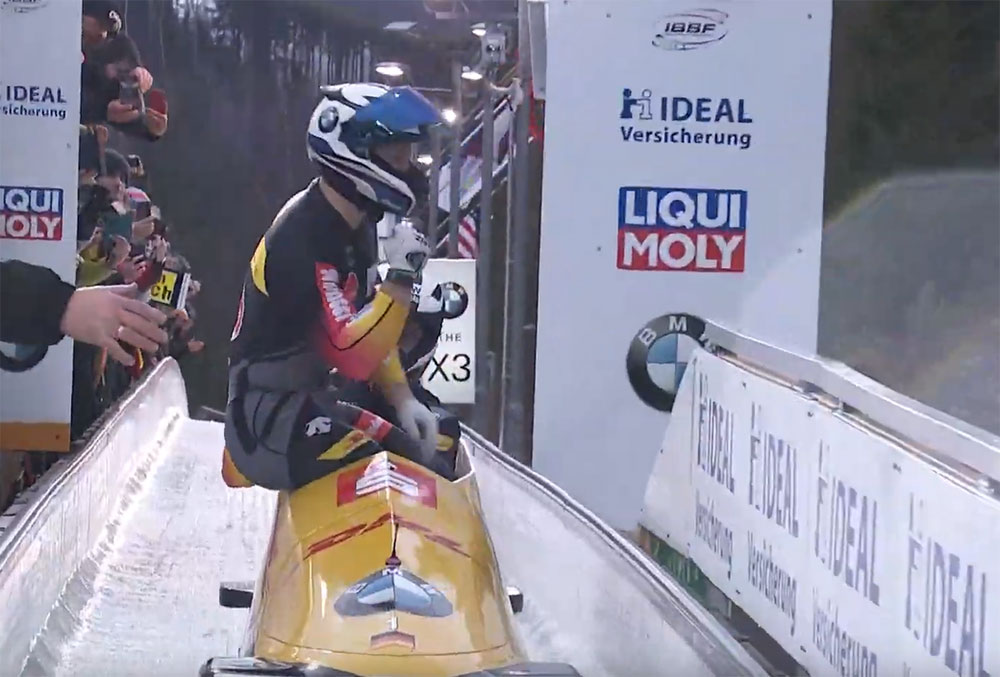 Sunday's track conditions could not have been any more different, and while Friedrich's third run was nearly two seconds slower than his previous day's pace, he was still almost four tenths quicker than anyone else.
By the end of the race, Friedrich's total margin of victory was 1.65 seconds over second place.
The win gave Friedrich his sixth consecutive 2-man bobsled World Championships, breaking the record of five set by Eugenio Monti (1957–1961). Monti still holds the record for most 2-man championships with eight, and most 2-man World Championships medals with ten.
With all that said, there was a competitive race for silver and bronze. Nico Walther and Johannes Lochner both started the race with the 20th and 22nd start positions, but quickly moved into the hunt for the medals. By the end of the third run, Walther and Lochner were in second and third, just ahead of Latvian Oskars Kibermanis and German Junior World Champion Richard Oelsner.
On the fourth run Oskars Kibermanis put down a big start on a track that was quickly frosting up, and used that start speed to hold his ground. Next up was Johannes Lochner. Lochner, who had been bumped out of the World Cup 2-man program by Oelsner during team trials in Altenberg, put down a run slightly quicker than Kibermanis to guarantee himself at least a bronze medal.
Nico Walther was next and struggled at the top of the track, setting the slowest start time out of anyone in the top five. The German couldn't keep pace with his teammate, and by the end of his run had dropped two places, giving Lochner a silver medal and Kibermanis bronze. Walther would settle for fourth.
Germany's Richard Oelsner struggled on his fourth and final run, falling out of any chance of a medal and almost dropping out of the top five. Behind him, Austria's Benjamin Maier finished the first heat in 11th place, but worked his way into the top six, missing out on a top five by only .05.
Canadian Justin Kripps struggled on his second run and that dropped him out of the top six. The second day of sliding saw him drop out of the top ten into 11th after a slower fourth run dropped him out of the top ten.
Hunter Church's season has been one of new tracks and new experiences. He'd never seen Altenberg prior to World Championships, but got progressively better over his four runs, eventually finishing 19th. Expect him to be more competitive in the 4-man race next weekend.
Great Britain's Brad Hall had a good second day of sliding to move up into 16th from 17th to start the day, while Lamin Deen moved up to 24th on his third and final run of the day.
Results:
| | | | | | | | | |
| --- | --- | --- | --- | --- | --- | --- | --- | --- |
| Pos | Names | Nation | Bib | Run 1 | Run 2 | Run 3 | Run 4 | Total |
| 1 | Friedrich / Margis | GER | 4 | 54.00 | 54.09 | 55.98 | 56.37 | 3:40.44 |
| 2 | Lochner / Weber | GER | 22 | 54.59 | 54.59 | 56.36 | 56.55 | 3:42.09 |
| 3 | Kibermanis / Miknis | LAT | 5 | 54.49 | 54.72 | 56.35 | 56.67 | 3:42.23 |
| 4 | Walther / Franke | GER | 20 | 54.54 | 54.49 | 56.36 | 56.92 | 3:42.31 |
| 5 | Oelsner / Schwenzfeier | GER | 10 | 54.52 | 54.67 | 56.49 | 57.03 | 3:42.71 |
| 6 | Maier / Sammer | AUT | 18 | 54.91 | 54.61 | 56.58 | 56.66 | 3:42.76 |
| 7 | Friedli / Jones | SUI | 15 | 54.73 | 55.14 | 56.52 | 56.44 | 3:42.83 |
| 8 | Vogt / Michel | SUI | 7 | 54.77 | 54.78 | 56.80 | 56.55 | 3:42.90 |
| 9 | Heinrich / Hauterville | FRA | 9 | 54.90 | 54.93 | 56.70 | 56.43 | 3:42.96 |
| 10 | Tentea / Daroczi | ROU | 2 | 54.60 | 54.86 | 56.87 | 56.76 | 3:43.09 |
| 11 | Kripps / Stones | CAN | 6 | 54.60 | 55.00 | 56.77 | 56.81 | 3:43.18 |
| 12 | Melbardis / Dambis | LAt | 17 | 55.05 | 54.84 | 56.97 | 56.44 | 3:43.30 |
| 13 | Stulnev / Malykh | RUS | 12 | 54.91 | 54.92 | 56.87 | 56.71 | 3:43.41 |
| 14 | Won / Chae | KOR | 11 | 54.95 | 55.02 | 57.10 | 56.39 | 3:43.46 |
| 14 | Dvorak / Nosek | CZE | 16 | 54.98 | 54.81 | 57.13 | 56.54 | 3:43.46 |
| 16 | Hall / Cackett | GBR | 8 | 54.92 | 55.20 | 57.32 | 56.54 | 3:43.98 |
| 17 | Berzins / Springis | LAT | 3 | 54.97 | 55.06 | 57.47 | 56.58 | 3:44.08 |
| 18 | Treichl / Huber | AUT | 23 | 55.18 | 55.04 | 57.41 | 56.59 | 3:44.22 |
| 19 | Church / Williamson | USA | 13 | 55.25 | 55.50 | 57.17 | 56.57 | 3:44.49 |
| 20 | Baumgartner / Ughi | ITA | 24 | 55.30 | 55.44 | 57.66 | 56.70 | 3:45.10 |
| 21 | Li / Shi | CHN | 21 | 55.47 | 55.72 | 57.49 | | 2:48.68 |
| 22 | de Bruin / Veenker (1-2) / Dumas (3) | NED | 19 | 55.49 | 55.83 | 58.28 | | 2:49.60 |
| 23 | Shinohara / Kaneko (1-2) / Murakami (3) | JPN | 1 | 55.52 | 56.03 | 58.64 | | 2:50.19 |
| 24 | Deen / Simons | GBR | 26 | 55.85 | 56.07 | 58.62 | | 2:50.54 |
| 25 | Variola / Verginer | ITA | 25 | 56.85 | 56.23 | 58.91 | | 2:51.99 |
| DNS | Jin / Wu | CHN | 27 | 55.57 | 55.75 | DNS | | DNS |
| DNS | Gaitiukevich / Samitov | RUS | 14 | 55.23 | 60.30 | DNS | | DNS |