From Altenberg, GER
Mar. 1, 2020 – On a weekend where it seemed like every race was going to be close, it was no surprise that the 4-man bobsled finale was going to go down to the wire. After two runs Nico Walther held a .05 second advantage over Oskars Kibermanis, while Johannes Lochner and Francesco Friedrich both sat less than a tenth of a second out of the lead.
On the third run the race somehow got even closer, with Friedrich tying Walther on the third run and Lochner finishing the heat just .01 behind his German teammates. Like all of the other races over the weekend, the win was going to come down to a fraction of a second.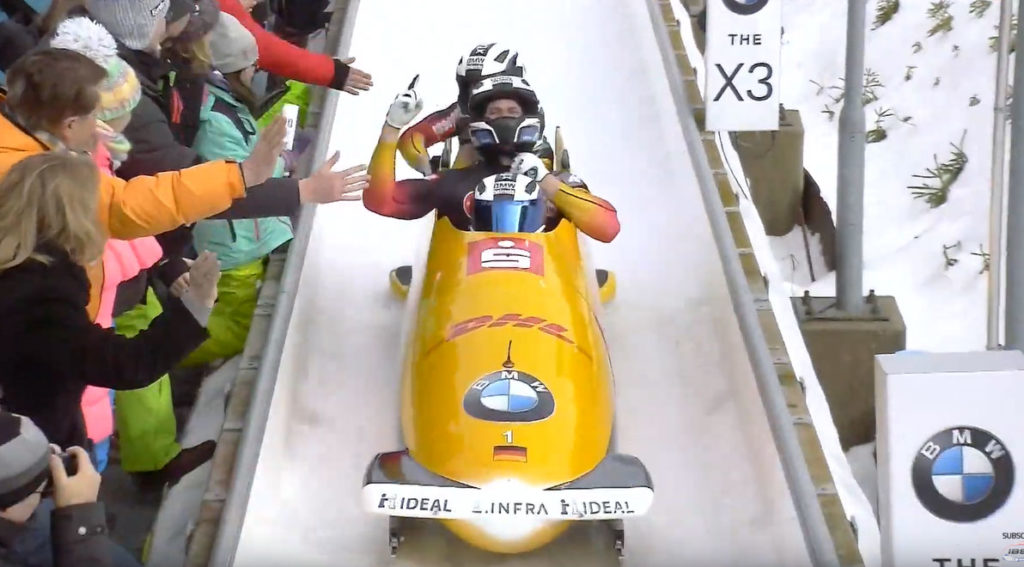 Of the three Germans, Lochner came down first in the fourth heat. His downtime was by far the fastest of the heat to that point and enough to solidify his spot in the medals. Walther came down next, and while clean, his run failed to match the speed of Lochner.
That left Olympic champion and two-time world champion Francesco Friedrich. Friedrich's gave him a push that put him in the lead at the first timing line. Through the halfway point of his run it seemed as though he would pull away, but one small mistake brought Friedrich closer to Lochner. At the line the advantage went to Friedrich by just .05 over his teammate Lochner. It was .23 back to Walther.
Latvian Oskars Kibermanis had the quickest time of any non-German in the fourth heat, but it wasn't enough to put him in the medals. His fourth place run was his second straight fourth place finish in the World Championships and third straight top four.
Austrian Benjamin Maier came on strong on the second day of sliding to finish fifth, well ahead of the Czech Republic's Dominik Dvorak in sixth.
A 16th quickest run by Brad Hall in the second run set him back. The British slider rallied back with the sixth quickest run in the third heat to put him in contention for a top ten. His fourth run wasn't quite as quick, but it was enough to put him in eighth after four runs. Teammate Lamin Deen crashed in his fourth and final run, but did finish his run to finish 20th.
It was a heartbreaking 4-man World Championships for both the United States and Canada. For the Americans, Hunter Church crashed in his third run, leading to a 21st place finish. Prior to the race, he'd just had a handful of training runs in what is his first start ever on the German track.
Justin Kripps finished the first day of the 4-man competition in the hunt for a gold medal. On his second run, however, he tore his hamstring and had to withdraw from the event.
Results:
| | | | | | | | | |
| --- | --- | --- | --- | --- | --- | --- | --- | --- |
| Pos | Names | Nation | Bib | Run 1 | Run 2 | Run 3 | Run 4 | Total |
| 1 | Friedrich / C. Bauer / Grothkopp / Schüller | GER | 4 | 54.25 | 54.34 | 53.35 | 54.15 | 3:35.09 |
| 2 | Lochner / F. Bauer / Weber / Rasp | GER | 5 | 54.25 | 54.31 | 53.39 | 54.19 | 3:36.14 |
| 3 | Walther / Krenz / Bluhm / Franke | GER | 11 | 54.30 | 54.20 | 53.44 | 54.38 | 3:36.32 |
| 4 | Kibermanis / Kaufmanis / Springis / Miknis | LAT | 7 | 54.36 | 54.19 | 53.59 | 54.49 | 3:36.63 |
| 5 | Maier / Rangl / Sammer / Moldovan | AUT | 14 | 54.55 | 54.25 | 53.51 | 54.61 | 3:36.92 |
| 6 | Dvorak / Suchy / Sindelar / Nosek | CZE | 10 | 54.48 | 54.45 | 53.87 | 54.73 | 3:37.53 |
| 7 | Hall / Lawrence / Dawes / Cackett | GBR | 1 | 54.60 | 54.63 | 53.83 | 54.64 | 3:37.70 |
| 8 | Won / Kim / Lee / Chae | KOR | 13 | 54.50 | 54.55 | 53.93 | 54.85 | 3:37.83 |
| 9 | Vogt / Friedli / Bieri / Michel | SUI | 12 | 54.39 | 54.66 | 54.19 | 54.63 | 3:37.87 |
| 10 | Treichl / Glück / Mitterer / Huber | AUT | 16 | 54.81 | 54.62 | 53.98 | 54.60 | 3:38.01 |
| 11 | Stulnev / Zaytsev / Kondratenko / Malykh | RUS | 9 | 54.74 | 54.57 | 54.07 | 54.76 | 3:38.14 |
| 12 | Andrianov / Lylov / Antyukh / Koshelev | RUS | 22 | 54.85 | 54.43 | 54.29 | 54.86 | 3:38.43 |
| 13 | Melbardis / Nemme / Dambis / Pirogs | LAT | 19 | 55.07 | 54.49 | 54.41 | 54.80 | 3:38.77 |
| 14 | Baumgartner / Ughi / Verginer / Bilotti | ITA | 3 | 54.88 | 54.62 | 54.35 | 54.97 | 3:38.82 |
| 15 | Heinrich / Lefebvre / Alais / Hauterville | FRA | 2 | 54.71 | 54.55 | 54.61 | 55.30 | 3:39.17 |
| 16 | Rohner / Leimgruber / Fearon / Giumma | SUI | 17 | 55.26 | 55.10 | 55.01 | 55.18 | 3:40.55 |
| 17 | Bredikhin / Kazantsev / Zharovtsev / Gryaznov | RUS | 20 | 55.54 | 55.36 | 55.06 | 54.93 | 3:40.89 |
| 18 | Shinohara / Kaneko / Takahashi / Homma | JPN | 21 | 56.04 | 56.20 | 55.49 | 55.48 | 3:43.21 |
| 19 | Tentea / Daroczi / Dobre / Radu | ROU | 18 | 55.26 | 54.61 | 54.98 | 58.46 | 3:43.31 |
| 20 | Deen / Butterworth / Simons / Gilling | GBR | 15 | 55.34 | 55.15 | 55.04 | 61.14 | 3:46.67 |
| 21 | Church / Williamson / Reed / Horn | USA | 8 | 54.99 | 54.81 | 58.67 | | 2:48.47 |
| DNS | Kripps / Sommer / Stones / Coakwell | CAN | 6 | 54.31 | 54.28 | DNS | | DNS |