From Königssee, GER
Mar. 1, 2020 – Germany cruised to victory in the final Team Relay race of the 2019/2020 FIL World Cup season, beating the United States by .810 and everyone else by over a second.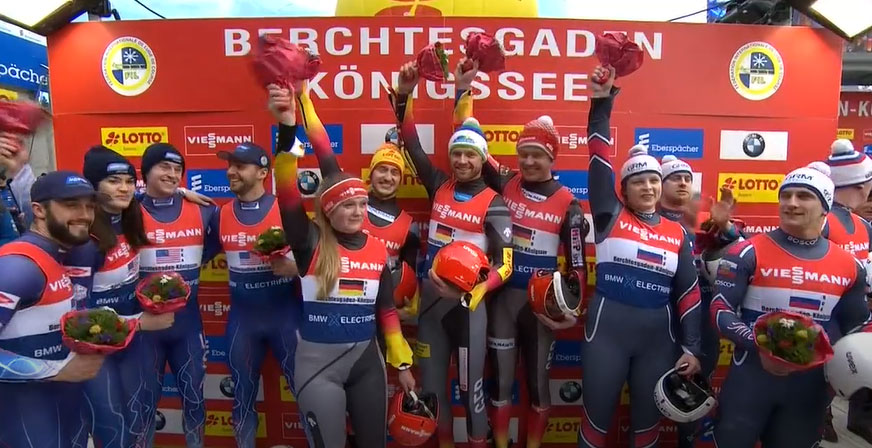 Anna Berreiter led things off for the Germans, and had the second quickest time of all of the women, only out-paced by Viktoriia Demchenko. Felix Loch, fresh off a disappointing finish in the men's race, rallied to give Germany the lead by over a tenth. The team of Toni Eggert and Sascha Benecken were far and away quicker than any other doubles team to give Germany their second gold medal of the season in the Team Relay.
Behind Germany, the United States was smooth and consistent on their way to their second silver medal of the World Cup season and third medal overall (including World Championships). Summer Britcher Tucker West, and the team of Chris Mazdzer and Jayson Terdiman all had runs that were consistent and clean on their final runs of the season.
Russia looked to have a shot to move into the lead on the penultimate run of the competition, but trouble for Vladislav Yuzhavkov and Iurii Prokhorov slid them back to third overall.
Latvia, Slovakia, and Ukraine rounded out the top six.
With Russia down in third, Italy only needed a ninth place finish in the ten team field to secure sole control of the World Cup title. Andrea Vötter and Dominik Fischnaller put the team in position to win, but a near-crash by Ivan Nagler and Fabian Malleier dropped the Italians to tenth, which was enough to secure a tie for the World Cup points with Russia.
On the season Italy and Russia tied with 431 points apiece, while Germay finished just 16 points back despite missing the Winterberg team competition. Latvia, Austria, and Slovakia finished the season in fourth through sixth, while the United States finished seventh despite missing two relay events.
Results:
| | | | | | | |
| --- | --- | --- | --- | --- | --- | --- |
| Pos | Names | Nation | Bib | Women | Men | Total |
| 1 | Berreiter / Loch / Eggert & Benecken | GER | 7 | 53.157 | 1:47.466 | 2:42.209 |
| 2 | Britcher / West / Mazdzer & Terdiman | USA | 3 | 53.158 | 1:47.750 | 2:43.019 |
| 3 | Demchenko / Pavlichenko / Yuzhakov & Prokhorov | RUS | 9 | 53.069 | 1:47.573 | 2:43.217 |
| 4 | Cauce / Aparjods / Sics & Sics | LAT | 8 | 53.259 | 1:48.317 | 2:43.496 |
| 5 | Simonakova / Ninis / Vavercak & Zmij | SVK | 6 | 54.454 | 1:49.512 | 2:45.855 |
| 6 | Smaha / Mandziy / Stakhiv & Lysetskyi | UKR | 5 | 54.715 | 1:39.888 | 2:47.453 |
| 7 | Marsikova / Lejsek / Vejdelek & Pekny | CZE | 2 | 54.827 | 1:50.986 | 2:47.480 |
| 8 | Stramaturaru / Cretu / Gitlan & Serban | ROU | 1 | 54.115 | 1:49.526 | 2:48.082 |
| 9 | Jamroz / Sochowicz / Chmielewski & Kowalewski | POL | 4 | 55.975 | 1:51.985 | 2:48.425 |
| 10 | Vötter / D. Fischnaller / Nagler & Malleier | ITA | 10 | 53.306 | 1:47.895 | 2:54.829 |