(July 27, 2020) – For the 12th installment of Getting to Know… we chat with Luge Canada's Reid Watts. Reid has been active on the FIL World Cup tour since the 2015/2016, and finished 12th in the 2018 Olympic Games, his first. In the 2019/2020 season, he finished 11th overall in the Nation's Cup standings despite sitting out a handful of events.
If there's a slider you'd like to get to know, drop a note in the contact form above or on Twitter: @thekenchilds 
Slider: Reid Watts
Team: Luge Canada
Home track: Whistler
Hometown: Whistler, Canada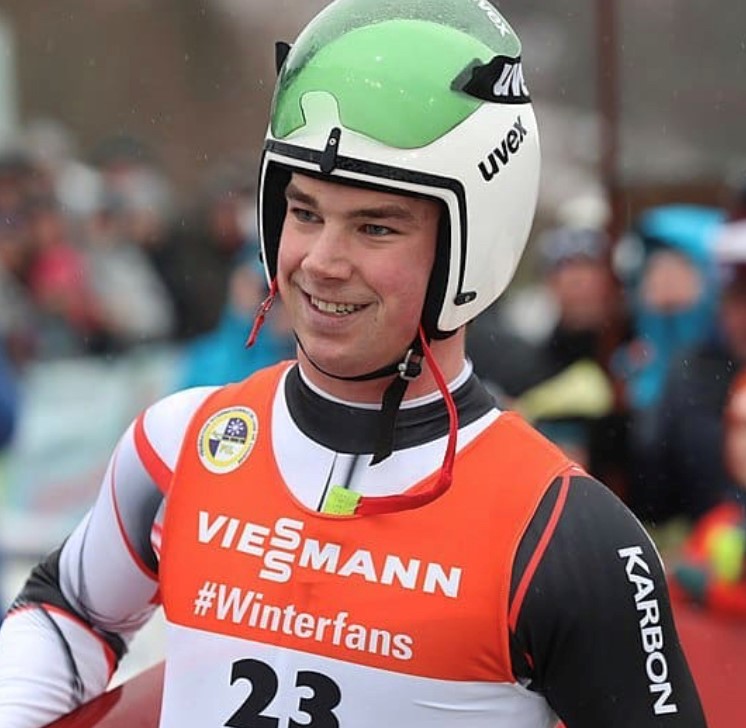 Like we do every week, we'll start with: What's your favorite track on the schedule and why?
I actually think every single track in the world has a really cool section that makes it unique and really fun to slide on. That said, my favorite one I would have to say is Königssee. Right from the top down, things get very serious and very real and every section is incredibly unique and very fun. When you get down there on race day and have a really clean run there's just nothing like it, especially with the fans they pull there!
It seems like every race there is packed with fans, what's that environment like?
It's a lot of fun because sometimes in our sport we don't always pull the biggest of crowds, but there, I think for my first World Championships there in 2016 there was something like 10,000 people there which is incredibly unique. It's so cool to just get motivated by the big crowd and it really makes all of the hard work pay off.
Do you have one section of the track that you enjoy the most?
It's got to be the S curves from men's start, where you're just pulling big G forces so early in your run, and you come out right into the bendaway, it's really cool and super unique. Just tons of fun!
Not counting the sliding track, what is your favorite town to visit on the schedule?
I would have to say either Berchtesgaden or Innsbruck. Anywhere where the mountains are, including here in Whistler, too! I've been born and raised in Whistler so home is where the mountains are and those are probably the two places that remind me the most of home.
Before you make your competitive runs, do you listen to music or anything? If so, what's playing?
Funny thing, I'm not one who listens to music before a run. It kind of gets me too motivated and a little too jumped up. Race day for me is all about being calm, and my race day routine is really locked down in training. It's a lot easier said than done when there's big pressure, but I've been working on this practice of "race like you train, train like you race". So when official training starts I put these high pressure scenarios in my head and I try to take my first training run of the day and think "this is my Nation's Cup" run. So I put these scenarios in my head to really lock things down so on race day it's nothing too special. Everything I do in training turns into "get out there and do what I know."
How did you get into luge?
It was actually before the 2010 Olympics when the track was first built and the Canadian team was doing some practice there. My dad took me up to the track just to check it out and see what it's all about. I'd seen some of the sliding sports on TV as a really young kid, but as everyone says it's completely different when you go there in person and I was completely blown away by the speeds they were going down the track! It blew me away as a young kid, and I thought it was the coolest thing ever. As a Whistlerite I was into skiing and loved to go fast. I was lucky enough that early on in the track's construction they were already getting started on a BC luge team. They were taking young athletes to be recruited, and I was lucky enough to give it a shot, I took my first run at the recruitment camp and I knew that's where I had to be.
After Pyeongchang you went from being the "junior" member of the team to being one of the senior sliders. What was that transition like?
It happened really fast! It was a big transition, but coming into the Pyeongchang Olympic year I was trying to learn as much as I possibly could from my oldest teammate in men's singles, Sam Edney and just try to keep building. It's definitely strange from being a near-rookie slider to being one of the veterans of the team of course! It's been neat, I'm still young and I'm still learning lots too, but it's neat that I can help out the young guys as well. We're all learning together. Tristan [Walker] and Justin [Snith] are a little bit older than I am, they've got quite a few more years under the belt than I have, but it's been good that we're all learning together and I'm trying to give as much help to the younger guys as I can.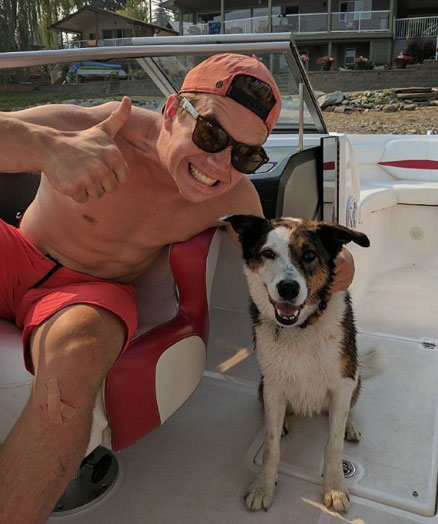 Has it helped that Sam is still around some? 
It's still really good and I'm still learning a lot from him as my high-performance manager, he's been coming around especially last season to quite a few of the tracks whether it's to be support at some of the big races or just to come out and see what's going on at a training weekend. He's still got quite a few tricks up his sleeves, and it's really helpful having him around still.
Tell us about your pets.
I've got a dog named Ben! He's a family dog, we've had him for 10 years and he's still as energetic as ever! He's an Australian red healer mixed with…something to be honest I'm not too sure. He's a really good dog, loves Whistler, not a big fan of bears and squirrels and all that. He always lets us know when someone's at the door, too! We got him from a mutual friend of ours who was living in Calgary, Ben is super high energy and our friend couldn't quite take care of him on his own. Out here with more places to roam free in the mountains he's really at home.
If you weren't sliding what do you think you'd be doing with your life?
That's a tough question that I'm honestly not too sure about. I think at this point of my life I'd be going to school, on the side I'd be living the Whistler dream of skiing and mountain biking a lot more, but not much more. I'm honestly not too sure?
Do you have a plan for after luge? You could be doing this for another decade, at least.
I've definitely given it a bit of thought, but not a ton to be honest. I definitely want to start going to school soon and taking classes to get my brain back into the thought process of what comes after luge. But right now it looks like taking some business classes somewhere.
What is your favorite sliding sport memory so far?
I'd have to say definitely the Olympics. There's nothing quite like racing at the Olympics. It's not like your any day World Cup race week, it's a lot bigger and I didn't fully realize it when I was there until probably the day of my race. If you remember we raced kind of late at night. I went to bed that night thinking "you know, just another race let's get it done." When I woke up the day of the race, there was just this feeling of "hey, this is it" and it was so much more different than your average race day nerves. It was something so much bigger, but it was such a good feeling going into it. It was so big and to be able to throw down my best four runs ever and still my best race to date was nothing short of amazing! Nothing like that can compare.
Did you know you had that kind of run in you going into training or did something just click?
Something definitely just clicked. I knew through training that I had the potential to do better than I had the rest of the season, because to be honest the season going into the Olympics really did not go my way. It was pretty tough, and the whole season coming into it I was setting all of these goals for myself and I would usually fall short of them by a lot. At the Olympics I quickly figured out I wasn't gunning down a result to have a goal for or anything, I just want to throw down four amazing runs. I did that, came in with no expectations other than executing all four of my runs and I did that and I was really pleasantly surprised!
On the other side, what's been your toughest memory so far?
It was actually on the same topic, it was the first half of the Olympic year. It was all of those World Cup races going into that Olympics. I remember it was a mixture of inexperience and not knowing how to perform under pressure and a little bit of bad luck which made it touch. I was undershooting all of my expectations massively and it was only until the Calgary World Cup which I believe was the second to last World Cup race of the first half of the season where things started to finally click just a little bit more. From there, that's when I started turning my season around and climbing up the ladder and performing where I knew where I could perform. That first half going into it, not even qualifying for some World Cup races took a pretty big blow to my confidence.
Did you do something different mentally? Or was it something mechanically?
It was a lot of all aspects. Sometimes the track conditions wouldn't hold up for my qualification runs and I'd have no chance. Sometimes I wouldn't have the experience on certain tracks and crash on qualifying runs. It was a bit of everything, but it was nothing that you want and everything was pretty bad. I was young and I was inexperience, but I'm glad that things panned out the way they did for me and I could show what I had at the Olympics.
In bobsled/skeleton you show up and you race. In luge sometimes you have to qualify in that week through Nation's Cup with one run. What is that like going into your one Nation's Cup run knowing it's all or nothing?
Thanks for asking that! Not too many people understand but that is the run where all the marbles are. At this point in my career it's not hard to qualify in through a Nation's Cup run but it's so easy to make one small mistake and ruin your weekend. It has a massive trickle down effect through your whole season with points and everything: Missing a race means missing points, which might mean missing a Sprint World Cup race. The Nation's Cup is where all the pressure is, I really like racing but Nation's Cup is where all the pressure is. It's the run where you want to rip the band-aid off and just get it over with. So you can rest easy for the rest of the weekend, World Cup race day you can rest easy it's about having fun doing the best you've got. Nation's Cup a lot of the time is just about getting to the bottom of the hill, nothing special on Nation's Cup day, just get your bib number!
Have you been watching/playing anything fun?
I've kind of off the Netflix during the downtime with lockdown. I've been doing a lot of gaming though, playing a lot of Call of Duty War Zone. My friends and I like to squad up and get into some trouble now and again! I've been playing a bit of the new F1 game as well, I ended up cracking down and getting a wheel and pedals and I'm calling it cross training!
Guest question (Leslie Stratton – Sweden Skeleton): Luge is super cool! If you could do a summer sport what would you do and why?
It's not an Olympic sport, but no doubt it would be mountain biking. It would definitely be that, actually this whole time being in lockdown here it's changed the way of my summer massively. Usually by April I'm out in Calgary training with my teammates all the way until October when I'm on the ice. So here we are in July, I'm still here in Whistler training and I've rekindled the old passion of mountain biking again. It's definitely my favorite thing to do in the whole world and I'm in the best place in the world to do it too, so definitely that.