From Lake Placid, USA
(July 22, 2020) – United States bobsledder Justin Olsen has retired from competition.
In a statement through USA Bobsled & Skeleton, the 2010 Olympic gold medalist, Olsen said "When I look back at all the places I've been and the accomplishments I've achieved, I realize it is more than I could have ever imagined or dreamed of when I arrived in the sport back in 2007." [Full statement below]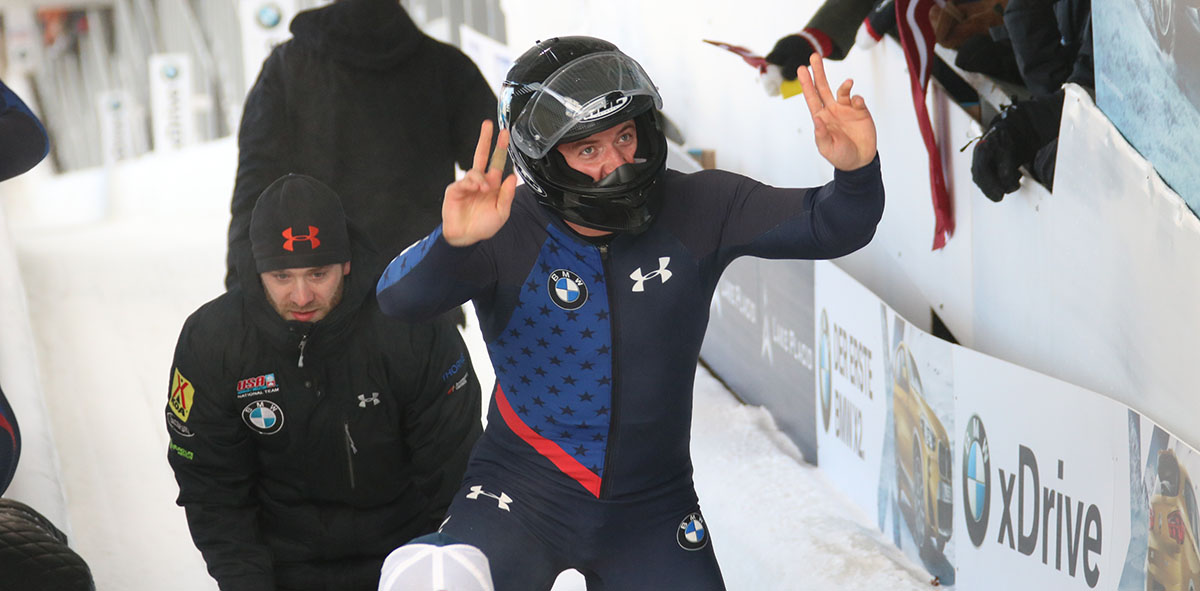 Over his 13 year career Olsen won an Olympic gold medal (2010), and three World Championship gold medals (4-man in 2009 and 2012, team comp in 2012). Overall the American won 21 World Cup medals and six World Championship medals, with his final medal coming as a pilot, winning two-man bronze in Lake Placid in the 2017/2018 season as part of an American 1-3-4 finish.
Olsen will move from inside the sled to coaching those pushing sleds, as he and Garrett Hines were hired on as bobsled and skeleton start coaches for USABS.
"We are really excited for Justin and Garrett to make the transition to coaches", USABS CEO Aaron McGuire said in a statement released through USABS. "They have a wealth of sliding knowledge and experience to share from their time in the sport as athletes, and they will be assets to this team as we strive for excellence in 2022 and beyond."
Full statement from Justin Olsen (courtesy USA Bobsled & Skeleton):
It seems an impossible task to encapsulate the memories, relationships, accomplishments, and struggles that have transpired over the past 13 years. My desire to be a part of a team and continue to compete at an extremely high level was all I needed to say yes to bobsled. Everything that followed was a bonus. When I look back at all the places I've been and the accomplishments I've achieved, I realize it is more than I could have ever imagined or dreamed of when I arrived to the sport back in 2007. I am extremely grateful for the people I've met and the relationships I now have moving forward. Together we accomplished so many things, both personally and professionally. To all those associated with Team USA and the community of Lake Placid, thank you for being my family and home away from home. To all of the USABS Board and Foundation members, Thank you for your guidance and dedication in helping me/us achieve so much. To my competitors, it was a pleasure to compete alongside each and every one of you. To my coaches, thank you for always pushing me to be better, for your honesty, and for continuously demanding more from me. To my teammates, thank you for allowing me to compete alongside each one of you. To those I have loved, thank you for your support and sacrifice in order to keep me smiling through good and bad times. To Team Night Train, what an incredible ride it was…thank you for taking a chance on a young 21 year old. TO Team Dirte, thank you for giving everything yo had to this team. We accomplished more than we should have ("I'm not asking you to look, just take notice"). To my family who I have been away from for 13 years, thank you for never doubting my decision to pursue this sport and for providing unending love throughout the journey. Sidelined by an injury over the past year, I have had a lot of time to reflect and consider how I might best share the knowledge and experience I've gained to continue to contribute to USABS and Team USA. As I look forward to the future, I am overcome by emotions of humility and gratitude. It has been an absolute pleasure to represent you all and the United States of America, thank you.
— Justin Olsen